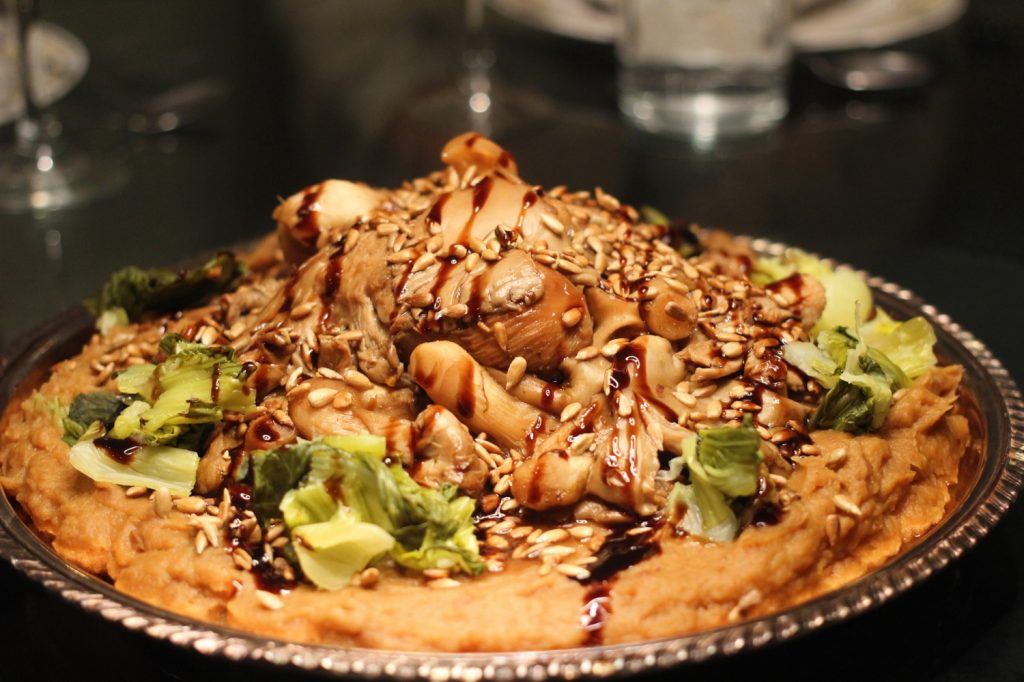 Do you have that one vegan friend that you never invite to a dinner party? That's me. And I'm not even vegan! (Gluten and lactose intolerant, no pork, no beef, no tofu and the list goes on, generally FODMAPs at the moment.)
It's a little annoying to not get invited to a lot of dinners, especially when I love food, but I understand; people get intimidated by the idea of cooking a meal for a bunch of friends and either making a separate dish for their vegan/vegetarian/FODMAP/picky friend or making the whole dish vegan. A lot of vegans will offer to bring their own main dish and won't mind if you serve a non-vegan main to everyone else.
But when someone goes the extra mile and makes a meal I can eat, that person is the most awesome person in the world. So when I had a dinner party last month, I decided to go the "make the whole meal vegan" route.
The trick is just to make something that looks stunning (presentation is key) and to avoid obvious pitfalls like boring tofu stir-fries. And if you can involve a kitchen torch and some live flame, all the better.
I took inspiration from Candide, HVOR and LOV, three restaurants in Montreal – two of which have tasting menus with some impressive vegetable courses, but only one of which is actually vegetarian.
They inspired me to create savoury purées topped with things soft and crunchy and warm and drizzled with a sweet-sour-and-savoury sauce (balsamic reduction, pomegranate, currant or something like that).
Here's what I came up with:
Appetizer: Warm Hummus with Smoked Paprika

Main course: Balsamic-Braised Oyster Mushrooms on Pressure Caramelized Parsnip Purée with Bok Choy and Flame-Toasted Sunflower Seeds

Dessert: Sweet-Spiced Cinnamon Biscotti with Elderflower and Red Currant Sorbets and Lemon Foam (with some dark chocolate on the side)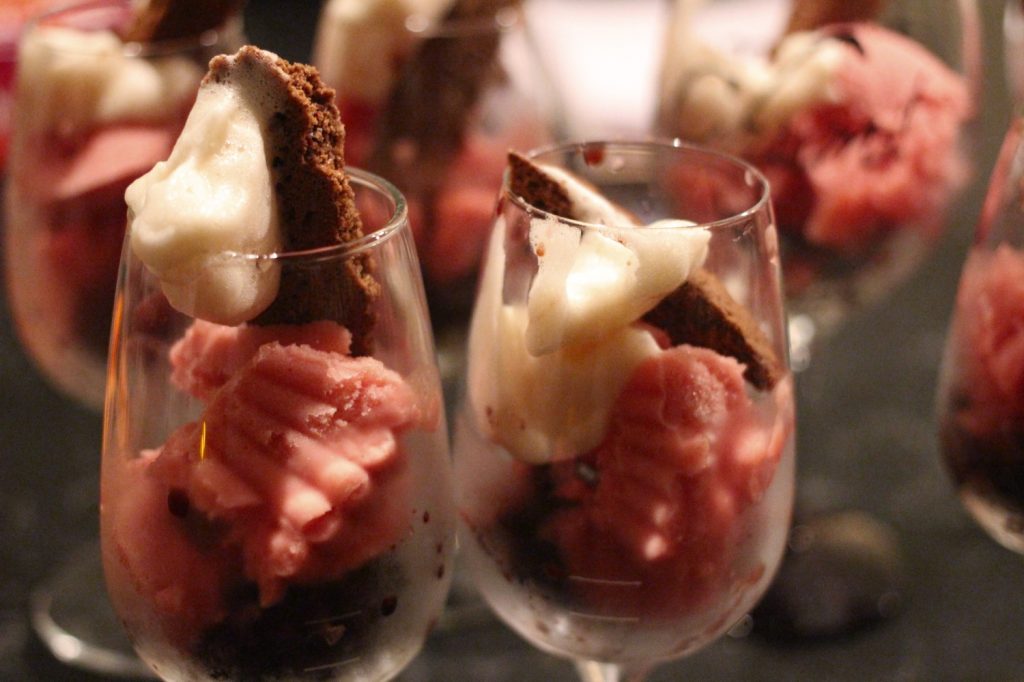 Here are the recipes:
Warm hummus with smoked paprika
Serves 12
2 cups dried organic* chickpeas, soaked in 8 cups water overnight (or make it FODMAPS-friendly by using drained canned chickpeas and bringing the chickpeas to a boil just to reheat them)
1 tsp ground turmeric
1/4 cup sesame seeds
1 tbsp olive oil or water, as needed
3/4 tsp salt
2 tbsp smoked paprika
Drain the chickpeas and bring to a boil with another 8 cups of water and the turmeric. Skim the scum that comes to the top and reduce heat to simmer until tender (anywhere from 30-90 minutes, depending on the age of the chickpeas). I then drain the chickpeas and add more water and boil again to remove more of the aquafaba (it's not FODMAPS-friendly) but you don't have to.
While the chickpeas are cooking, toast the sesame seeds on a baking sheet in a 350˚F oven until golden, about 8-10 minutes. I just shove them in there as the oven's preheating and set a timer for every few minutes until they're done. Don't forget to set the timer!
Grind the hot seeds in a blender and add the warm, drained chickpeas and the salt. The chickpeas should have enough water in them to blend without having to add more. If you do need to add more liquid, add some olive oil or water until smooth. I like it just a little chunky, but if you have a powerful blender, you can get this pretty smooth. Transfer to a serving bowl and use a spoon to create a moat in the hummus. Tap or spoon the smoked paprika into the circle and add a little extra all over to make it pretty. Serve with gluten free crackers or bread.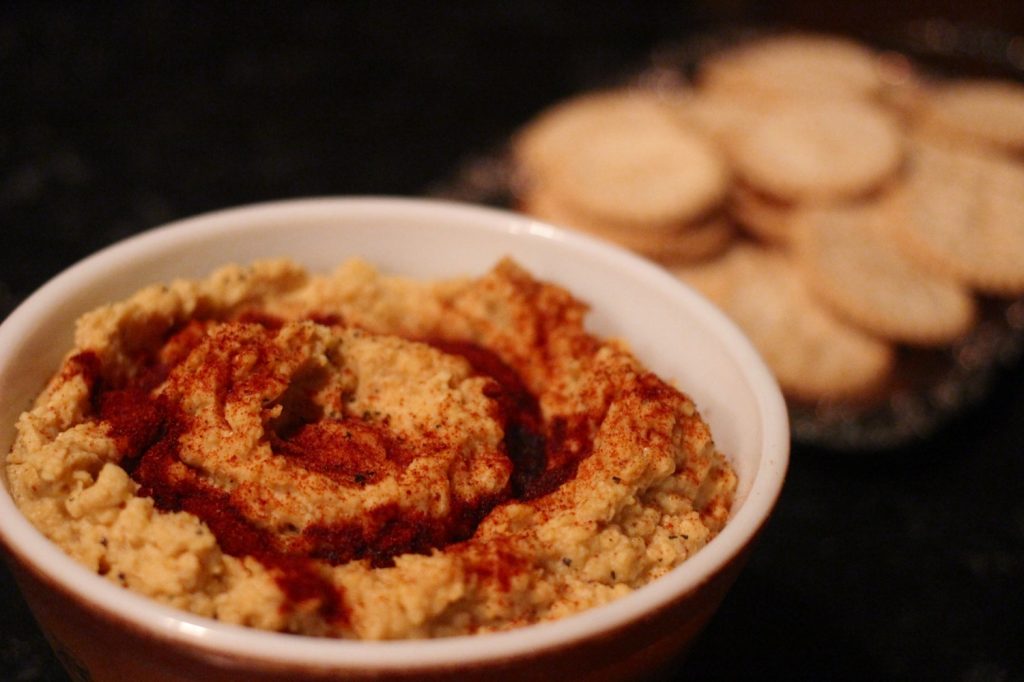 Balsamic-Braised Oyster Mushrooms on Pressure Caramelized Parsnip Purée with Bok Choy and Flame-Toasted Sunflower Seeds
I made the parsnip purée a day in advance to get it out of the way. If you don't have a kitchen torch, toast the sunflower seeds in the oven for 5-10 minutes at 350˚F on a baking sheet until golden. It works just as well, but it's less cool, and the mushrooms and purée don't get toasted that way. My torch cost me about $40 including butane canisters. The pressure-caramelization is inspired by Modernist Cuisine's pressure-caramelized carrot soup. It's genius. this version replaces the heaps of butter with vegetable stock and Earth Balance vegan margarine. It's not as intense, but it's a whole lot lighter. If you don't have a pressure cooker, you can roast the parsnips in oil and salt and then purée. It's okay, but also not as awesome. You can add minced shallots, garlic and onions to the mushrooms (which would make it much more delicious), but I didn't because of FODMAPs. You can steam other greens besides bok choy. I just happened to have bok choy. Adding something watery and crunchy beefs up the dish (so to speak).
Pressure-Caramelized Parsnips:
Serves 8
2 lbs parsnips, peeled and roughly chopped
1 cup vegetable stock
1 tsp baking soda
1 tsp salt
1/4 tsp black pepper
Combine in pressure cooker and cook over highest setting (pressure of 1 bar/15 psi) for 20 minutes. Pour cold water over cooker to depressurize quickly. Transfer to blender or user immersion blender to blend to rough purée. I like a little texture. Taste and adjust seasoning.
Everything else:
Serves 8
1 tsp olive oil
32 oyster mushrooms (I calculated the equivalent of about four pretty mushrooms per guest. They weren't all whole mushrooms)
1/2 tsp salt
1/4 tsp black pepper
2 cups balsamic vinegar (boiled until evaporated by half) or 1 cup bought balsamic reduction
2 tsp organic cane sugar
16 baby bok choy, optional
3 tbsp raw sunflower seeds
If using balsamic vinegar, boil it in a medium saucepan until it's reduced by half. Remove from heat. Then heat the oil in a large pot over medium heat. Add the mushrooms, salt and pepper and cook 1 minute, stirring gently to coat. Add the balsamic reduction and sugar and coat the mushrooms. Turn the heat to medium-low, cover and cook about 5 minutes or until the mushrooms are tender.
Remove the mushrooms from the pot and keep warm. Continue reducing the balsamic with the mushroom juices until it's a thick glaze. Meanwhile, steam the baby bok choy.
To serve, spread the parsnip purée on the bottom of a large platter. Place the mushrooms on top. Scatter the bok choy around the edges and top with the sunflower seeds. Use a kitchen torch to gently toast the seeds and the tips of the mushrooms and top of the purée. Don't point the torch directly at the seeds, but angle it up so it toasts instead of burning. Drizzle with the reduced balsamic.
Red currant and elderberry sorbet, cinnamon sticks, lemon foam
I happened to have this powder from Zeste.tv that could turn anything acidic into foam. I figured this would be a fun time to use it. You can skip the foam, though, and change the flavour of any of the sorbets. The idea is just to have something sort of sweet-and-sour to balance the sweetness of the biscotti. If you don't have an ice cream maker, follow the ice cube tray directions below, or make granita by placing the liquid in an 8″x8″ square baking pan and sticking it in the freezer and scraping it with the tines of a fork every 20 minutes until it's light and fluffy and frozen.
Elderflower Sorbet: Pour 4 cups boiling water over 2 cups of elderflower berries and 3/4 cups organic cane sugar. Stir to dissolve sugar and let infuse for 5 hours. Strain the berries. Transfer to an ice cream maker and process as indicated. Or freeze in ice cube trays and blend after about 1 hour (when semi-frozen). Then refreeze in ice cube trays and blend again after 1 hour. Transfer to container and freeze until needed (remove from fridge 10 minutes or so before serving to soften).
Red Currant Sorbet: Combine 2 cups red currants with 6 cups boiling water in a medium saucepan with 3/4 cup sugar. Bring to a boil, then reduce heat and simmer for 45 minutes, stirring and gently pressing the berries to release their juices occasionally. Strain the berries through a fine mesh sieve and/or cheesecloth. Taste and add sugar as necessary. Transfer to an ice cream maker and process as indicated. Or freeze in ice cube trays and blend after about 1 hour (when semi-frozen). Then refreeze in ice cube trays and blend again after 1 hour. Transfer to container and freeze until needed (remove from fridge 10 minutes or so before serving to soften).
Lemon foam: I combined this foam powder with lemon juice and a touch of sugar. I imagine you can order it online. Otherwise, you can make it with agar-agar and aquafaba in a whipping siphon. Honestly, it's not worth the work unless you happen to have some powder on hand.
Sweet-Spiced Cinnamon Biscotti: These are from Alice Medrich's Flavor Flours: A New Way to Bake with Teff, Buckwheat, Sorghum, Other Whole & Ancient Grains, Nuts & Non-Wheat Flours
. The trick is to toast the sorghum flour in butter until it's nutty and sweet. The rest is easy.
*I now only buy organic chickpeas after speaking with a farmer who told me that most conventional lentils and beans are sprayed with a chemical that's illegal in Europe or the US (I forget) and should be banned here because it's linked to some scary disease. Probably for the farm hands more than the people eating the food, but that's reason enough to spend an extra dollar for me.