It's time for
MTL à Table
– two weeks in fall when restaurants offer $21, $31 and $41 table d'hôte dinners and $15 brunch deals. If you're a frugal foodie, it's an opportunity to snag a fine dining table at a reduced price (without reduced quality). But it's not just for super upscale spots. There are friendly neighbourhood bistros, a wide range of cuisines from Caribbean to Mauritanian, and lots for gluten free and vegetarian diners. And you'll need to start booking your reservations now.
How to choose?
With so many options, there are a lot of menus to wade through, which is why I did it for you! I broke this year's festival down into seven categories, some of which overlap:
1. Fine Dining on a Discount
2. New and Hot (aka Date Night)
3. Vegetarian
4. International Flavours and BYOB (there's a lot of overlap)
5. If you Hate Dessert…(aka tapas or small plates)
6. Healthy
7. Brunch
Here are a couple things you should know in advance:
 Vegetarian places are rarely vegan-friendly.
If you're gluten free or don't like dessert, it'd often a better deal to go to the restaurant any other day of the year and just order what you like – you're only saving money and getting a good deal if you enjoy the entire prix fixe menu.
It's hard for kitchens to make changes to the menu for dietary restrictions or preferences, so if you don't like peppers, call in advance to make sure none of the dishes don't have peppers. And don't walk in and say "I'm gluten intolerant" and expect a meal. The kitchens are busy these nights and might not have other dishes prepped. Be respectful.
Some places aren't really cheaper – they can even be more expensive! I've cross-referenced every day prices with MTL à Table prices and made suggestions based on that. Sometimes a more casual place goes more all-out with a menu, so the price might be justified.
Now go discover something delicious and hopefully do it without breaking the bank. Here are the menus of my top picks by category. You generally choose one dish from the first service, one from the second service and one dessert.
1. FINE DINING ON A BUDGET
Europea
 – $71 – It's a splurge, but it's actually a discount because you get the whole seven-course tasting menu, which is normally $95-$135. Besides, you have to love that the evening starts with "varied provocative canapés"
Menu:
Varied provocative canapés
Lobster cream cappuccino with truffle purée
Slow cooked Quebec veal carpaccio, creamy Tuna. Watercress petals and young sprouts
Jerusalem artichoke, chesnut and porcini velouté, freshly grated foie gras
Surf and turf of crispy scampi and Cornish hen breast , root vegetable mousseline with white butter and yellow wine.
Dessert: 
My passport to sweetness
Mignardises
Milos
 – $41 – Simple, refined Greek fare that's less expensive than normal, except if you like dining at 10pm when the everyday late-night discount applies: $25 from 10pm-midnight
First service
Greek salad made with Quebec grown tomatoes
Grilled Octopus
Salmon Tartare
Second service
Grilled Lamb
Grilled Salmon
Mediterranean Sea Bass baked in Sea Salt, served with local root vegetables (to share)
Third service
Baklava Duo
Greek Yogourt (localy sourced)
Fresh Fruits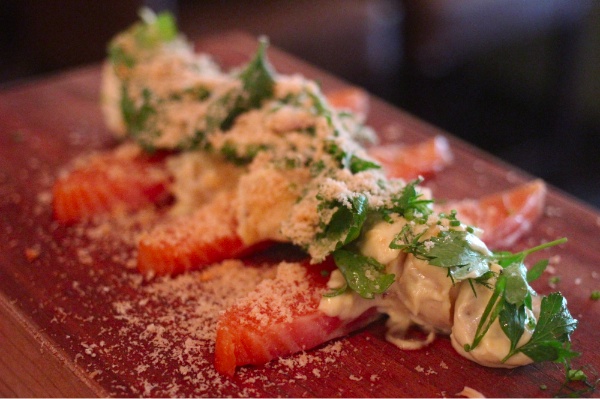 Cul-Sec
 – $31 – The wine bar from Martin Juneau and the Pastaga crew features the same delicious classics. Who hasn't eaten the above marinated salmon by now? It's made the rounds of all of their restaurants, I think. And the whole menu here is $10 less than Pastaga. It probably has to do with ingredient costs, but I know this will be plenty delicious. Non-sweet teeth can even get the local cheese platter to end.
First service
Marinated salmon, creamy Quebec fingerling potatoes and smoked salmon
Quebec beets and horseradish tartare, brioche bun and pistachio
Country style terrine, fruit mustard
Second service
Braised squids "à la piperade"
Quebec Mozzarella di Bufala, focaccia and grilled romanescos from Jacques and Diane
Beef tartare, croûtons and pickles
Third service
Cheese platter
Slice of homemade pie
2. NEW AND HOT (AKA DATE NIGHT)
Moleskine
 – $41 – Locavore restaurant with incredible wine list and wood-burning oven
First service
Beets, Apple, housemade goat cheese, pistacchio pesto, buckweat honey (Miel d'Anicet à Ferme-Neuve, Qc)
Vitello tonato, artichokes, bitter leaves, parsnip chips
Fish crudo, eau de tomate, celeri, horseradish, ikura roe, dill
Second service
Fresh pasta, wild mushrooms, green beans, herb breadcrumbs
Fish of the day, crunchy green vegetables, seaweed, mint, smokey kefir sauce
Duck confit (La Canardière à Carignan, Qc), woodoven squash, marinated peppers, lentills, lemon sauce
Third service
Apple tatin tart, crème fraîche, crumble with spices
Brownies and chocolate crémeux, peanut nougatine, vanille ice cream
Sundae, housemade soft serve, Monteregie sea buckthorn, maple syrup and marshmallow
Ludger
 – $31 – This St-Henri wine bar isn't as sleek and new as Magdelena (same owner) next door, but the menu is more refined. The wine is just as awesome.
First service
Quebec wild boar terrine, Stanstead rabbit sausage, ice cider and nut jelly, homemade pickles served with fresh bread
Jerusalem artichoke and Bosc pear soup served with crouton and hazelnut mousse
Second service
Smoked venison neck and tongue in spicy crust, ginger cauliflower mousseline and marinated zucchinis
Quebec Arctic char gravlax, blond miso cream, Estrie butternut squash brunoise, pine nuts and caramelized onions
Third service
Maple "pot de crème" and cranberry crisp
Honey bread pudding, Saint-Hilaire apple mousse and jam
3. VEGETARIAN
La Recolte
 – $41 – Vegetarian
and omnivorous
fine dining from incredibly locavore chefs
First service
Duck confit from la Canardière puff pastry, kale, carrots, cauliflowers, creamy vinaigrette
Crispy stuffed morels, mozzarella di buffala from Maciocia brothers, roasted cauliflowers, sweet onion puree, Brussel sprouts
Pierogies stuffed with potatoes and old organic L'Ancêtre cheddar, oyster mushrooms, cheese chips
Second service
Squash trilogie from Mil'Herbes Farm, butternut mille feuille, roasted delicata and spaghetti squash, brussel sprouts, sour cream, cheddar crumble
Turbot, leeks and potatoes from Jacques and Diane farms, romanesco, cherry tomatoes, brown butter hollandaise
Duck breast from la Canardière, gnocchi, root vegetables, cabbage, duck crumble, maple sirup and soy sauce
Third service
Raspberry and sunflower financier, raspberry mousse, whipped cream, raspberry pearls
Cheesecake fritters, pears, Anicet honey
Restaurant XO
 – $41 – A fine dining ambiance and incredible deconstructed desserts. If you've never been inside this restaurant, it's worth it just for the decor. The pumpkin pie will be the icing on the cake. There's even a vegetarian option.
First service
Beet salad, salmon gravlax, mango and Kombucha gel
Stuffed carrot, Quebec's lamb bacon, smoked sour cream, apricot puree
Stuffed eggplant, romesco sauce, pickled vegetables
Second service
Route des épices beer braised pork cheek, squash puree, Gré des champs
Sea bream, cauliflowers variations, green apple sabayon
Spelt tagliatelle, wild mushroms, roasted vegetables
Third service
Religieuse, praline pastry cream, pear, caramelized hazelnut
Granny smith and lime dessert, banana cake, 1642 Ginger ale apples
Deconstructed pumpkin pie, brown butter ice cream, nougatine
4. INTERNATIONAL FLAVOURS AND BYOB
La Khaima
 – $21 – Mauritanian cuisine with BYOB and vegetarian options
Menu:
First service
Eggplant Mezze
Chickpeas and lemon Mezze
Second service
Chicken with olives, candied lemons, onions, peppers, tomatoes and Quebec couscous
Beef with dates, plums, figs, apricots and Quebec apples with couscous
Local vegetables: Quebec cabbage, carrots, green beans, potatoes, zucchinis and chickpeas, with Quebec couscous
Third service
Dried fruit cake
Dates and almonds
Saveur Soleil
 – $21 – Caribbean cuisine with some local ingredients
First service
Pumpkin soup coconut curry
Sunny salad with Gaspésie cranberry
Second service
Grilled Mahi-mahi creole sauce plantain and sweet potetoes
Chicken lime sauce with Quebec spinach rice
Third service
Mango and Gaspésie cranberry sorbet
Chocolate fondant
5. IF YOU HATE DESSERT
This category is full of places that serve three savoury courses and no dessert or include tapas where you can choose to go 100% savoury. 
Café Le Petit Flore– $31 –  If you're a wine buff, get the local Léon Courville wine pairing from Domaine Les Bromes, especially on Nov. 8 when Courville will be in attendance.
First service
Mixed greens salad

Muse 2015 – 11.00 $*
Soup

Muse 2015 – 11.00 $*
Second service
Fall vegetable and goat cheese lasagna

Cuvée Julien 2016 – 8.50 $*
Snails and Saint-Albert smoked cheddar cassolette and cauliflower semolina

Saint-Pépin Réserve 2013 – 14.00 $*
Edamame salad and smoked marinated trout from Trinité-des-Monts ($ 3 extra)

Chardonnay Réserve 2014 – 12.00 $*
Third service
Veal hanger steak, pan-fried oyster mushrooms and Jerusalem artichoke purée

Pinot noir 2014 – 13.00 $*
Arctic char, citrus brown butter, confit fennel and parmesan, orange and cumin tile

Vidal Réserve 2014 – 12.50 $*
Black pudding duo with blackcurrant cream sauce (Île d'Orléans) and flat cider from Cidrerie Milton
Ichigo Ichie
 – $41 – Four savoury courses of Japanese izakaya fare done upscale
First service
Tofu with yuzu miso sauce, smoked oka cheese, jerusalem artichokes and carrots
Gobo, fried burdock roots with Montreal steak spices
Second service
Smoked duck breast, grilled green onion, au jus sauce, fermented yuzu
Miso black cod, yuzu sauce, swiss chard
Third service
Panko breaded pork cutlets, sesame tonkatsu sauce
Jumbo shrimps tempura, spicy mayonnaise, almond flakes
Course 4: Carbonara udon or mushroom udon
Venice Downtown
 – $21 – pescatarian, gluten free and vegetarian options (but it's not so great for vegans). This place is known for its Foodora delivery, so the $21 lunch is about what you'd pay just to get that poke bowl delivered. The soup or salad and brownie or cobbler are basically free if you can manage to actually go to the restaurant.
Menu:
First service
BUTTERNUT SQUASH FROM QUEBEC AND COCONUT SOUP with turmeric, ginger and cayenne pepper (gluten free and vegan)
VENICE SALAD: kale from Trudeau farm, spinach, carrot, apple, pepper, orange, quinoa, feta, chickpea and poppy seeds vinaigrette (gluten free and vegetarian)
Second service
TUNA POKE BOWL : rice, red tuna, shoyu sauce made with honey from Quebec, spicy mayo, watermelon radish, mango, pickled ginger and tobiko (gluten free and lactose free)
TACOS AL PASTOR: Montreal tortillas, pulled pork, pineapple, onions, coriander and tomatillo salsa (gluten free)
TOFU POKE BOWL : rice, tofu, sweet chili sauce, pineapple, edamame, crispy shallots, green onion and sesame
Third service
DOUBLE CHOCOLATE BROWNIE with walnuts and vanilla ice cream from Quebec (gluten free)
QUEBEC APPLE COBBLER with salted caramel
7. BRUNCH
Chez Chose
 – $15 – brunch (Sundays only); $41 dinner
Brunch: First service
Smoothie
Soup of the day
Foie gras (50gr) – $11 extra
Second service
French toast, homemade blueberry jam, mozzarella di Buffala, maple syrup
Homemade blood pudding, fried egg, lyonnaise sauce
Eggs poached à La Provençale, chorizo and salted herbs
Third service
Coffee, tea or herbal tea
Available days for the Brunch service:
Sunday, November 6
Sunday, November 13
Chez Chose's dinner's not bad looking either:
First service
Smoked and marinated Rimouski herring filet, Gabrielle fingerling potatoes from Île d'Orléans, Balkan sauce, homemade pickle
Heart of venison from Boileau tartare, maltaise sauce, butternut squash, chips
Second service
Piglet shoulder from Gaspor, tamarind, sweet pepper, oysters mushrooms from Tête à Queue, polenta, salted herbs
– 
Stantstead Rabbit leg confit, pistachio, apricots, cipollini, wild rice, tarragon
– 
Third service
Crème brulée with cardamom, cooked in an apple
Pumpkin cream, spices and chocolate jar
La Betise
 – $31 – affordable bistro dinner and $15 brunch on Saturdays and Sundays. Skip the dinner wine pairings. It's just as casual and less of a steal.
Brunch:
Menu: Orange juice, Coffee, Mimosa
Second service:
Hangover Poutine (lap xuong asian sausage, bacon, poached egg with hollandaise)
Montreal's beer crepe served with Gaspésien smoked salmon, avocado, creme cheese and poached egg.
Egg Benedict with Lac Brome, Canton de L'Est duck english muffin and hollandaise sauce
Available days for the Brunch service:
Saturday, November 5, Sunday, November 6, Saturday, November 12, Sunday, November 13
La Betise's Dinner:
First service
Torched Mackerel with Montegerie region maple syrup, radish and lamb's lettuce
La Bêtise Classic Salmon Tartare
Ormstown, Montegerie Squash, curry and coco soup
Second service
Lobster and Rimouski sea urchin mac and cheese
Asian style duck tartare from Lac-Brome, Cantons-de-l'Est (fried oignon, fresh ginger, sesame, soya, lemon juice and taro chips)
Ultimate La Bêtise burger (aged cheddar, egg sunny side up, caramelized oignon with maple sirup and bacon) served with fries
Third service
Chocolate creme with mascarpone mousse and elderberry sauce from Granby, Montegerie
Homemade Churros served with salty caramel sauce
Fried Bueno served with vanilla ice cream, hazelnuts, chocolate ganache and Coureur des Bois liquor from Canton de l'Est