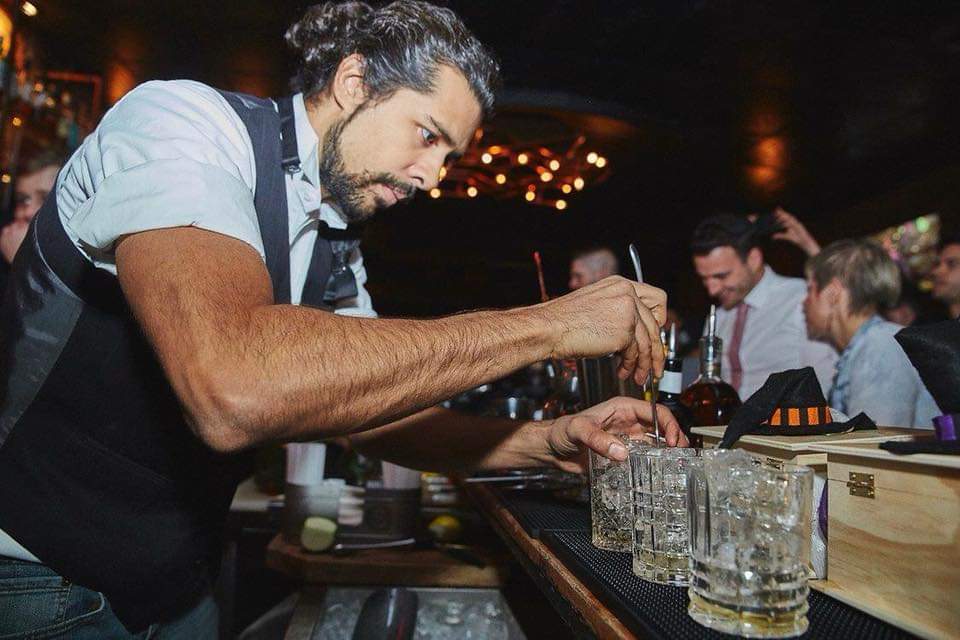 This is no small competition. For the past 10 years, the province's best local bartenders have been duking it out with wildest, most delicious cocktail creations. Their goal: to win the hearts of a panel of judges and an adoring public that pays for the all-inclusive privilege of trying samples of them all.
It's always on a Monday, so that:
a) all the industry people can come (many bars are closed on Mondays, so it's the bartenders' day off) and
b) fewer people get ridiculously drunk, because they probably have to work the next day.
I say "work" because the $65 price tag (for tickets bought in advance; it's $75 at the door) is inhibitive for students or others without a ton of extra cash (generally made by working, I hear). But did I mention that all-inclusive thing? What I didn't mention is that often also includes food – snacks from the bars to pair with the drinks, or sometimes added to the drink itself, like a scoop of boozy sorbet with an amaretto cocktail or a candied piece of bacon with a whisky cocktail.
Emerson Pereira of Big in Japan Bar is no rookie to the competition. He worked as a bartender for six years in Australia and Brazil before coming to Canada and helming the wraparound bar at Big in Japan. He even had his own bitters company down under called "Jungle Bitters." Before Made With Love, he won the Brazilian national Diplomatico rum competition and came third in the Oshlag Distillery comp here in Montreal. Last year (his first year with Made With Love), he placed first in the qualifying round (he made a layered apple sour cocktail with vodka, white vermouth, chocolate bitters and Campari), for which he got a chance to win some crazy trips to distilleries all over the world, and a ton of shmoozing with big brands and companies. And all that can lead to some lucrative gigs in consulting or guest bartending.
This year, he's planning to do better, but first he needs to get through the qualifiers again. "I guess we always try to improve and be aware of the mistakes we made. This year I'm a bit more careful with my ingredients," he said. Choice of ingredients is important when it could mean the difference between spending an evening fussing with liquid nitrogen or having people wrinkle their noses at the funky chickpea flavour to your cocktail's foam – neither of which will be a concern for the pro, I imagine. He couldn't reveal what his cocktail will be, but the inspiration is New Orleans, he says. "It's not on the Big in Japan menu," he adds, so you'll have to try it at the event.
Is it worth the money? If you love well-made cocktails, then yes. Definitely. "This event it's amazing," says Emerson, "and be part of it, it's awesome. I've learned a lot, pushed harder, and hope that we all get the most out of it."

What could Emerson win at Made With Love this year?
The mixologists are competing for the chance to win one of two trips to Italy with Campari, two trips to Nicaragua with Flor de Caña rum, two trips to New Orleans with Sazerac (have you tried the Cognac Sazerac at Dominion Square Tavern, by the way? It's the best. Pricey, but there you go. P.S. I'm not paid to write that), two trips to Kentucky with Woodford Reserve and two trips to Spain with MADE WITH LOVE (Spain's the other country where the competition operates).
This year's Made With Love competitors:
When, Where and Other Info
What: MADE WITH LOVE – Montreal 2018 Regional Finals
When: Monday, December 10, 2018, from 6pm to 11 pm
Where: Société des Arts Téchnologiques (SAT) 1201, Boul. Saint-Laurent Montréal
Tickets: From November 27th – December 10th: 65$; at the door: 75$
Tickets are on sale at all participating bars and online at www.enjoymadewithlove.com
What do you get? All the cocktails created by the competitors, food pairings, and the right to vote for the best Barchef in MTL.