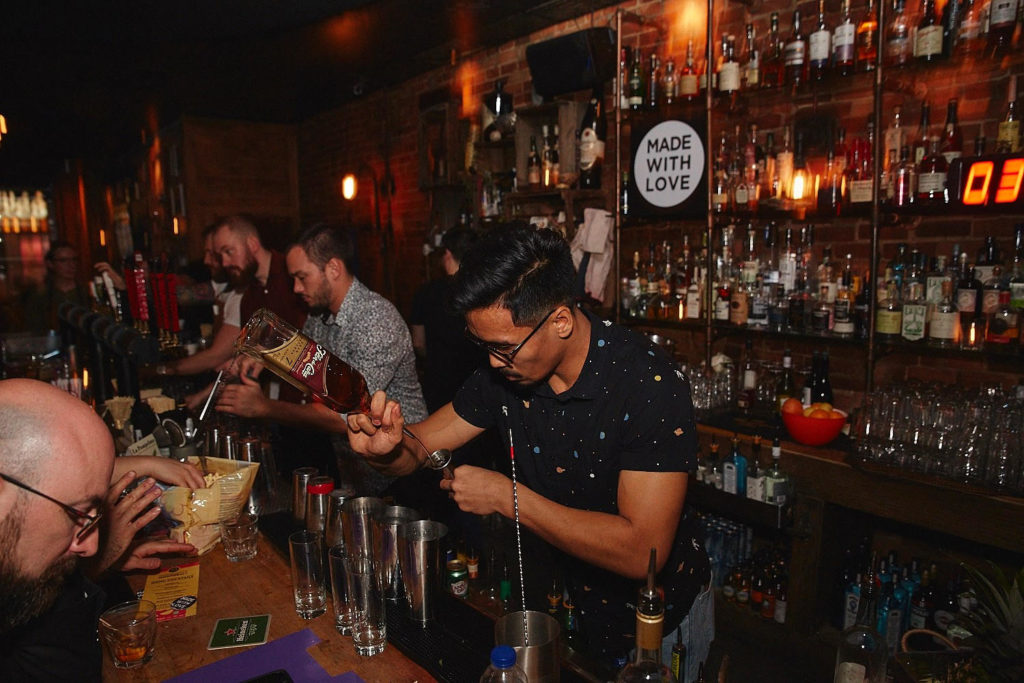 Is he going to have a splash pool in the Société des Arts Technologiques? I half wondered, as I read Kevin Cacho's email about what he's planning cocktail-wise for Montreal's Made With Love Regional Finals on Dec. 10.
Cacho's only been working in the bar/restaurant industry for less than a year but already he'll be taking on some juggernauts at the biggest cocktail competition in the city. He shouldn't be overlooked, though; he's got a good coach.
"The idea initially came from
Gia Bach
, my coworker who really encouraged me to compete (when I say encouraged, I kind of mean pushed me). My training comes mostly from working at the bar. I get to watch and learn from the best bartenders in the city and I am very grateful for that. It is very refreshing to be working with people who have such a high standard in everything they do," he said.
Earning His Cocktail Wings
Cacho worked at Mayfair Cocktail Bar for about two months as a busboy/barback before spending the last nine months at the Coldroom. "I started doing the syrup prep for the bar while also barbacking. I only started as a waiter last week," but Made With Love isn't technically his first competition. "I participated at
Drunken Padawans
in March," he said – a speed-based cocktail competition for new bartenders.
How the Competition Works
Bartenders at Made With Love compete in two categories: the judges' favourite and the public's favourite. Attendees are given a dog tag upon entry, which they give to their favourite bartender. That decision can be based on a lot of things: their favourite tasting drink (most often), the best explanation/presentation/drink backstory, the best food/cocktail combo, the booth decor, etc., or a combo of these. The judges are a little stricter with their criteria, travelling from booth to booth and testing the drinks one by one (I may or may not have peeked over the shoulders of the judges all evening last year, to try to get a look at the grading system…)
So a bartender needs to decide where to focus his or her attention, and needs a cool concept and a smooth execution with his or her team, which can be a handful of people prepping ingredients, preparing the food and keeping the booth tidy.
"I'm going for both dog tags and judges vote," says Cacho. "My cocktail and food pairing are waste-free. My cocktail is highly influenced by Frank Ocean, but more specifically the song Sweet Life in his Chanel Orange Album. You can expect flavours of mangoes, peaches and limes. It will be served over crushed ice." His goal is a refreshing cocktail that doesn't overpower the base alcohol: Woodford (bourbon whiskey).
"I'm looking to capture the crowd's five senses, with not just my cocktail, but how the booth will be set up," he says. From some sleuthing (aka listening to the song…) that might mean something beach-related: "palm trees and pools…" "the water's blue…"
That's why I was only half joking about the splash pool. How about a beach chair? Sand box?
Cacho's drink isn't on the menu at the Coldroom, "so you would only be able to taste it at the competition," he says. Here's how:
What: MADE WITH LOVE – Montreal 2018 Regional Finals
When: Monday, December 10, 2018, from 6pm to 11 pm
Where: Société des Arts Téchnologiques (SAT) 1201, Boul. Saint-Laurent Montréal
Tickets: From November 27th – December 10th: 65$; at the door: 75$
Tickets are on sale at all participating bars and online at www.enjoymadewithlove.com
What do you get? All the cocktails created by the competitors, food pairings, and the right to vote for the best Barchef in MTL.