I made the most amazing tomato sauce. I'm serious. If you were me and I was you I would marry you for this tomato sauce. Honestly the best tomato sauce I've ever made, including many attempts with San Marzanos, supposedly the best and naturally sweetest canned, imported tomatoes. Use medium size or large tomatoes that don't taste too watery (take a bite out of one and see if you think it has enough flavour). Italian Grandmothers will love me for this sauce. I will never again be hit over the head with a spatula by a woman yelling, "Che stupida!" I don't think that one needs translation…it hasn't actually happened yet, the yelling and the beating by spatula I mean, but it seems rather inevitable when I make such horrible pasta.
For instructions on how to make your pasta from scratch, check out the rest of the story of this dinner here…
Ingredients:
2 tablespoons extra virgin olive oil (yes, I actually used all two tablespoons. You don't need a lot of this sauce, since it coats everything and is so flavourful, but cold-pressed extra virgin olive oil is good for you, and as long as you don't abuse it too regularly, you will be happier using 2 tablespoons than 2 teaspoons)
2 shallots, diced
3-5 cloves garlic, crushed with flat of knife and sliced thinly (remove the germ, the greenish bit in the middle, since it supposedly makes the dish bitter. Apparently crushing the garlic also makes it less bitter. I actually did this step. Normally I read this instruction and scoff, but I wasn't taking any chances)
1/2-1 cup diced, fresh parsley. I wrapped it all around itself and kind of did a chiffonade (wrap it up like a cigar and then make thin slices. It doesn't bruise the herb as much this way.
1/2 cup red wine ("Good enough quality to drink". Don't go overboard, but choose something decent that you'll be happy to drink the rest of with dinner…or while cooking…and open something better for dinner)
1/2 tablespoon cane sugar (I used xylitol, a sugar substitute, since it's so little, but you can use any regular white granulated sugar)
Salt (a pinch) and freshly ground black pepper (a few grinds)
5 very large, sweet, ripe, perfect tomatoes (Know your tomatoes! The large ones can be bitter and watery, in which case use more of the smaller, generally sweeter ones)
1 tsp lemon juice (you might not want this since the sauce may be acidic enough, depending on your tomatoes, so taste the sauce before you add any. you'll probably need it if you use the brandy below)
3 tablespoons brandy (optional. I think it will overwhelm the tomato and wine flavour so I skipped it. I ate the pasta with the rest of the red wine, so I didn't want different alcohol messing up the wine pairing either. Don't worry, I'd been working on this bottle for a week, so it's not as though I downed a whole bottle minus a half a cup. You're probably laughing at me because who drinks a bottle of wine a half a glass at a time over the course of a week?)
My farmer John/Giovanni at the Thursday Mile End farmer's market was the key to my success, but now Lufa Farms is generally the key to my tomato success. Either way, buy incredible tomatoes and try not to eat them all in salad. If possible, do like I did with my figs and buy way more than you think is necessary so some are left for this sauce by the time you get around to making it.
Instructions:
Blanch the tomatoes in boiling water until the skins are loose and wrinkled (about 45 seconds-1 minute, 15 seconds). Use tongs to transfer them to a bowl of ice water (you don't want to drain the whole pot in case the skins aren't ready to be removed and you under-blanched them. Sucks having to wait for water to boil AGAIN. What are you? Pregnant?) and remove the skins once the tomatoes are cool enough to touch. Then dice them.
Now the important part: drain the excess juice from the tomatoes. Put the tomatoes over a big sieve or put them over a little sieve like I did in batches. It's mind-numbing and frustrating (to the point where I bought a big strainer today after I'd done this, so next time it will be easier) but it makes all the difference in the world. If you do this sauce on the stove you only need to drain the tomatoes a little since some of the juice will evaporate in the cooking process and you don't want it to burn. But if you do it in a slow-cooker like I did, you need to get rid of all the excess liquid. Don't bother removing the seeds. If the seeds make it more bitter, then the sauce would have been too sweet if I'd taken them out.
Heat the olive oil over medium heat in a pot if cooking on the stove, or in a frying pan or pot if cooking in the slow-cooker. When hot, add the shallots.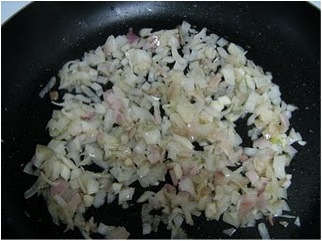 Turn the heat down to medium-low, cover the pot, and sweat (them, not you) for 10-12 minutes. I forgot to cover it, but I don't think it really mattered since the heat was so low and there was so much oil.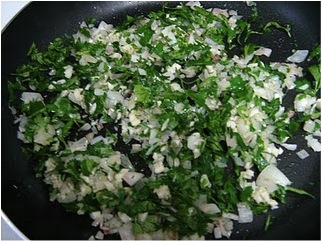 Add the garlic and parsley and re-cover for another 5 minutes or so. This time I actually read the instructions correctly and covered it.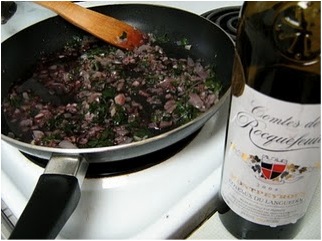 Uncover and add the wine. Reduce the liquid by about half (5 minutes-ish).
Add your diced, sieved tomatoes, and salt and pepper. Transfer the contents of the pot to the slow-cooker, or cook fifteen minutes on the stove. I like the slow-cooker method because you turn the heat to low for a good 2 or 3 hours and all the flavours marry. It's more like the traditional idea of leaving the pot on the stove all day to cook. 15 minutes feels like a quickie – convenient, but not as satisfying. So I hear, mom.
If you're using lemon juice or brandy, add it 20 minutes before you want to eat for the slow-cooker version. In the stove-top version add it 3-4 minutes before serving.
Serves 4. Top with fresh parsley and cheese, or my dairy-free, admittedly less amazing version of cheese: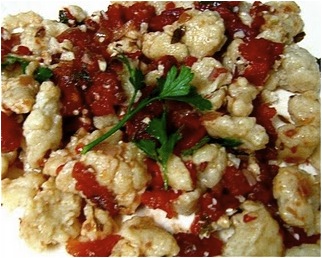 Raw Cashew Cheese:
I make this because I'm lactose intolerant and melted cheese is amazing but makes me very sick. I can have raw, probiotic cheeses, but when I want to mix them into the pasta and make them all gooey it's better to just avoid. A handful of soaked cashews (a few hours in a big bowl of water, and then drained. Or soak them in advance and then dehydrate them and freeze them until you need them) thrown in the blender with a splash or 3 of lemon juice, a sprinkle of salt (as much as you'd get from a parmesan – "parmiggiano"…what am I? English? – cheese, to a good pinch), and a few grinds of pepper. If you don't die of happiness on first tasting the tomato sauce it's your tomatoes' fault. Trust me. It's all about faith and good tomatoes and a little bit of prayer thrown in because it's Italian. You could yell a little if you want, too. That makes it more authentic.