November is wine month in Montreal, which comes at the perfect time to help you select some delicious (and maybe organic, biodynamic and natural) wines and alcohols to drink and gift over the holiday season. I drank my way through the most natural, biodynamic, organic and high quality bottles at the city's three coolest wine salons in the quest for the best. Here are the bottles to pick up this December, whether you're throwing a party at home and want a case of sparkling or just want some new options from amazing winemakers (without the holiday headache of sulfites and Revolution Red.
If you need a primer on buying private import wine, here you go.
Here are the wines I thought were (completely subjectively) the most delicious: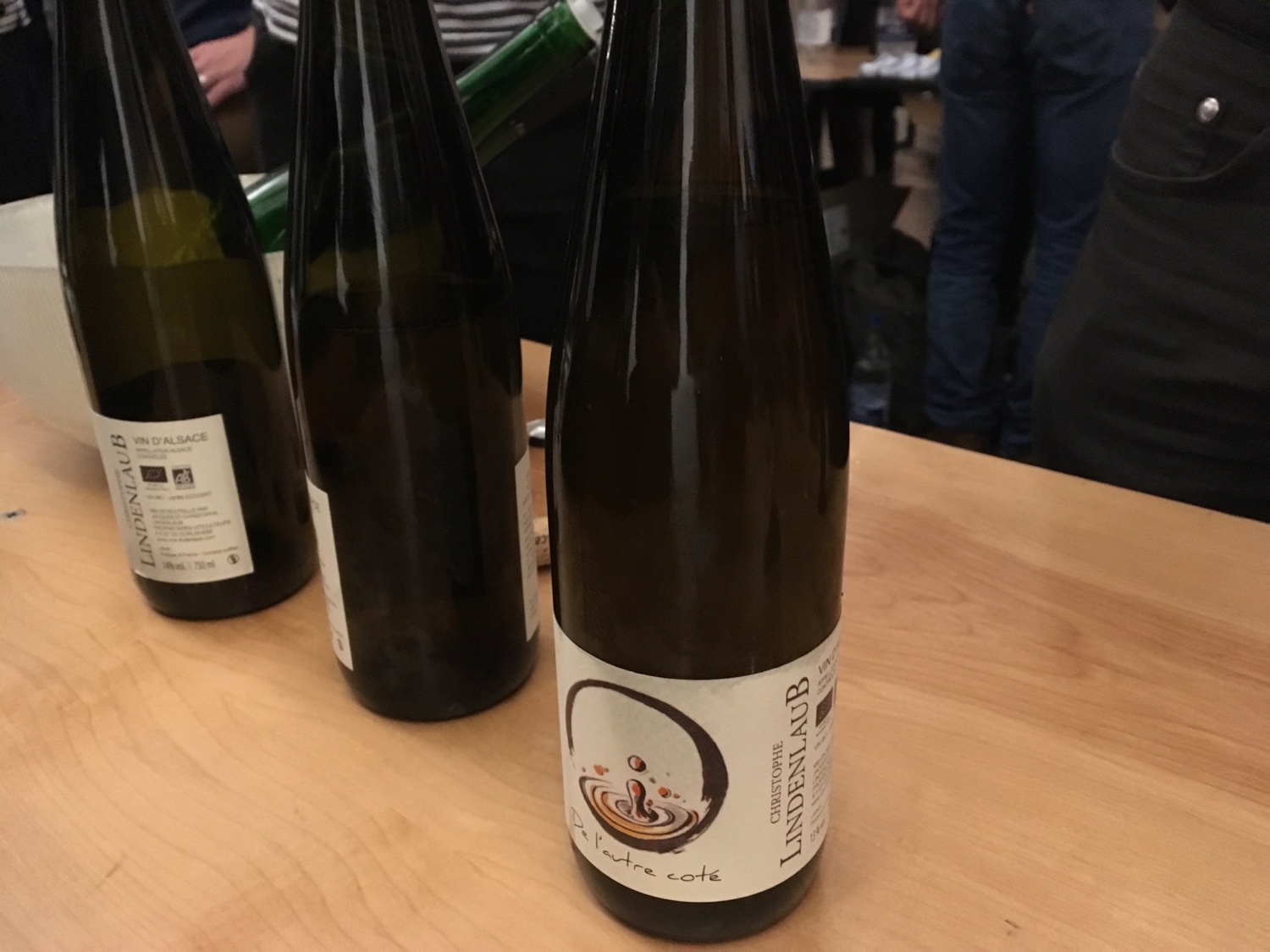 From Glou, a private wine importer in Montreal. To get Glou's wines, you'll have to contact the company directly by phone or email.
De L'Autre Côté from Christophe Lindenlaub
Natural wine
Ever heard of auxerrois blanc? Me neither. Shame on us. It's a grape varietal from France that's big in Alsace.
Nice mineral balance from the clay and limestone soil. Wonderfully dry but balanced.
Here's what Vinetek thinks: aromas of licorice, anise and white flowers. Soft attack in the mouth.
BUY THIS IF: You want a gorgeously drinkable and refreshing white wine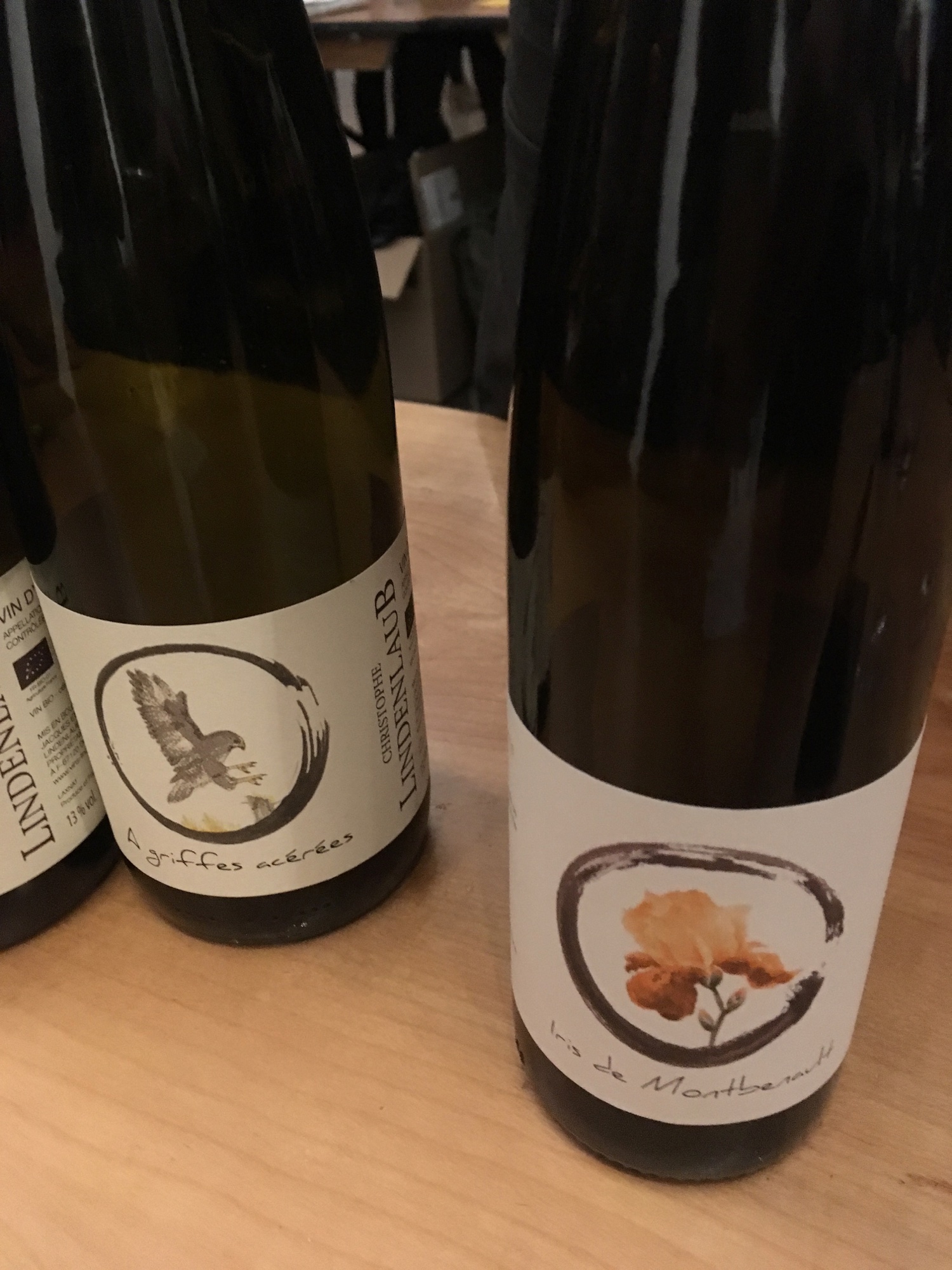 L'Iris de Montbenault from Christophe Lindenlaub
Here's one for the natural wine geeks: An orange wine (the grapes are fermented with the skins to give the colour) named by Richard Leroy, a friend of Lindenlaub, after his daughter Iris. Two bigtime natural wine producers coming together in one bottle.
Natural wine
Gewurtztraminer. High tannins for a white, low acidity, not sweet like we stereotype Alsatian Gewurtz in North America. More floral and dry.
BUY THIS IF: You're a natural wine geek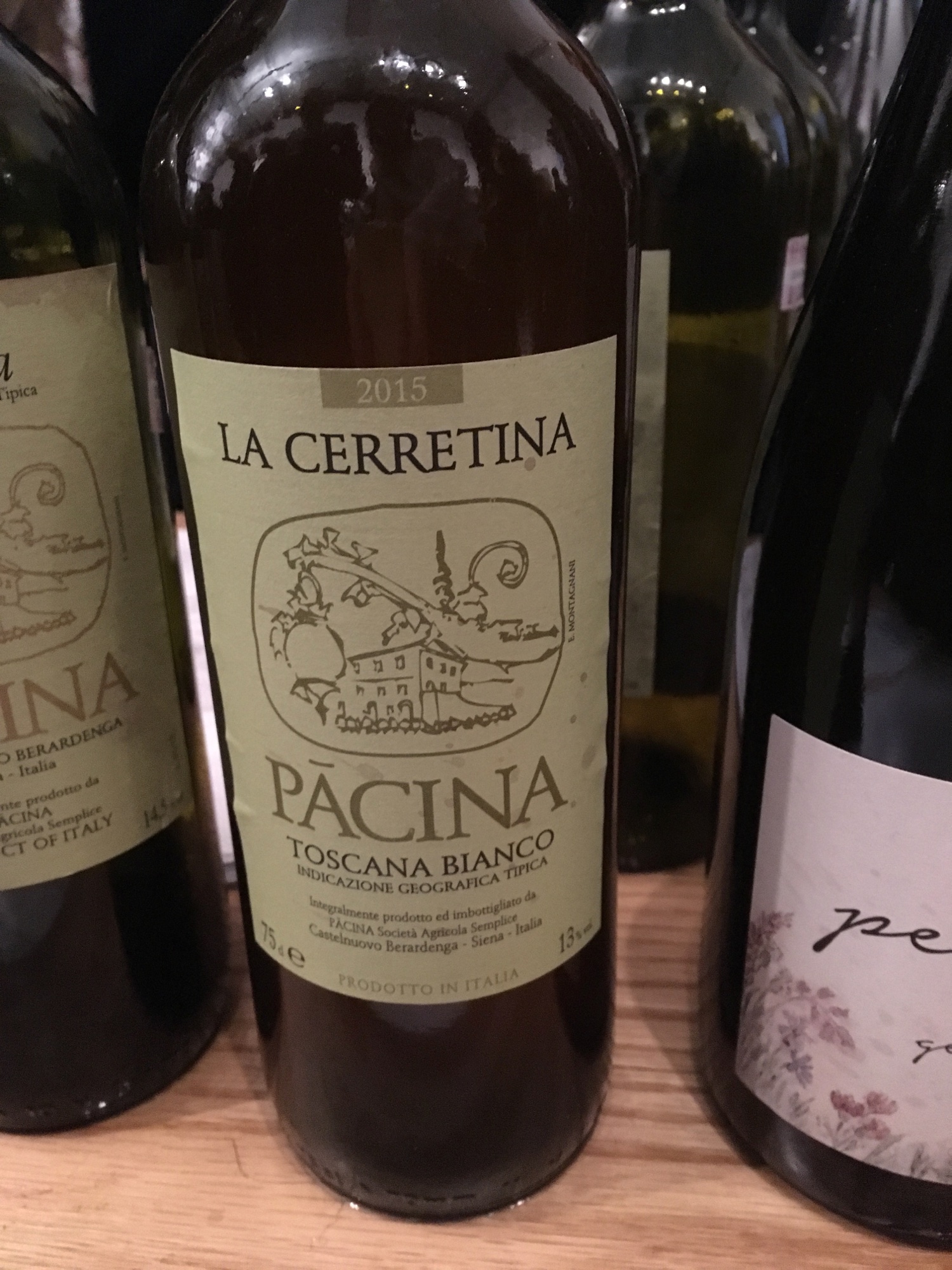 I think this one was from Ward & Associés
Pacina – Toscana bianco from La Cerretina
Big tannins from the skin maceration. Spicy, hot at 13% alcohol, but it doesn't taste overly boozy. 
BUY THIS IF: You want a white that drinks like a red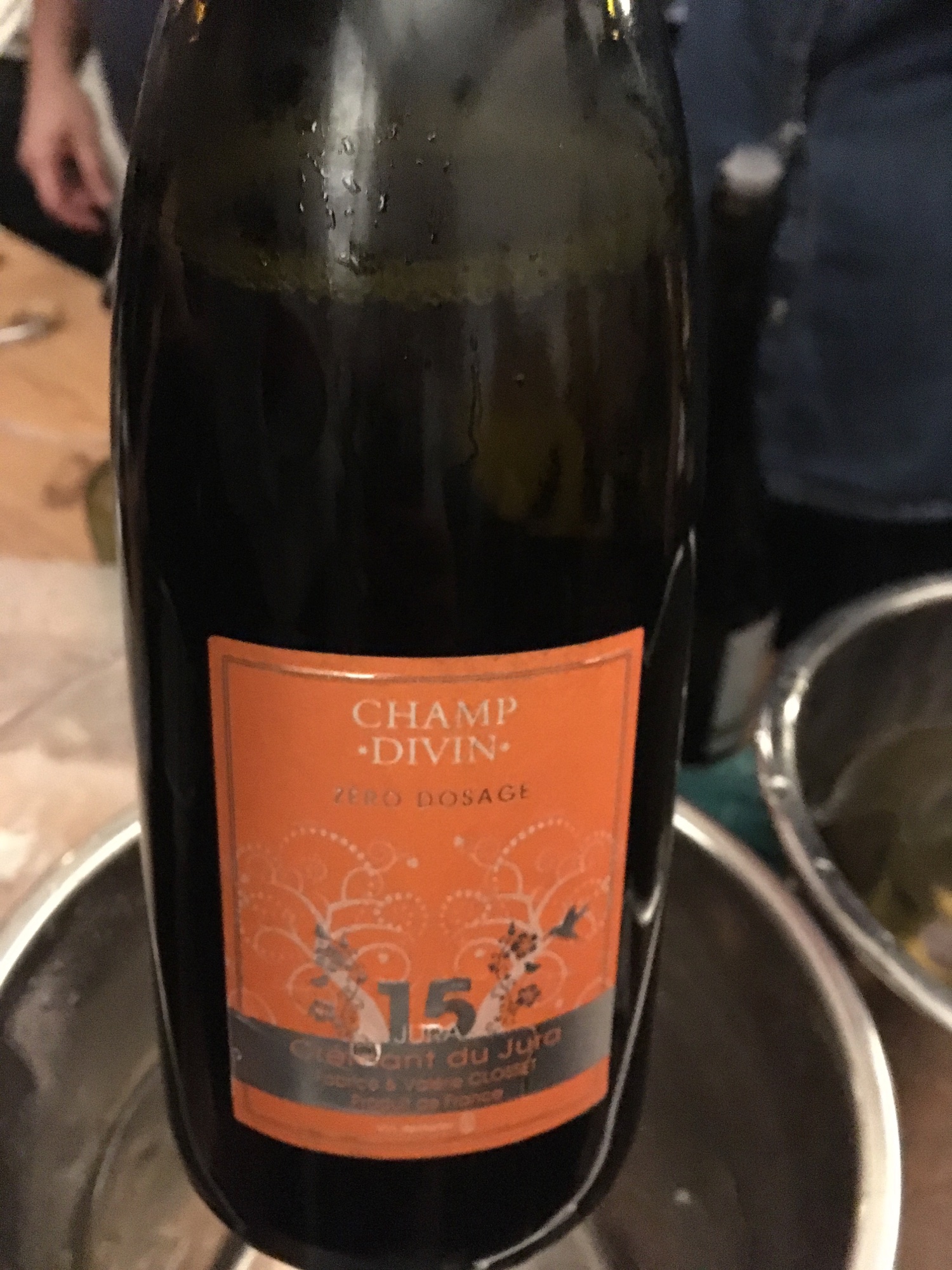 From Origines
Crémant de jura zéro dosage from Champ Divin
$32.47
2015 Chardonnay
BUY THIS IF: You want some amazing bubbles at a low price / You're throwing  a New Years Party / You weren't born under a rock (aka everyone, I hope)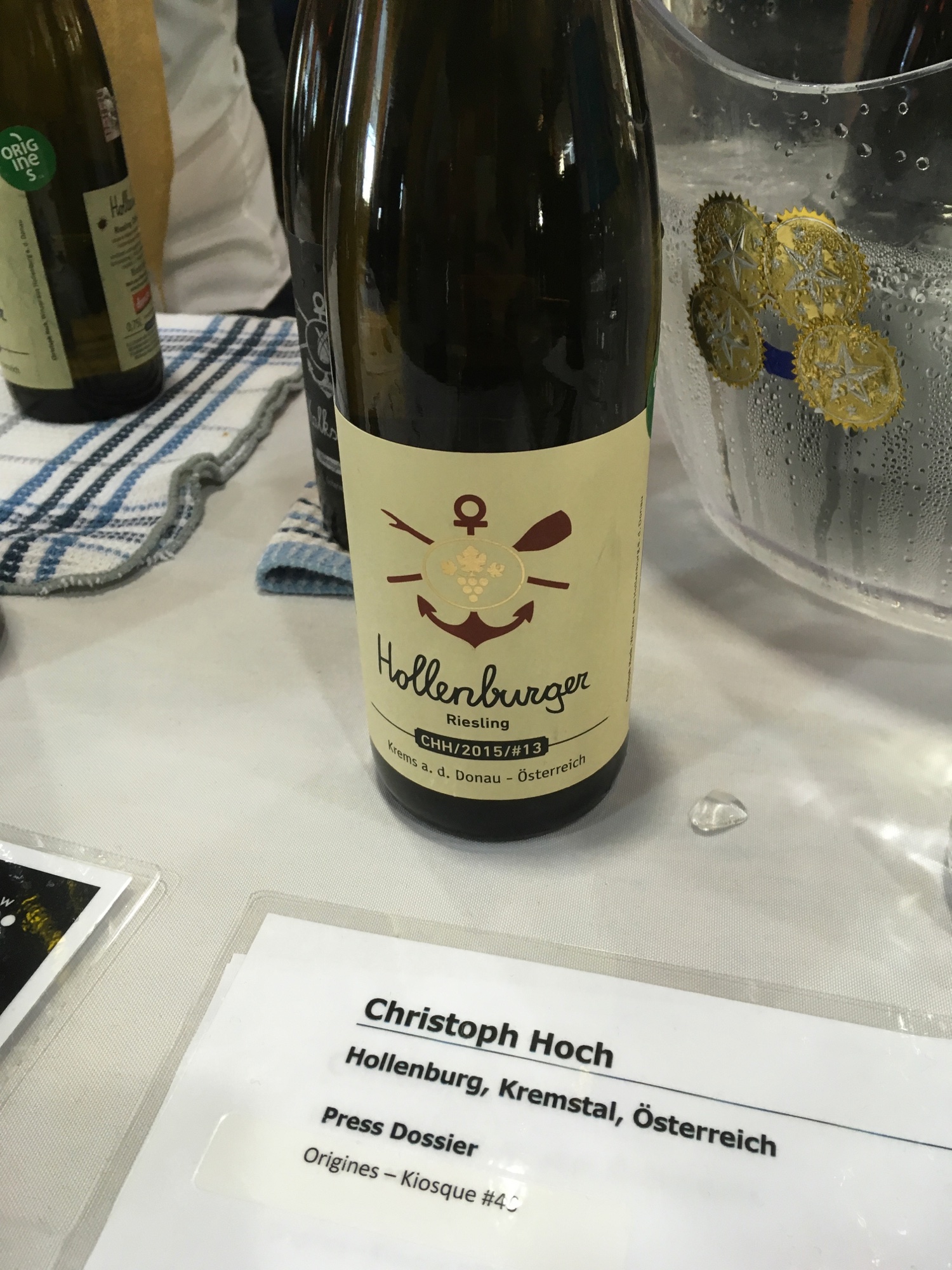 Hollenburger
Austrian Riesling 2015
Christoph Hoch
More typical Riesling in that it's sweet, but not too sweet, with lychee on the nose and low acidity
BUY THIS IF: You want the impression of sugar and fruit without the diabetes / You love Hugel but want to grow up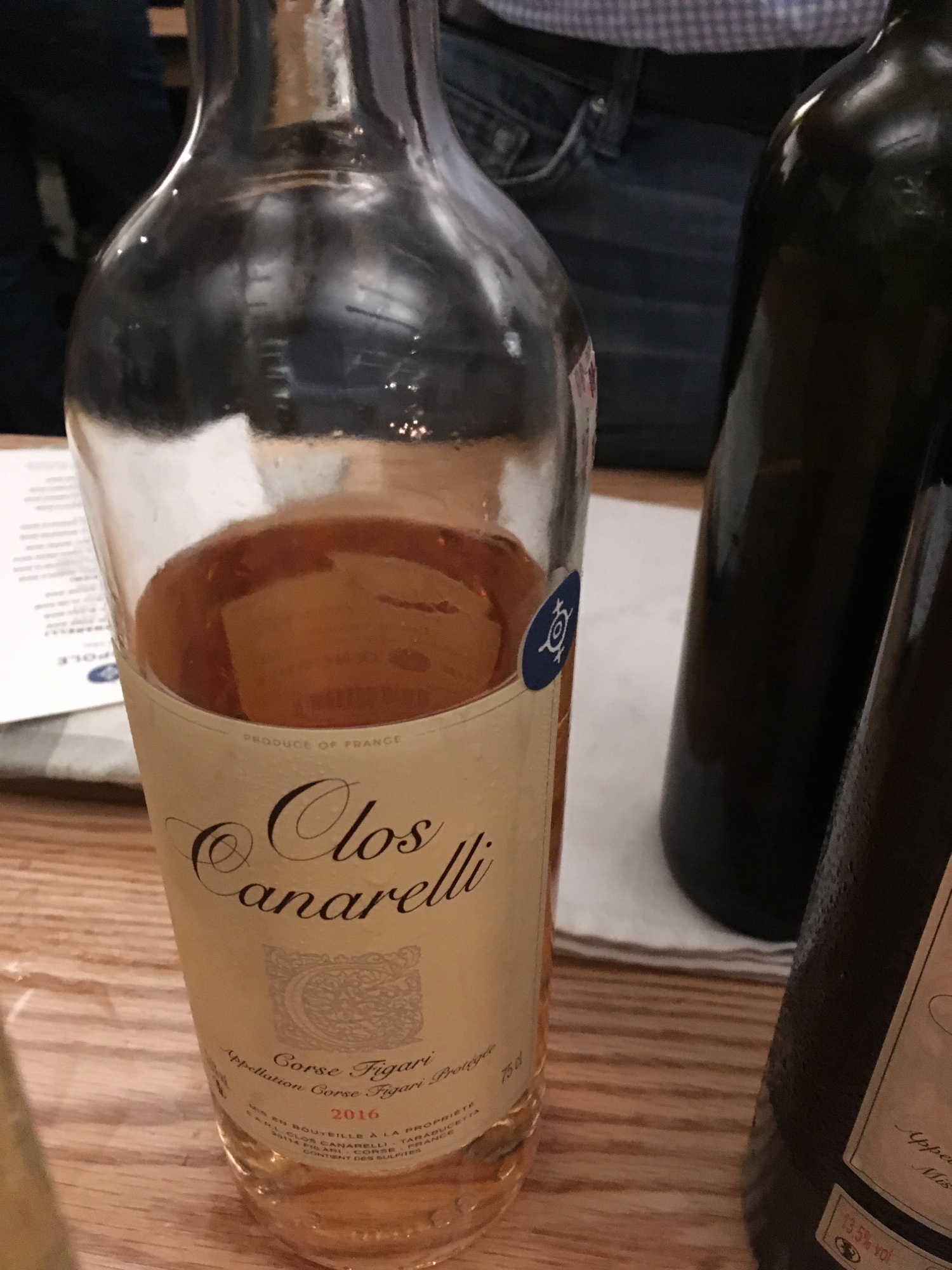 From Oenopole

Clos Canarelli 2016 Corse Figari
This one's also at the SAQ for $37. It's a barely pink rosé.
The white 2016 of the same grape is $47. I liked it plenty, and I'd buy it if I had the cash (below).
BUY THIS IF: You want to school your drinking friends on what they expect rosé to be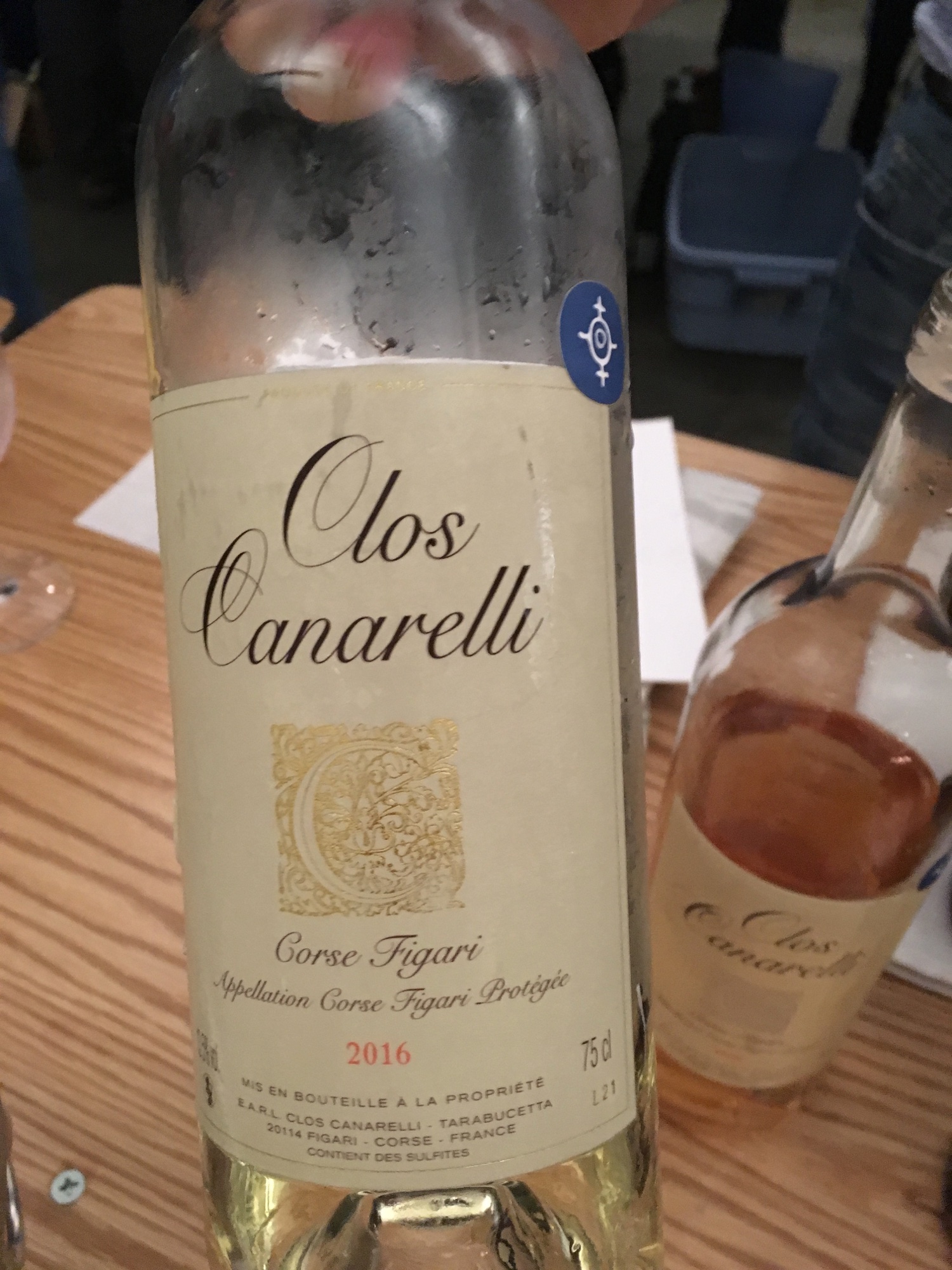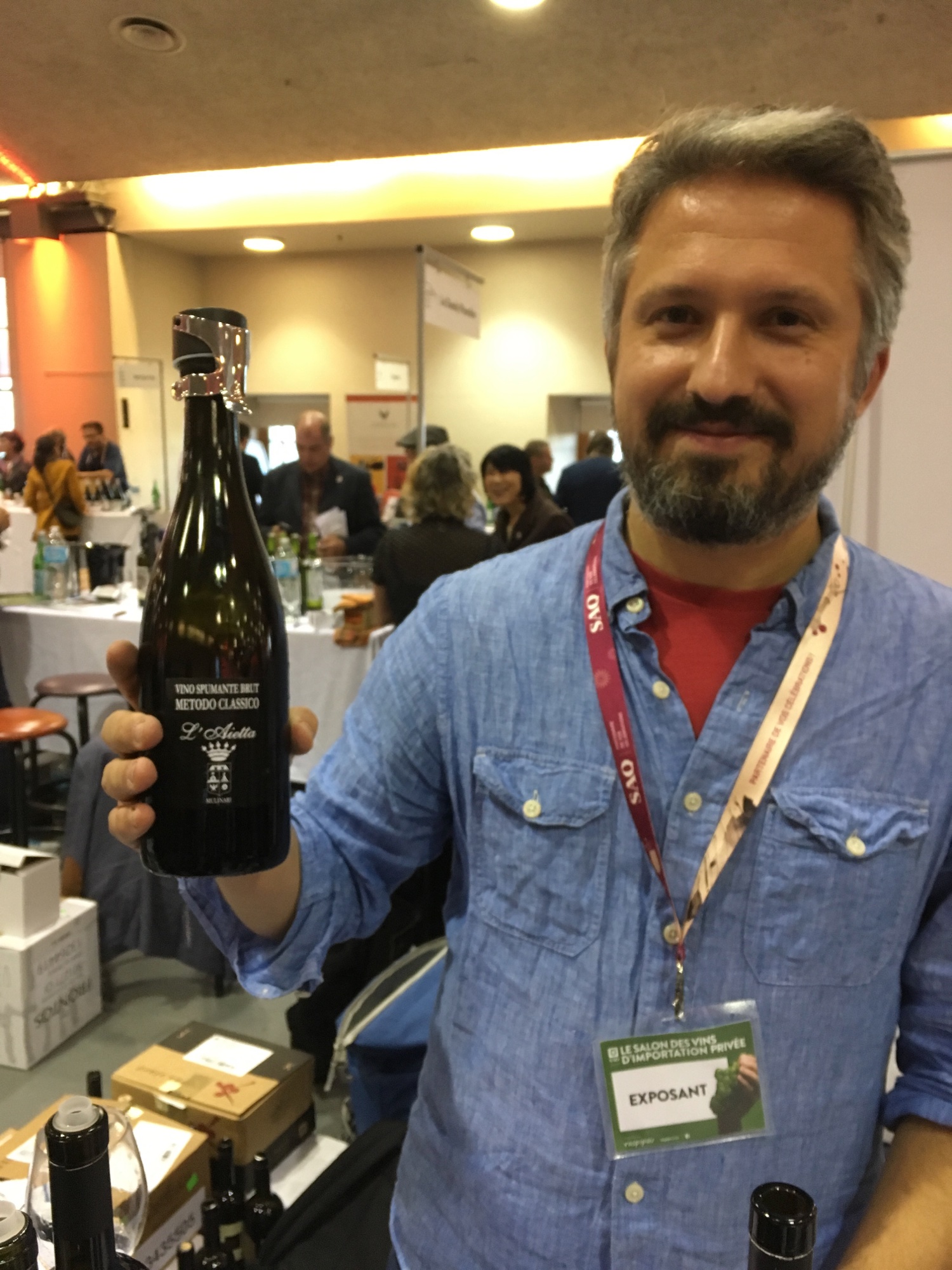 From L'Agence Sans Nom (contact: 514-261-2886 • Vadim.fonta@gmail.com)
Vino Spumante Brut – Metodo Classico from L'Aletta
Have you had a sparkling Sangiovese before? It's delicious. Rosé bubbles. It's a sprink sipper for most, but beautiful year round. This is a first picking.
"J'ai comme fucké le processus," said our gracious pourer, Vadim Fonta of Agence Sans Nom as he poured the Rossi di Montalcino before the sparkling red. No one minded. 
BUY THIS IF: You're into the sparkling rosé trend / Need a fun pairing for turkey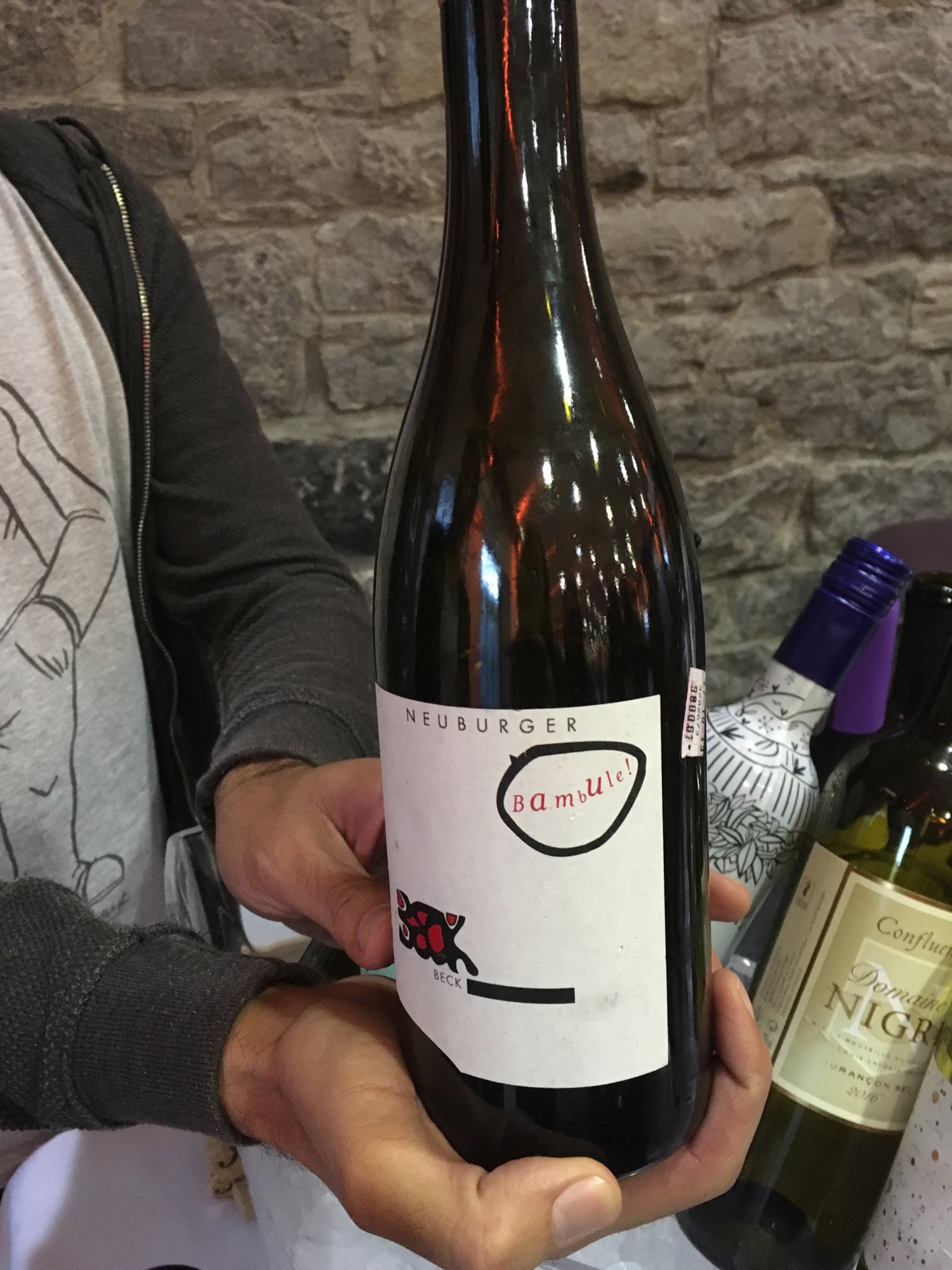 Neuburger, Bamboule, Beck, 2015 $40
Biodynamic but vegan red from Austria
100% Neuburger grapes
Grapes crushed by foot
Kept on the lees for a year
Unfiltered

BUY THIS IF: You like cool labels and natural wines / Want a biodynamic and vegan wine (no cows horns involved)


La Grande Dégustation 

This huge tasting salon had four themes this year: Champagne, Riesling, Washington and Cocktails.
I was on the hunt for amazing Alsatian Rieslings, but the Austrian Riesling above (from Christoph Hoch) was better. This was the second best: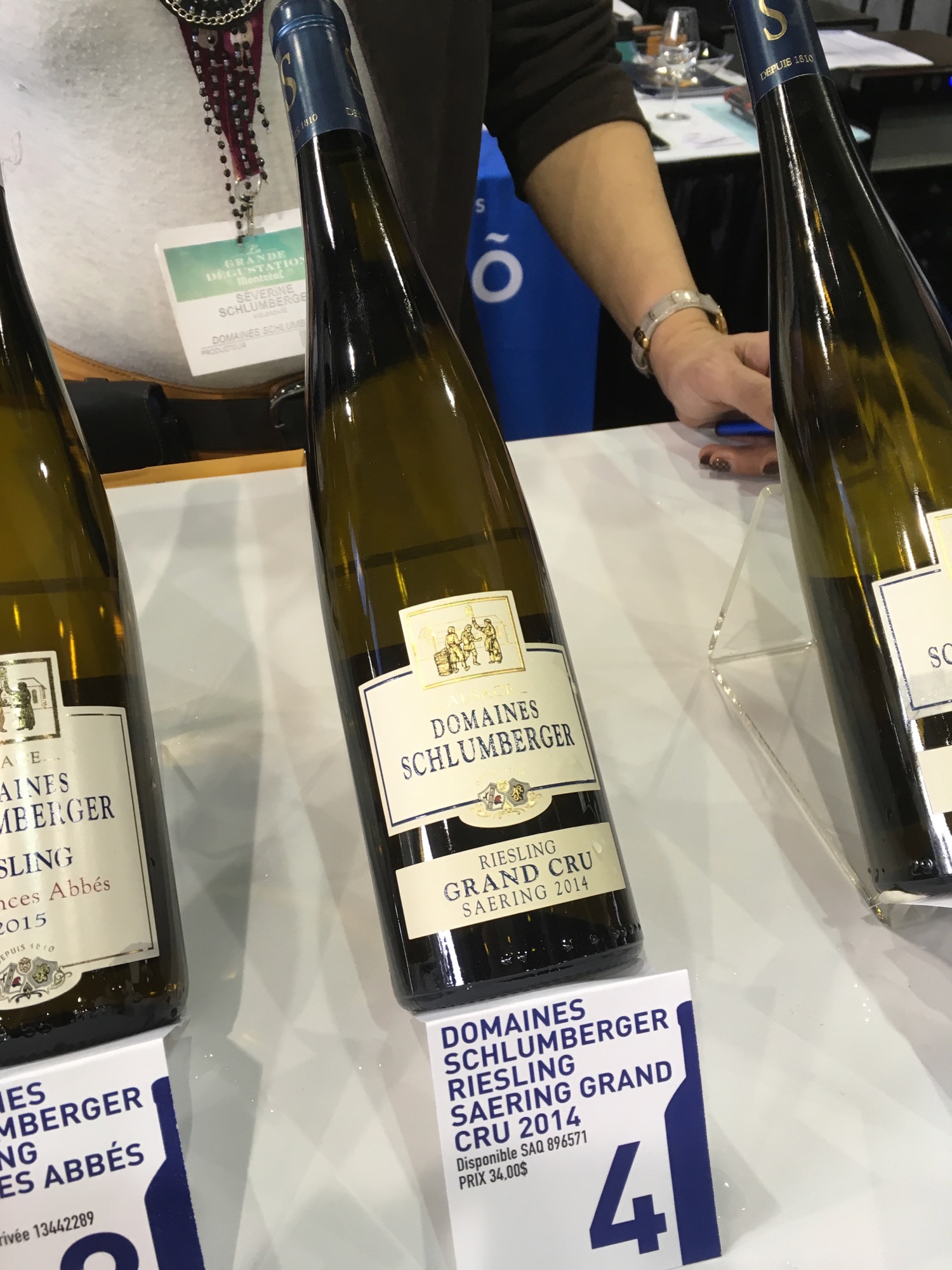 Domaines Schlumberger – Riesling Grand Cru
Saeling 2014
$34 at the SAQ
Nice balance of acidity and sweetness. Not bone dry, but accessible for anyone not used to dry Riesling.
BUY THIS IF: You want to show off with your dry Alsatian Riesling / Need a lovely gift for your significant other's parents that screams 'good taste'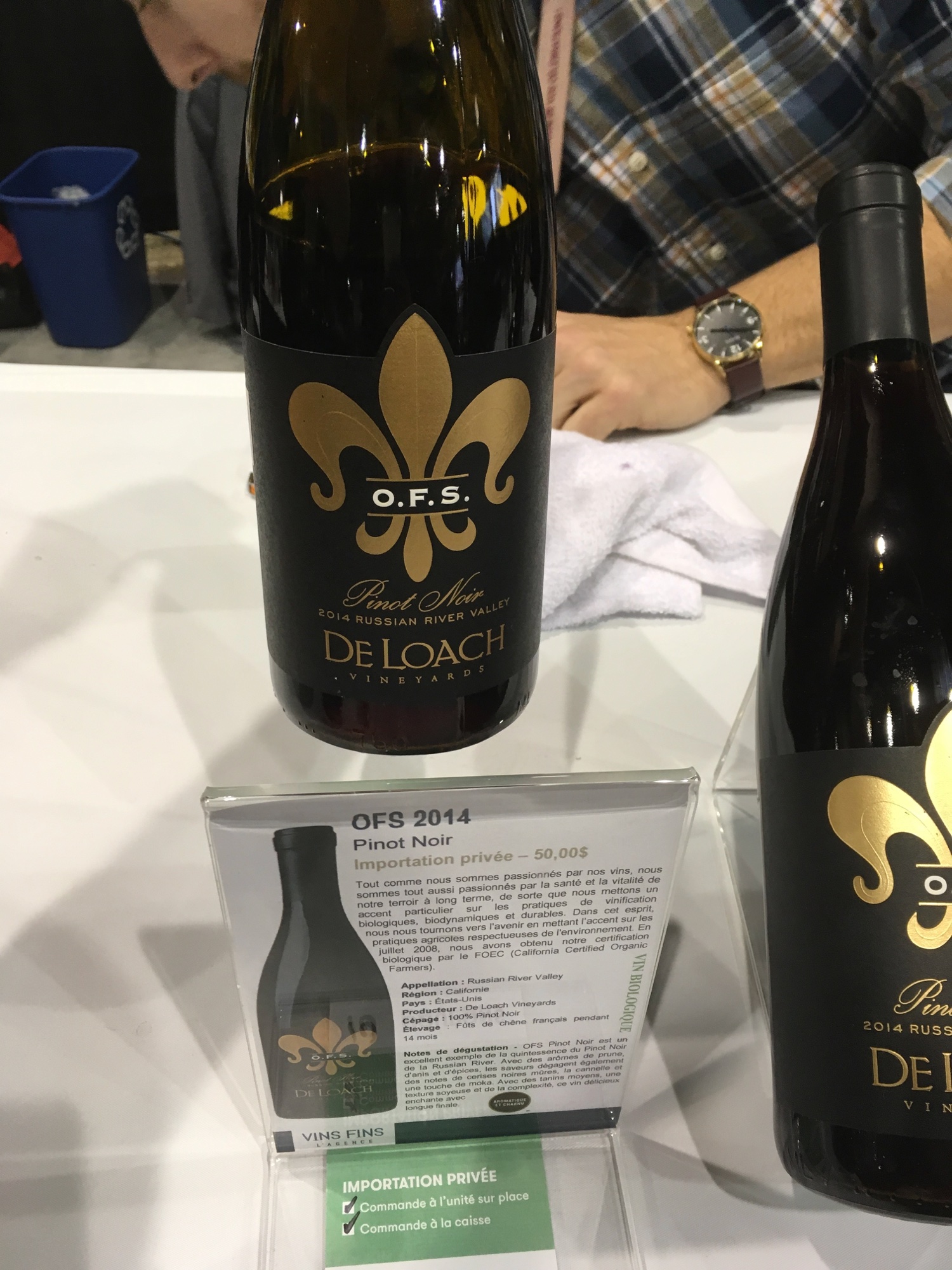 I tasted my way through some of the more sustainable wines coming out of Washington, but the only thing I really liked was this:
$50 De Loach Vineyards Pinot Noir from Sonoma Valley, California
Biodynamic
It's less of a fruit bomb than most of Cali's Pinots, but it's still picked ripe. So you get natural sweetness without the cloying sugar headache.
BUY THIS IF: You want a full-bodied red without the headache
Barolo
And of course I did a Barolo tasting…which was not a theme, but when can I afford these at restaurants?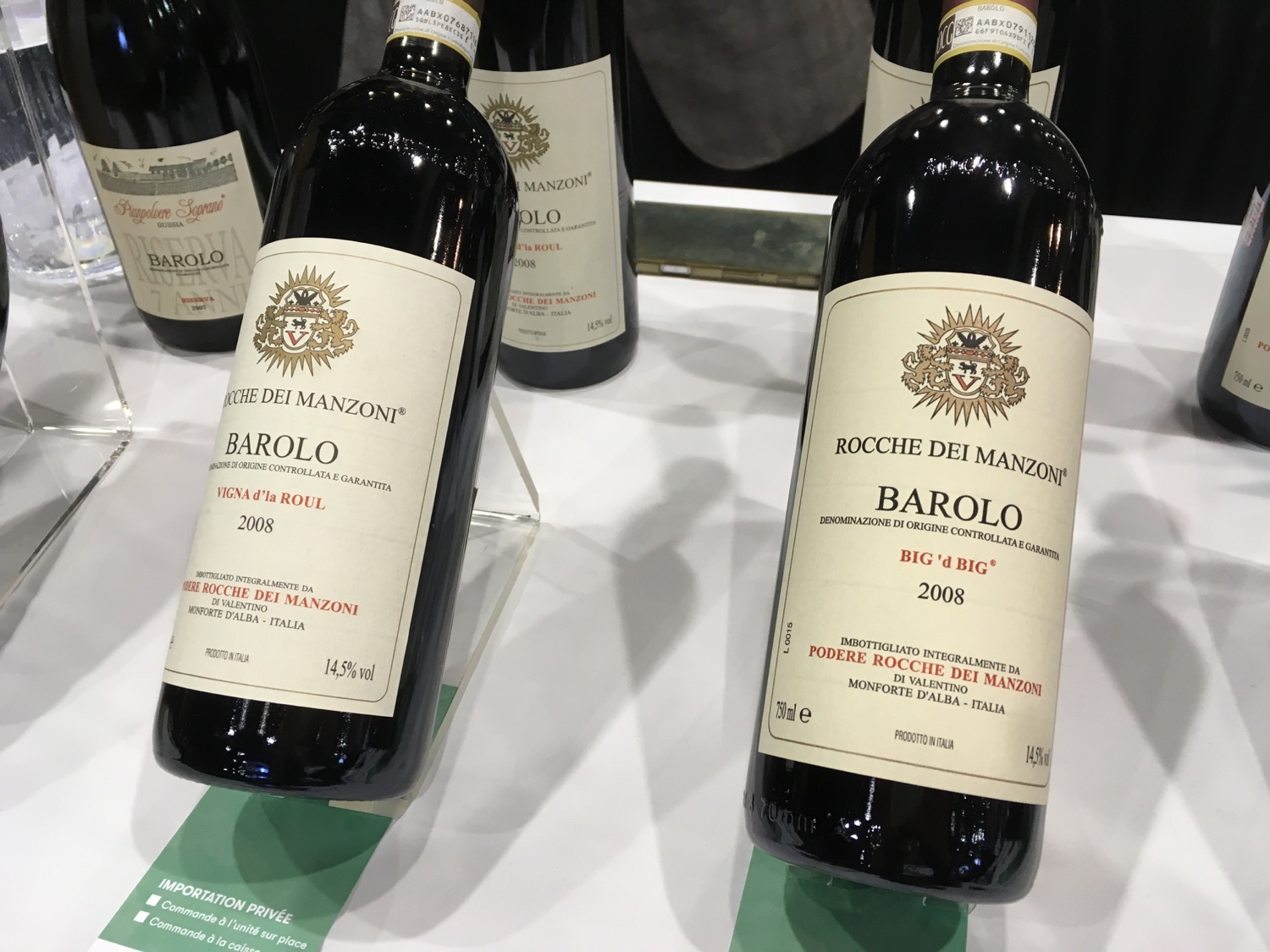 Rocche dei Manzoni imported by Vertical (contact: 514 430-1167, Tony Pasinato, président, tony@vinoemporio.com)
2008 (VIGNA d'la ROUL)
2008 (BIG 'd BIG)
2009 (Vigna Cappella di S. Stefano)
2012
2004 Pianpolvere Soprano Bussia (Not available in Quebec yet)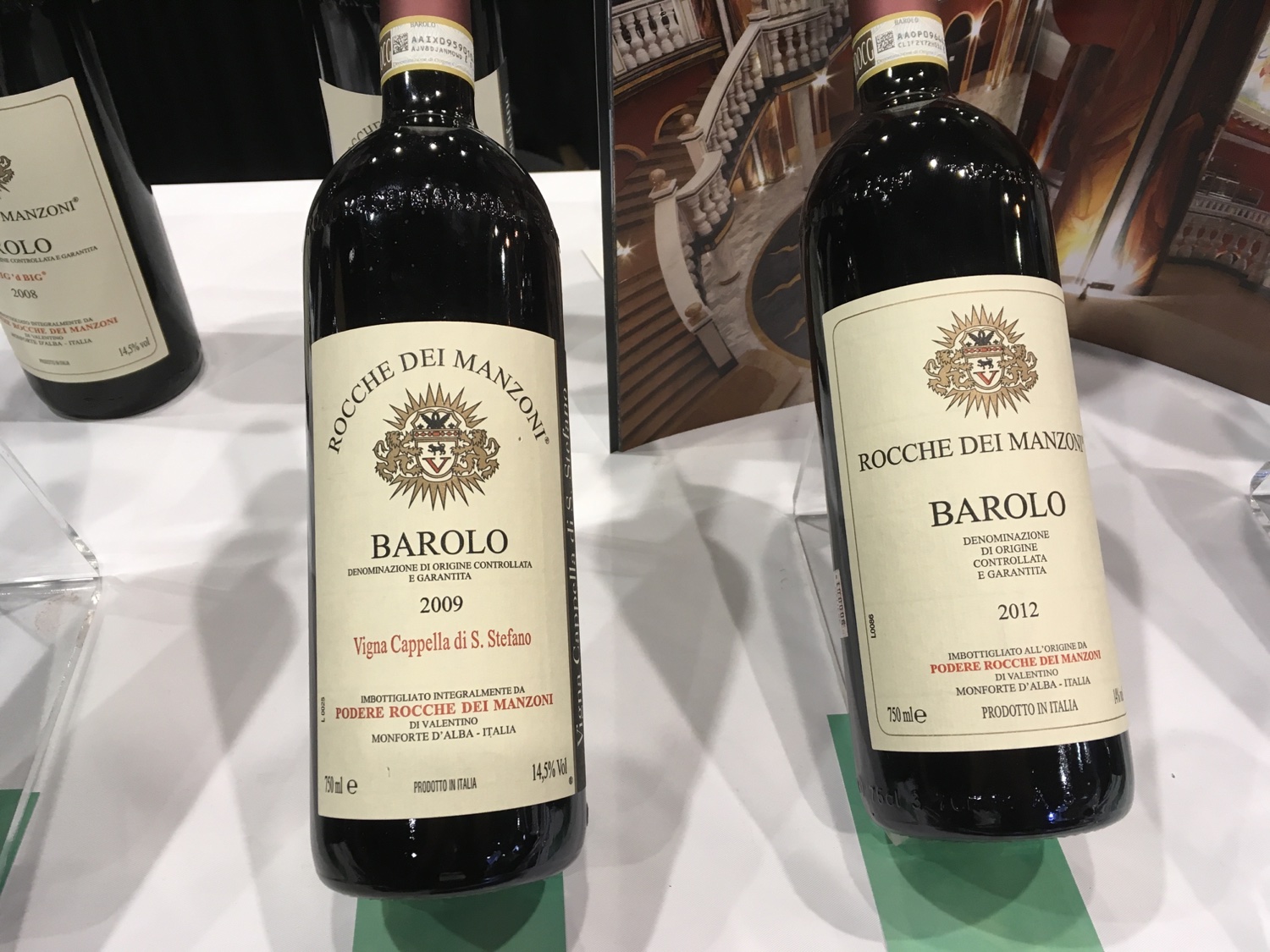 100% Nebbiolo grapes
Of course, they were all great, but there was a huge difference between the youngest and oldest, and between the two 2008s, where the grapes came from different parcels (limestone and schist).
The 2012 needed some time to soften and mature. It was definitely okay to drink it now, but there's so much more potential if you leave it for a couple more years. I wouldn't have noticed as much if I hadn't tried the much smoother 2009 immediately afterward. The 2009 seems sweeter with an impression of more alcohol, but it's the same alcohol content: 14.5%. The 2009 is certified biodynamic. The 2008s aren't certified biodynamic yet. They're in transition. The 2008 from limestone soil had more tannins and a softer mouthfeel. If you've got the money, buy the two 2008s and judge for yourself.
BUY THIS IF: You have the money / You're going to a party of your significant other's Italian family and you really want to impress / You have a reason to celebrate
BIG BUDGETS AND BIG DRINKING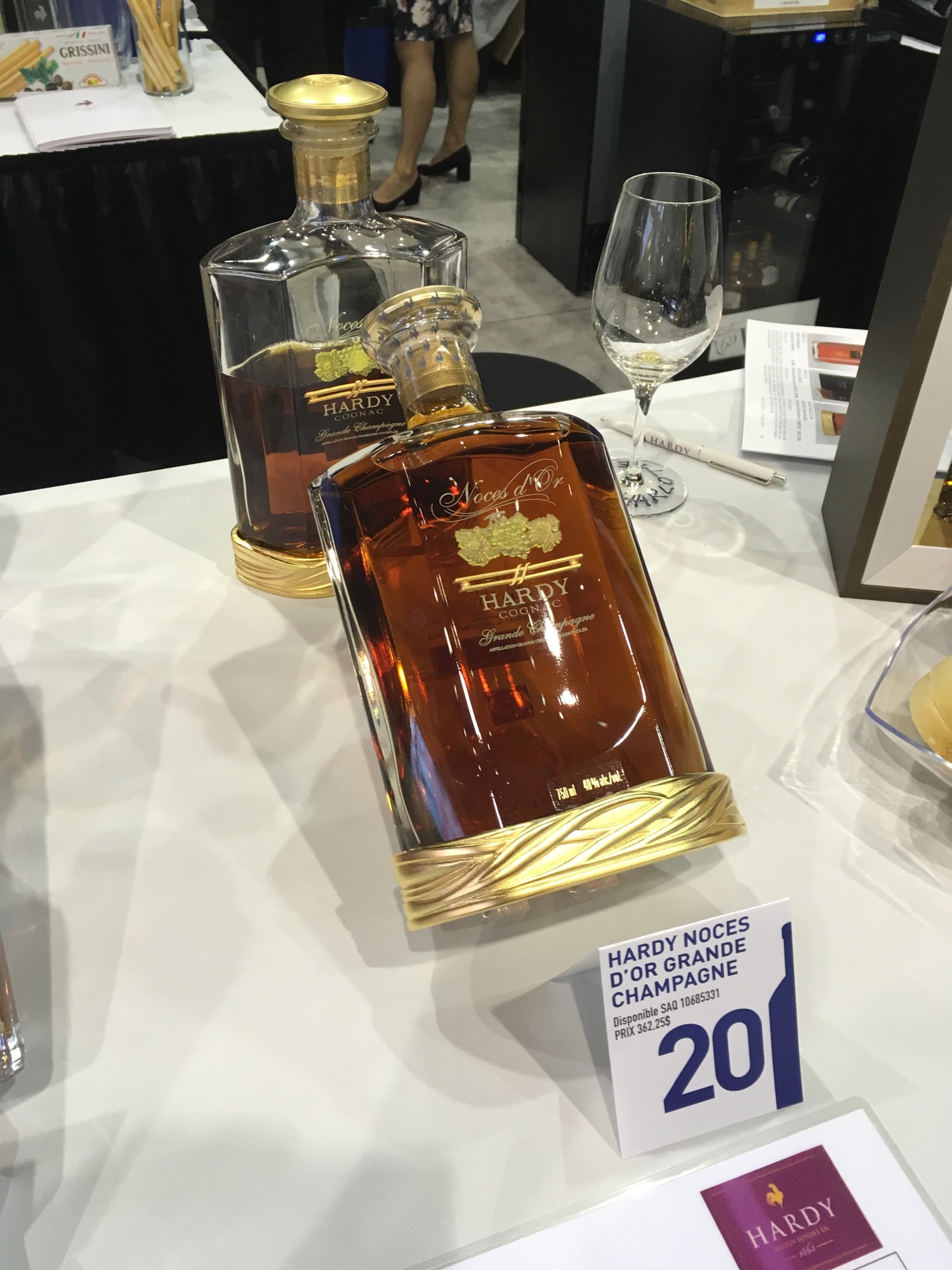 Hardy Cognac – Noces d'Or
Aged 50 years. I'm not even aged 50 years.
All the grapes come from the Grande Champagne region.
There's so much evaporation over the course of those 50 years that Hardy loses the equivalent of one of every two barrels. That's why it's so concentrated. But it's not syrupy. You taste the grape. You taste the life. This will make you love Cognac.
I dream of this Cognac. I'm not kidding.
$362 a bottle (it's $38 cheaper and, I think, better than the Grand Marnier 1880 Cuvée, which is 91% Cognac and 9% Grand Marnier – why dilute a great thing?)
What a honeymoon present this would be. Better start working on the whole husband thing…
BUY THIS IF: You're getting married and want (and can appreciate) something incredible / You can afford it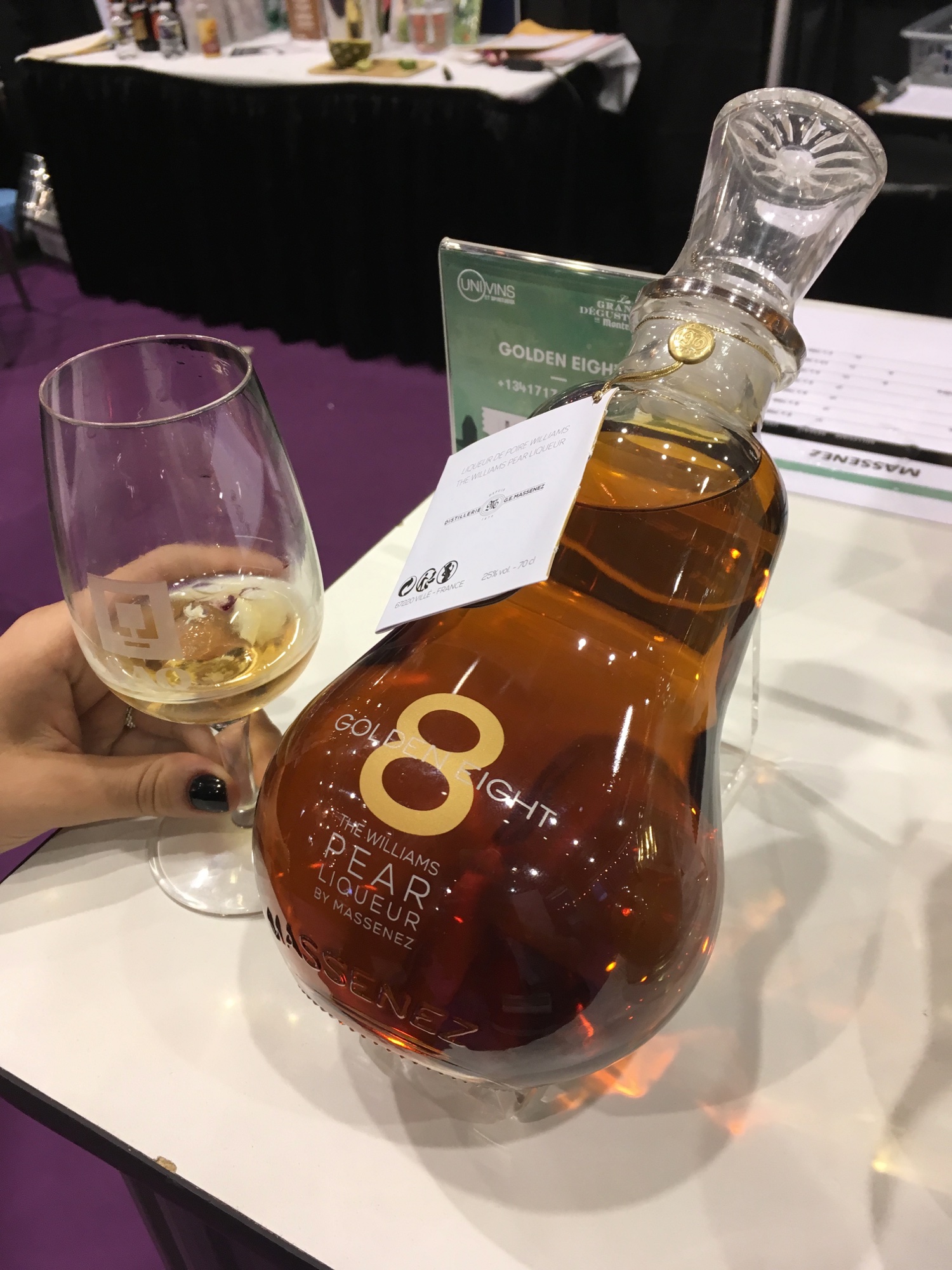 I need to be honest about a stereotype. I always thought Poire Williams was not high quality, but this Golden Eight Poire Williams from Massenez was lovely ($34,25 from the SAQ).
No pear flavouring or caramel colour added. It tasted like perfectly ripe fruit – the real flavour with some texture and the tiniest bit of natural bitterness. 
BUY THIS IF: You don't have $360 to drop on Cognac but want something sweet and lovely