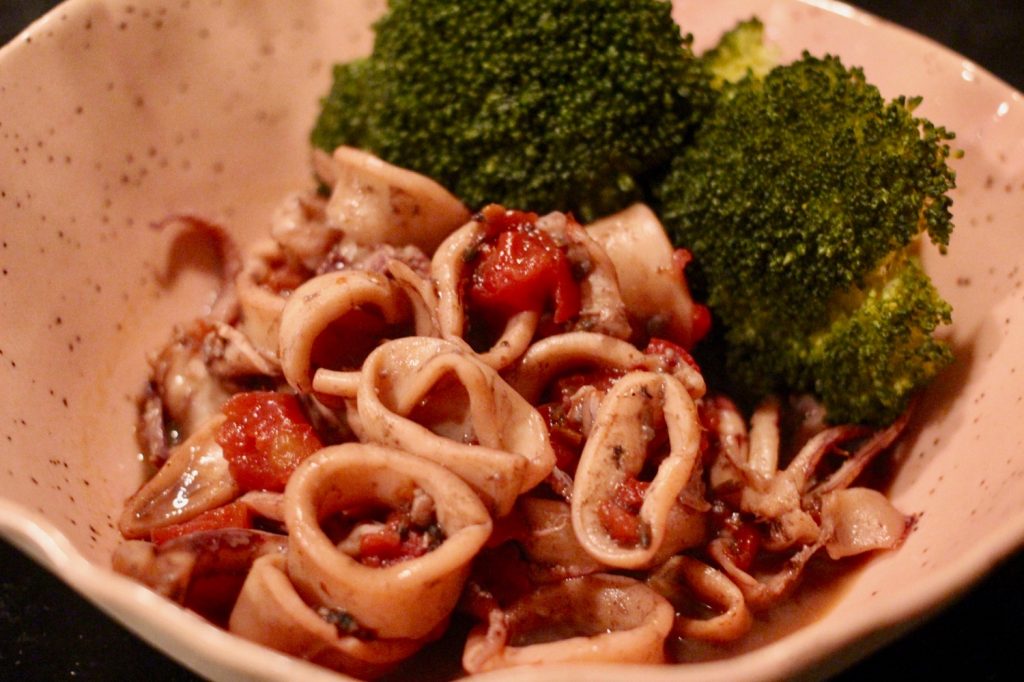 I'm standing at my kitchen counter. Late afternoon light is streaming in through the windows as I take my uncleaned squid tubes and tentacles from the fridge. It was $1 less a pound to buy them uncleaned, with the inky skin, entrails and plastic-like clean quills (it's actually cartilage). In Seattle, where sustainable seafood genius chef Becky Selengut lives, squid is ridiculously cheap. $2.99/lb!
Montreal, you're killing me.
Despite the relatively deep discount ($7.99 at La Mer, though maybe a rip-off, is still a heck of a lot cheaper than sustainable black cod), she still feels the same way about the fiscal analysis as I do and cleans her own squid, like this:
She also makes it look very easy. And it is. The guy in the fish room at La Mer said it was easy too. He showed me how to pull out the mucky middle and remove the film too. It's only my second time, though, so I was pretty slow. As I separate the tentacles from the body, pull out the entrails and remove the thin skin from the shaft of eight squids, the sun sets and the light leaves my kitchen.
Eight squids is a lot of squids.
It gets so dark that I can't see my hands anymore, but I also can't turn on the lights because my hands are covered in squid. Yes, I could wash my hands, but that seems like a lot of bother since I'll just be putting my hands back into the squid right afterwards – a waste of soap, really, which I'm trying to save money on since I spent such a (relatively) astronomical amount on squid.
Even after the $1 discount, I feel poorer than the average sustainable seafood loving Seattleite.
But as I keep cleaning squid in a pitch black kitchen, I realize that I'm completely content. There's something about the simplicity and repetition of the task, the fact that I'm doing something from scratch that will taste awesome later, the freshness of the squid, the fact that the task is almost complete, all timed with the transition from day to night that made me want the moment to last a bit longer.
When I'm finally done (and my sink is covered in squid ink from the exploded capsules hidden just above the tentacles), I slowly and thoroughly wash my hands. Then I turn on the light.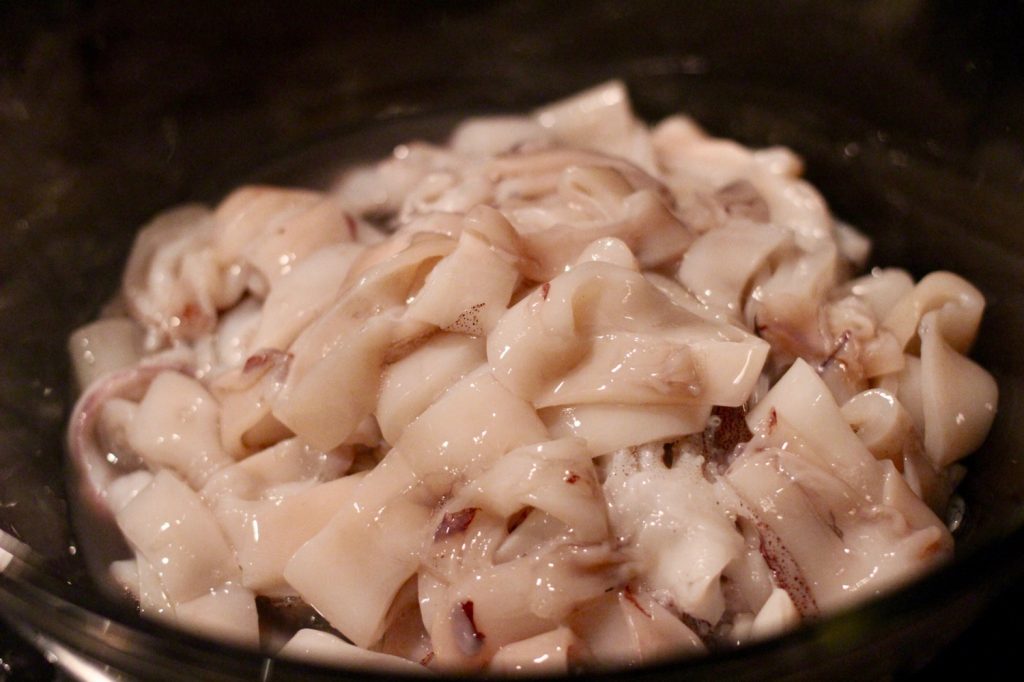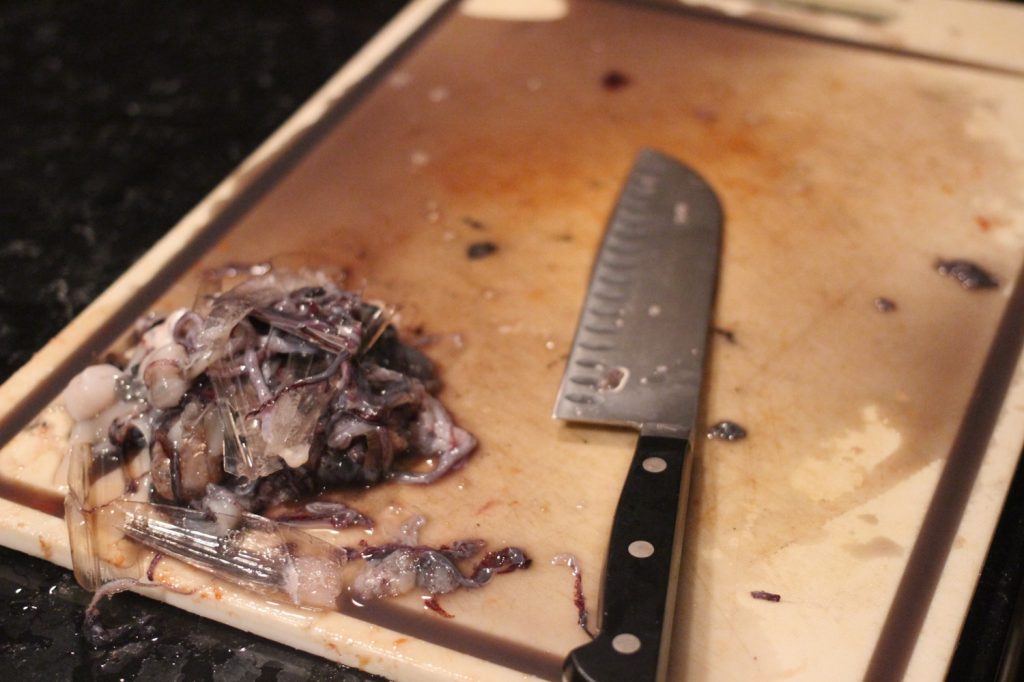 Will it be worth the mess? I wonder.
Yes. I served this with a little steamed broccoli and some gluten free pasta. It would also be great with…well, anything.
Pressure-cooking squid doesn't make it tough, it turns out. I like to think it's the fact that I cleaned it myself instead of buying rubbery, day-old tubes or frozen rings that made the difference. Because even when you hit the squid with the high pressure heat of a pressure cooker, it doesn't seize up. The recipe was actually incredibly easy and the squid incredibly tender.
If you've never pressure cooked squid, try it. If you've never cleaned squid, try that too – preferably with ample lighting…unless you
a) need a little moment of zen and
b) have decent knife skills.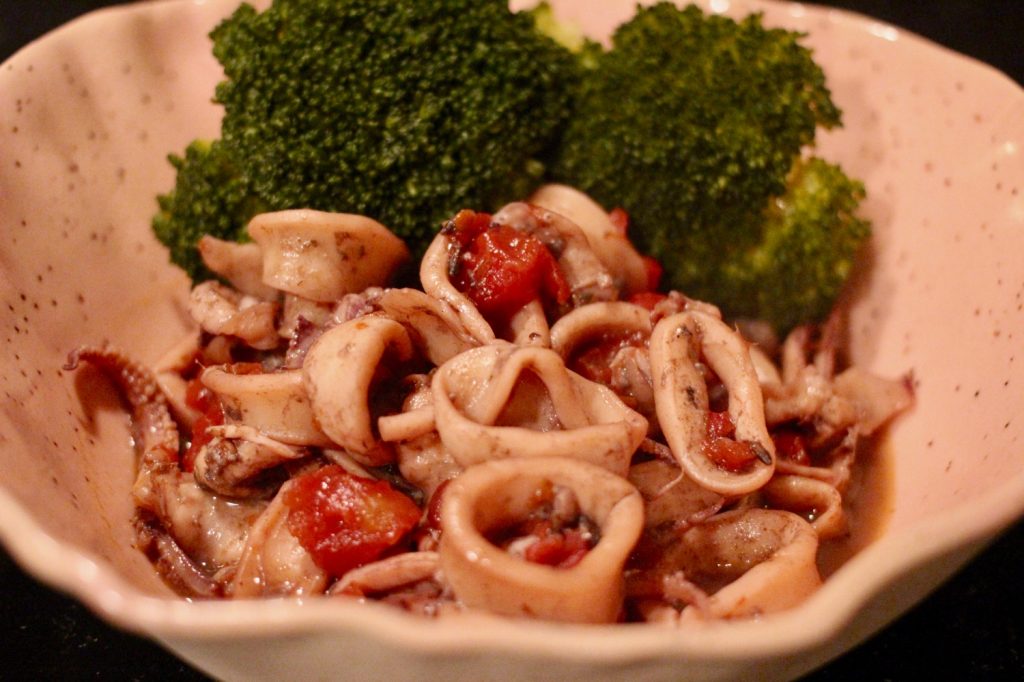 Pressure Cooker Calamari in Red-Wine Tomato Sauce
Serves 6
2 lbs fresh squid, with tentacles (cleaned or uncleaned, but see above), tubes cut into rings
2 anchovies in oil
Pinch red pepper flakes
1 can (32 oz) chopped tomatoes
1/2 cup red wine
1 cup water
1/2 tsp salt, or to taste (if canned tomatoes are salt-free)
1/4 tsp ground black pepper
A couple handfuls of torn basil leaves or chopped parsley stems and leaves
2 tbsp lemon juice
Clean the squid (see above). Pat dry on paper towel.
Remove 2 anchovies from their jar or package and pour 1 tbsp of the oil into the pressure cooker. Heat over medium-low. Add the anchovies and the red pepper flakes. Crush the anchovies with your spatula and stir everything together, cooking gently for 2 minutes.
Add the calamari and gently brown for 5 minutes. Add the wine and cook 3 minutes. Then add the tomatoes, water, salt and pepper. Stir in half the herbs.
Close the pressure cooker lid and bring to pressure. Cook for 15 minutes on high or 20 on low. Quick-release the pressure by pouring running water over the lid until it releases. Open the lid and stir in the lemon juice. To serve, drizzle with a little olive oil and the remaining herbs.