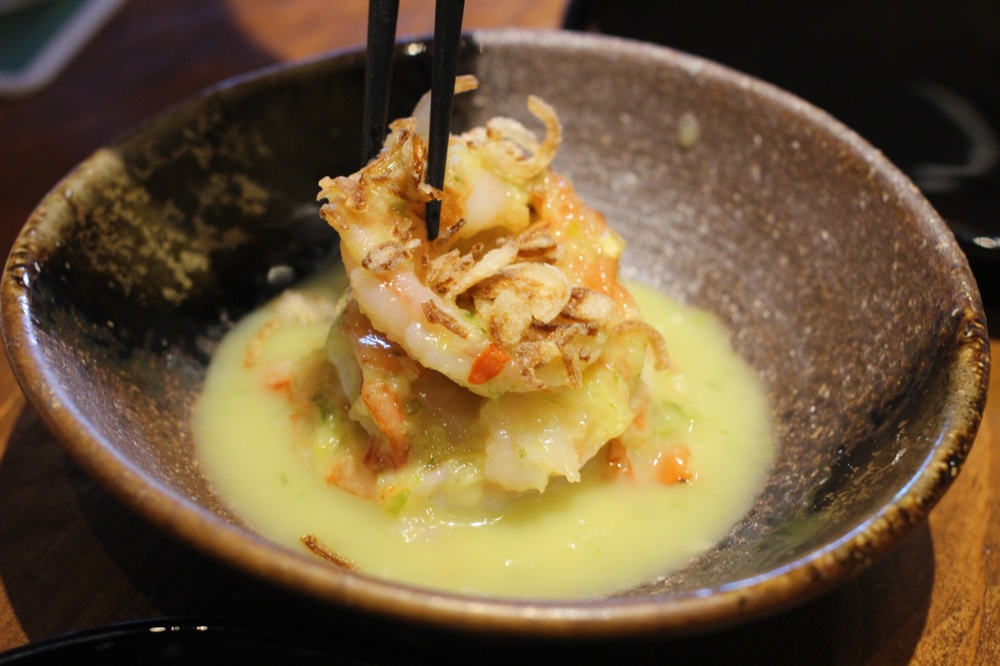 When a new affordable restaurant with a creative cocktail menu, hip-cool decor and South Asian street food menu opens in an up-and-coming area of the city, there's going to be buzz.
Les Street Monkeys opened in June, 2017 in Verdun and has made a name for itself with a wasabi shrimp ceviche, sweet and spicy eggplant salad with toasted rice, grilled calamari and mai tais galore.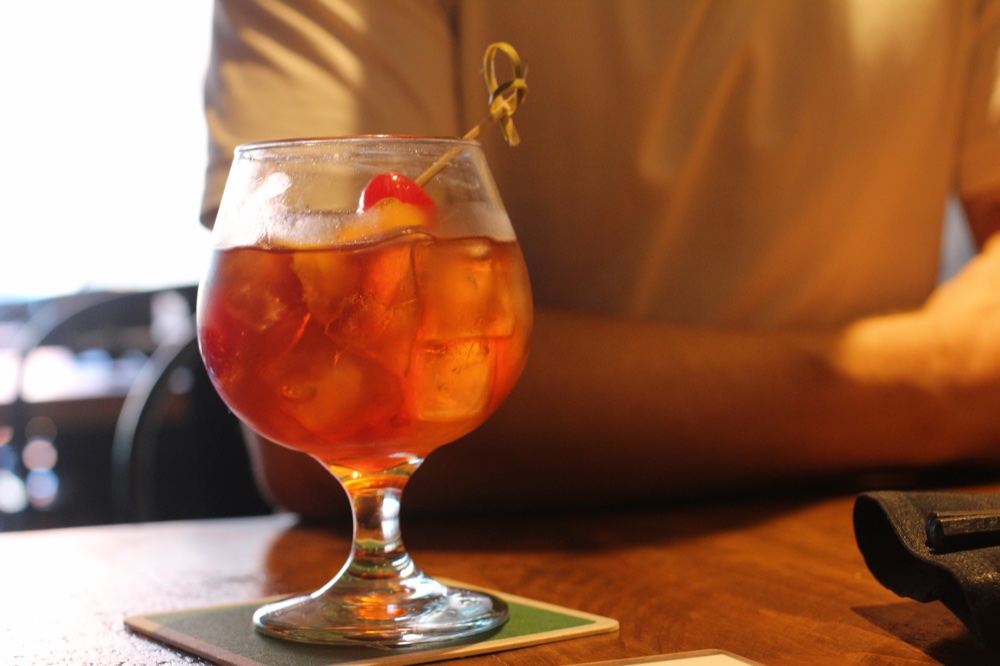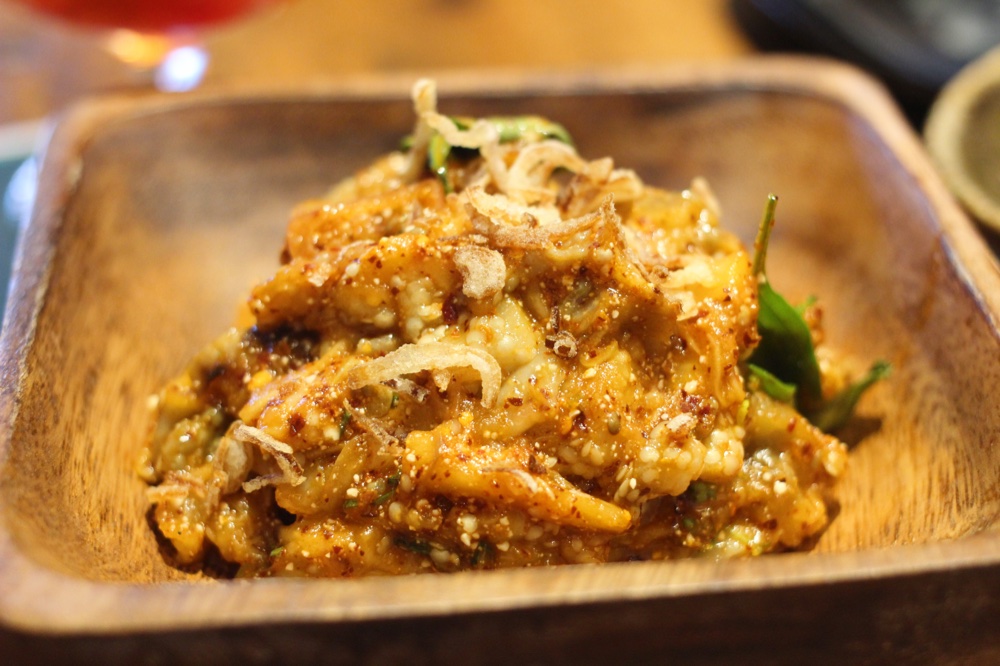 It's mostly Cambodian-inspired food here, but shrimp ceviche is borrowing from South American menus and wasabi from Japanese. Does anyone care? Nope. I care way more that the shrimps are blanched before being dunked in the lime, fish sauce and real wasabi dressing and that the server let me keep the bowl of leche de tigre (the juices left over in the bowl) to sip by the half spoonful throughout the rest of the meal…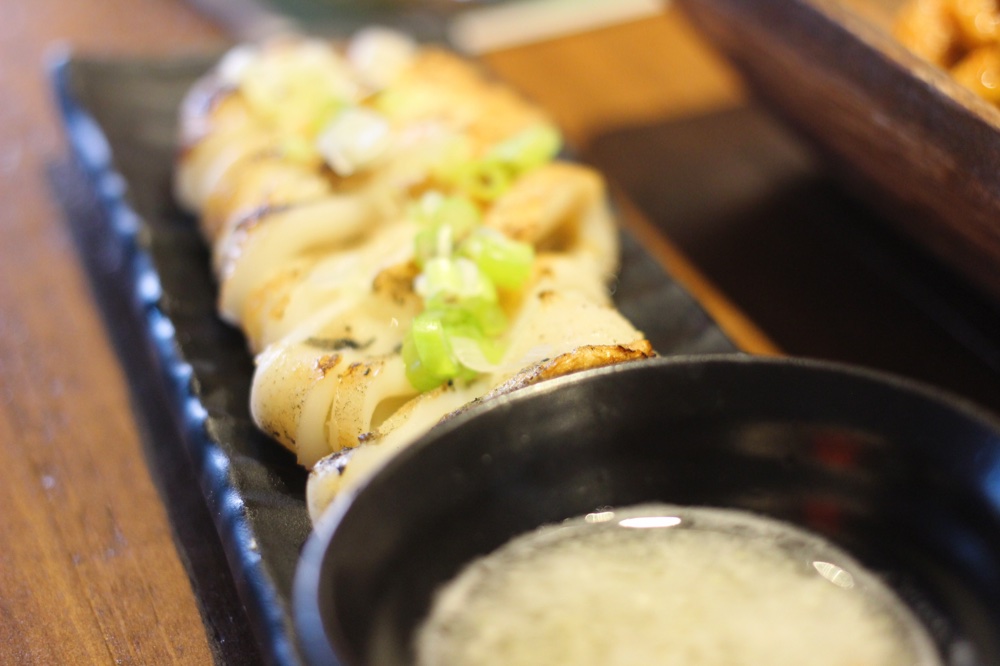 Nobody cares about the fact that grilled squid ($12) would probably be more traditionally cooked in a wok either. And if they did, they'd forget about it after they dipped the grilled rings in the bowl of ginger, lime and fish sauce.
For those not sure about what Cambodian food is, think of it as similar to Thai, but with more fried shallots. There are also pure Thai items and Malay dishes on the menu, including beef laab ($10) with minced cooked beef and Thai basil dressing, Thai sausages with kaffir lime, lemongrass, garlic and palm sugar ($9), the ubiquitous Thai green papaya salad with pork rinds ($6), served with traditional inch-long pieces of raw green beans but a watery dressing made spicy by chili flakes instead of gently smashed (usually by a mortar and pestle) chili peppers, and a Malaysian Mee Siam with fried vermicelli rice noodles with crab paste, soy sauce and peppers ($7). I didn't compare the amok fish in coconut milk and red curry paste to the one at Satay Brothers in St-Henri because Les Street Monkey does their version breaded and therefore not gluten free.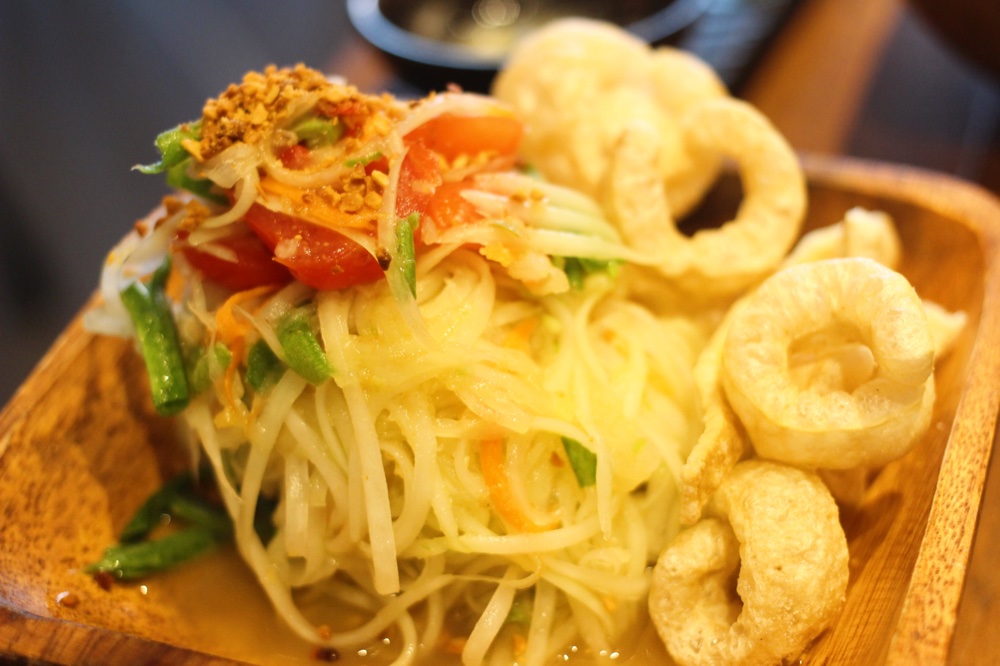 Want traditional Cambodian? Just order the Saiko Preuk Prahok ($11), a medium rare beef steak with fermented fish sauce, eggplant, ginger and galangal. Though I'd say the majority of Montrealers don't know what galangal is and how it's different than ginger anyway. Which is fine. All we have to do is eat it. And we will. Happily.
WHAT I LOVED
The fact that the menu items have G's, chili peppers and green V's next to them when they're gluten free, spicy or have a vegan option respectively. That means they use a gluten free soy sauce for the grilled calamari (at least that's what the server confirmed), which is a smart move, since the bottle only costs a couple dollars more than regular soy and now gluten free people can eat that dish too. If only more places would use gluten free soy as the default.

Les Street Monkeys' menu indicates spicy, vegan and gluten free options

Portions are for sharing, so you can order three dishes each and end up stuffed. Or order two if you're not that hungry, though there's nothing wrong with leftovers. Come with five or more people and you can easily taste everything on the two-sided menu.
WHAT I LOVED LESS
The sweetness of the mojitos. It's Montreal's fault, really. People here love sweet. It's accessible. I asked the server how sweet the cucumber-chili pepper mojito (they also have lychee, mango and strawberry version) would be and she said people liked it. Not my question. So I followed up. She replied that it wasn't really sweet. Dear lord, it was pure sugar. I got a full glass of soda water on the side and took a chug of that with each sip to dilute it. In the end, I still had half a cocktail after my soda ran out, so I gave up on the drink, fearing for my insulin levels.
The pan-seared trout. It was a nice sear with crispy rice powder on top, but it's not a flavourful fish. And it's something anyone could do at home (though I guess a lot of people are scared of searing fish). The "Khmer" tomato salsa didn't taste like anything (it was too early in the summer for local beefsteak tomatoes and they didn't use taste cherry ones, maybe because of the price or inconvenience of chopping them). It was just tomatoes, cilantro, chili and onion, but it tasted like chewy slightly acidic water. It seemed like something out of a "learn to cook fish" cookbook. Simple and boring. 
Looks pretty, right? Looks are so superficial. Maybe Les Street Monkeys is scared to scare Montrealers with strong flavours? But I don't give a fig about soigné cooking when there are chili peppers involved.
Give me some heat and funky fish sauce any day.
Would I come back?
Sure, though I've eaten everything on the menu that I can. It's affordable, it's a cute space, a good date or group dinner place, it's in a less popular restaurant area and deserves some love. And I'd probably just order three ceviches and call it a night.
Les Street Monkeys
3625 Wellington St, Verdun
(514) 768-1818
How much: $30-$50 a person for 2 dishes and a cocktail each