Go east. No, further east. Out of Manhattan. To Queens. To almost past Queens. To the very end of the 7 subway line – Main Street Station. Not that it's the most convenient place to get to from Brooklyn, where I was staying. I had to cross into Manhattan from Brooklyn and then back across the water to Queens, and then ride the subway all the way out to Main Street Station (it's kind of scenic at least. It goes above ground and there's some quality graffiti mixed into the industrial zones). About an hour and fifteen minutes later I was in Chinatown 2. Suburban Chinatown, kind of. The sidewalks are large, the density of restaurants and shops is low compared to downtown Manhattan, and as you walk south down Main Street the area becomes more residential and also more diverse. There are Vietnamese stores, strange wholesale and retail shopping malls, Peruvian roast chicken restaurants, and then there's Indian. And my favourite – south Indian. Once you get south of Franklyn there are actually more Hindu temples than Chinese Christian churches.
Except google maps lied. I was looking for the "Dosa Hutt", a south Indian snack bar/restaurant which ended up being about 4 blocks further south than Google led me to believe. So in the process of walking through suburban paradise/Hell I asked a Chinese couple if they knew where the restaurant was. No idea. I asked another Chinese person. Nope, no idea either. Then I gave in to stereotypes and ran across the street (in front of a crossing guard – you know you're in the suburbs when…) to confront a Hindu woman. Surely the Indian woman would know. Yup, she knew. Down the road, she pointed.
Past schoolyards and apartment buildings (not the stuff of downtown Manhattan at all), I finally found the Dosa Hutt.
Inside, a small counter, some packed sweets (all sweetened condensed milk-based), prepared chaat papri (sweet-and-sour chickpea and yogurt and crispy rice snacks), and a small menu of dosa and uthappam.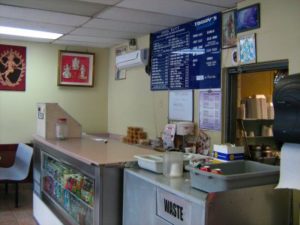 I wanted the Pondicherry dosa…because I'd never heard of it before, and those are the things often worth trying, for curiosity's sake. Pondicherry is a place in India, so it turns out it doesn't really mean it'll be a certain type of topping, I don't think. So we got a uthappam and a Pondicherry dosa, both of which came with coconut chutney and spicy sambhar, and settled in.
The dosa, pictured above, didn't come in a giant folded crepe. Instead, it was cut into three sections – better for sharing and for eating neatly. Instead of having to unfold the dosa (fermented rice and lentil crepe) and use the end crispy bits to scoop up the spiced potato filling, you could just eat it like a wrap. The coconut chutney (the mild green condiment) was a little soup, but fairly fresh. The dosa itself was lovely. Not too greasy, and neither was the filling (not exactly "light fare" but relative to other dosa, this one was pretty neat to eat). The Pondicherry version is tougher to find than standard mysore masala dosa. The sambhar was lovely. It had a few, miraculously not mushy vegetables (even eggplant! Yes!) and the broth was spicy without being overwhelming and tomato-y without tasting like canned tomatoes. The mustard seeds popped appropriately. Textbook dosa and accompaniments in a continent of often lacklustre renditions (except in Mississauga or Brampton, I'm convinced).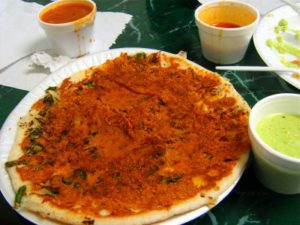 Uttappam is slightly rarer, and . Uttappam is another fermented rice and lentil batter but it's made into a thicker pancake-type unleavened (yeast-free) bread. It's usually served simply with the same chutney and sambhar as dosa but you usually don't get the potato masala mixture. Instead you'll often just see green chilies and onion studding the batter itself (often raw, but this time nicely sautéed – which is even better than deep-fried, in my opinion). In the Mysore Uttappam (spicy) that we ordered, there was a fiery red chili mixture (fiery in terms of colour, not heat level), that didn't really do much but add texture. And look cool. And there's something to be said for that. It made it seem more substantial too, since it takes a good hour for the fact that you just ate a cup of uncooked (but fermented) rice and lentils that are currently expanding in your stomach to kick in and make you feel full.
Plenty of time to walk back to Main Street and peruse the Chinese shops for potholders for your aunt, which is what we did. Instead, we found our way to an organic bakeshop. My research had only said, "organic bakeshop" so I was intrigued that there would be a French-style upscale, organic bakery in the middle of a Chinatown – something I'd probably reserve for the Village in Manhattan. Turns out I was sort of right since the bakery turned out to be Chinese. "Nature and Organic Life" – An organic Chinese bakery? I'm skeptical how much was actually organic, but they had green smoothies called "bland juice" – $4.95 – with spinach, banana, and almond, and detox radiation or Nuclear juice (not so punny with all that's happening in Japan…) of seaweed, lemon, apple juice, sea salt, and beer yeast or energy drinks with tomato treasure powder (who knows?). Add some kale and spirulina and other "super foods" that vegetarian juice bars where hipsters hang out (*cough* Fresh in Toronto and Aux Vivres in Montreal *cough*) hang out, and you've got yourself a hip little shop. But they also had vegan dimsum! And a buffet on weekends for $16.00. But, sadly, no gluten-free dimsum. I wanted mango pudding or vegan tiramisu for dessert. No can do, said the shop owner and her assistant (neither of whom spoke much English). Taro cake? Nope, all gluten-y. Buns? Taro, sesame, long life bun, and date and walnut pastries, but all flour-based. Vegetarian dumplings? There were lots – spinach, sticky rice, curry – but all in flour wrappers. And the soy sauce? Wheat-based. Stick with the smoothies, then. Or if you're vegan, come for MSG-free dimsum!!!!!! Yes!!!! When I kick this gluten thing that's where I'm heading…the next time I'm in New York without another gluten-intolerant person in tow, that is. Savoury noodle and soup dishes (pumpkin mixed rice, gobo winter melon nuts soup, "Five Vegan Happiness Plate" – a mixed appetizer plate for $18.25 – and more soy fake meats stir-fried and stuff than you can shake a stick at), and sweets (boy I want psyllium husk jello a lot less than I want "B.B.Q. Pastry), all preservative-free. Now you don't see that very often in any Chinatown. Or dragon sushi rolls with "soy meat sauce".
Know what else you don't see very often? A dinner plate-sized serving of shaved ice topped with mango, mango syrup, and lychee syrup (skip the mango ice cream and sweetened condensed milk) – aka "dessert for lunch". To come.
Dosa Hutt
45-63 Bowne Street (keep walking south if you don't find it right away. It's across from a temple, but there are a lot of those around…), Flushing, NY
718-961-6228
How Much: $4 for a masala dosa ($5 for spicy), $5.75 for Pondicherry masala dosa; Mysore Uttappam $5.50
Nature and Organic Life
41-46 College Point Blvd, Flushing, NY
718-886-1888
Hours: Sun-Thurs 10am-9:30pm; Fri-Sat 10am-10pm; Lunch 11:30am-3:30pm; Tea Time (how cute is that?) 2:30pm-5pm
How Much: Dim sum Weekend buffet $16.00; individual dimsum $2-$3.50; noodle dishes $7-$11; stir-fries $12-$15; desserts $3.25-$4.50; juices $4-$9 (for extreme)