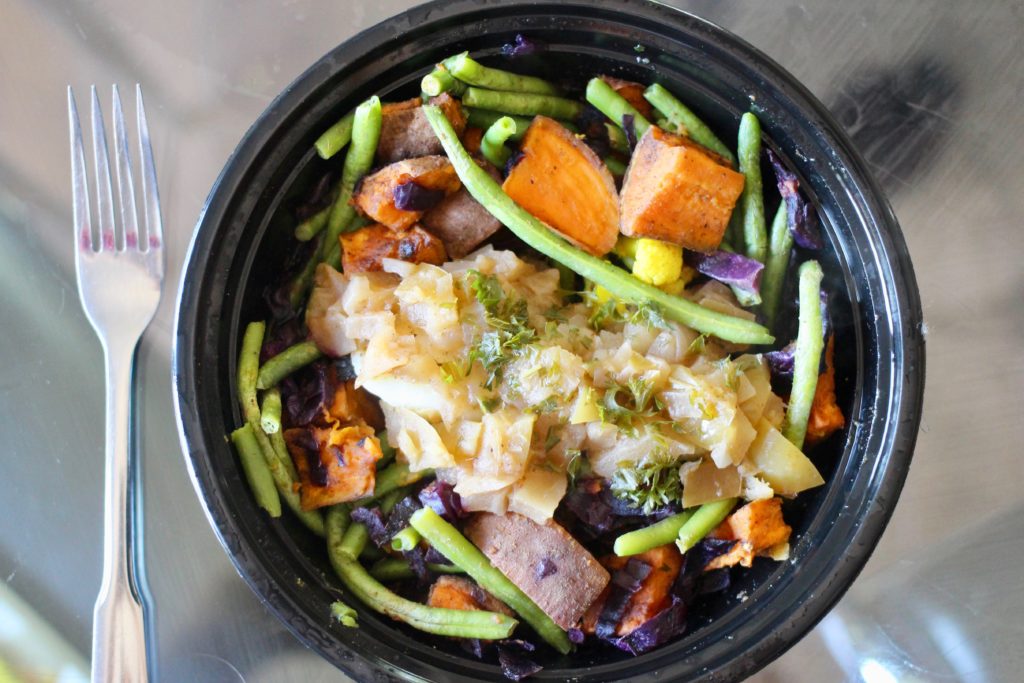 I generally don't do meal kits like Good Food. I rarely buy pre-cooked anything at the grocery store. And I definitely don't do freezer aisle meals. Because I actually like to cook. And I'm cheap. And I have an ego – why should I spend money on something that I can make at home better, healthier and sometimes even faster? Hubris is definitely helping my savings account. 
But I do freeze tons of my leftovers in serving sizes for future meals. That way there's always something homemade in my freezer to defrost and enjoy on evenings when I'm too tired to channel my inner Nigella Lawson à la montréalaise.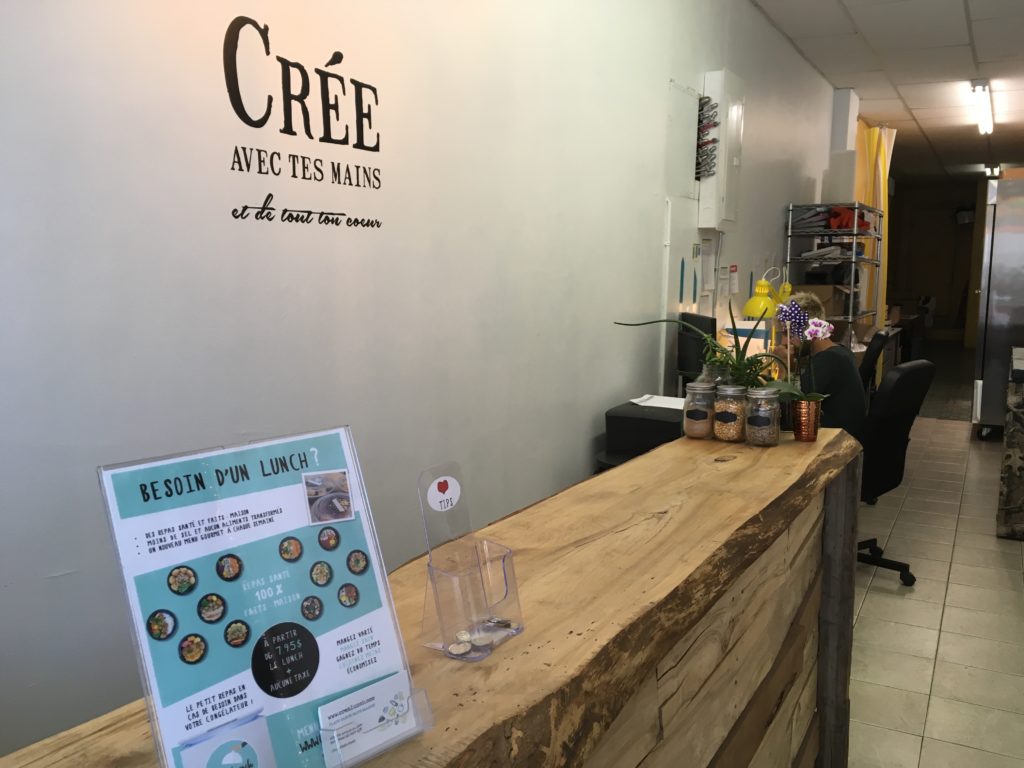 So I don't really have anything against the occasional frozen meal – as long as it's good for me. And that's why I like the concept from friends and co-founders Valentin (marketing) and Najib (chef) for Crealunch. Chef Najib makes one homemade meal a day, four days a week in the company's Mile End kitchen. He freezes it using a blast freezing technique that keeps it super fresh (and more nutritious) by freezing it quicker and colder than a regular freezer and he sells the meal by the single serving portion to mostly students, seniors and young professionals who want a homemade meal that's not crazy high in sodium, doesn't involve canned products and doesn't have an ingredient list with things they can't pronounce. Each frozen meal comes with nutritional info and in a reasonable portion at a reasonable price. Najib has been doing this since September, 2016, after Najib graduated from cooking school and started a little catering business, mostly with friends and family as customers. Slowly, word spread. Now, the company delivers its meals to the Greater Montreal area. 
Disclaimer: You should know that Crealunch reached out to me to review their product, and I did receive the dish I tested for free, but my opinion is my own. And while I personally would not use this service, I do think it's a great meal ordering option to have in your healthy food arsenal. Because we're not all Nigellas all the time, are we?
Here's what you need to know:
What kind of meals does Crealunch offer?
Najib specializes in homestyle comfort food, mostly Mediterranean (French, Spanish, Greek, Italian), with some word influences. "People want something they know," he says. Fettuccine with rose sauce, mushrooms and Parmesan, couscous with meatballs and lamb sausage, slow-cooked mild Bombay beef, braised pork shoulder with sherry, potato gratin with lardons and mushrooms, Indonesian rice with lemongrass tempeh. And the recipes are always varying slightly, as in the rice with the braised meat might have olives one week and tomatoes a few weeks later, or the chicken might have tarragon instead of oregano.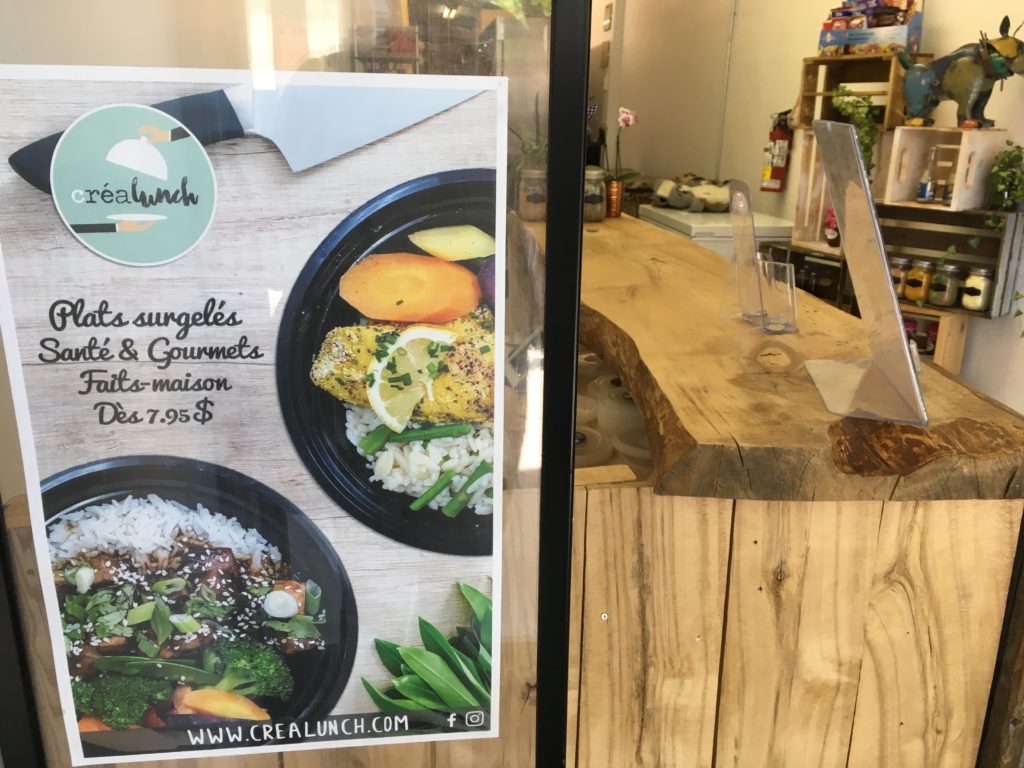 Where does the inspiration for the recipes come from?
Najib gets his inspiration from books, other recipes, restaurants and online. Some come from his father, who was a cook. Najib is mostly self-taught, but then did a one-year cooking school program in Montreal at the EMRTM (which I would spell out, but it's a mouthful). 
Is everything actually homemade?
Yes, from the stocks to the pastas, there are no Knorr cubes, grocery store gnocchi or other cheats involved. And the nutritional info is available online along with lists of ingredients.
How much are the meals?
They range from $7.95 (e.g. tempeh with grapefruit and ginger on rice noodles) to $9.25 (couscous royal with lamb merguez sausage and homemade meatballs).
Whats' the delivery zone and does Crealunch deliver everyday?
The company delivers during different three-hour windows throughout the week. For example, South Shore customers get their deliveries Monday from 9am to noon or 6-9pm. It's $4.95 if you want to get the food delivered instead of picking it up at the Parc Avenue kitchen. And Brossard and Laval have drop-off locations where you have to pick up your order – so there are no delivery fees. But if you order more than $75, there are no delivery fees anyway.
Why would you want to eat out of the freezer all week?
You don't actually have to eat all the meals in a week. They'll last for up to about six months in the freezer.
Are there meals suitable for gluten intolerant people, people with Celiac disease or people with food allergies or sensitivities?
Yes. Since the chef only makes one meal a day, there's no cross contamination. And with the ingredients listed online, it's easy to see what's you-friendly.
Do the meals actually taste good?
I tasted the cod with apple and ginger chutney, green beans, roasted sweet potato and braise purple cabbage. It was delicious. You're supposed to heat up the fish in the microwave for 7 minutes from frozen or 3-4 for an already defrosted dish. So with the cod, this was tricky, because the lean fish is easy to overcook, but with something like meatballs, lasagna, mac 'n' cheese or shepherd's pie (the bestsellers), that's not a problem. As for the flavour combo in the dish I tried, it was awesome. The brightness and freshness of the ginger held up to the freezing, and I think the cold might have actually concentrated the sweetness of the apple. Then as the dish heated, the fish juices soaked into the cabbage, braising it gently. The green beans even stayed fairly crisp. $7.95 for this dish is a steal.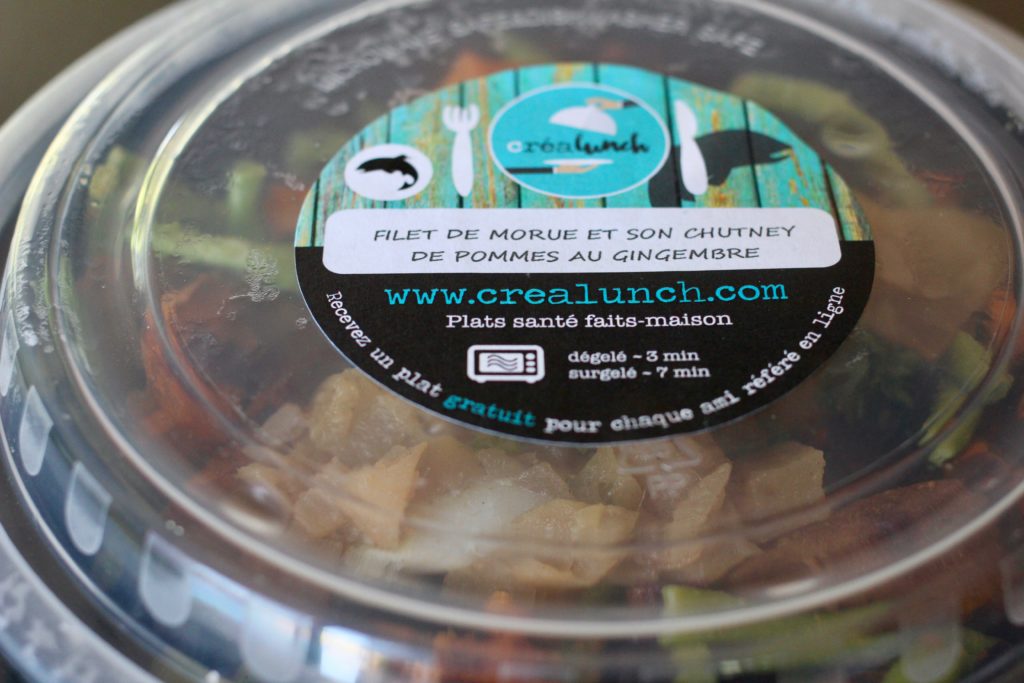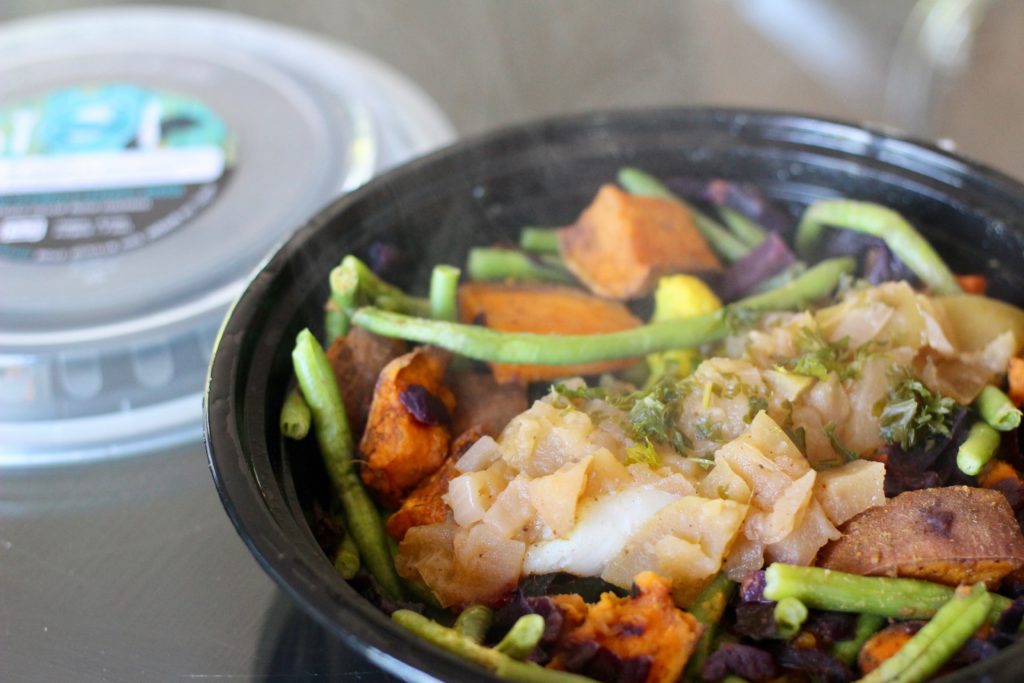 What else?
There's a new menu every Wednesday online. And there's a $20 discount on your first order (of more than $65 – but the food's not going to go bad). And they offer a B2B service for companies where they come in regularly and stock your office freezer with frozen meals. Cheaper than hiring a chef, lots of variety, and super convenient. Plus, way cheaper than ordering in. Similarly, anyone can order a subscription and get 10 lunches every 1-2 weeks at a 5% discount. Oh, and the ingredients are local when possible, like when fruits and vegetables are in season, they use them. A lot comes from a local farm just off island.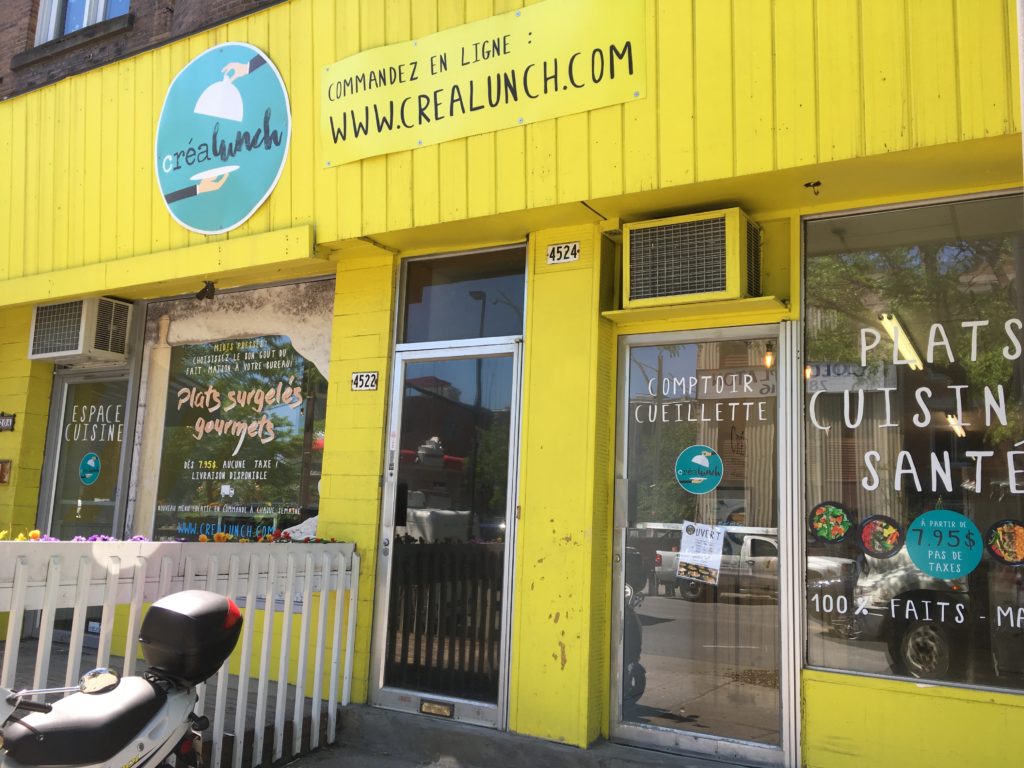 Caveats
You have to be in the delivery zone, or you have to pick up your order at kitchen at 4520A Avenue du Parc.
The company only sells lunches (though no one's looking if you eat the meal for dinner), so no soups or appetizers, and yo can't mix and match side dishes (which, on the upside, means there's less packaging waste). They do have desserts, a couple healthy snacks and juices, though.
There aren't a lot of fish dishes on the menu, but they're easy to overcook in the microwave, as mentioned above.
Deliveries are annoying if you don't have an entryway where the delivery person can leave the order. And slowly thawing food is not great. There's a lot of waste involved in that kind of packaging, too. But it's no worse than all the other meal delivery services.
There was only one gluten-free, dairy free option the week I tested the service, and there are generally only a couple vegetarian or vegan options. Getting all those things to overlap is even harder. But if you eat everything, there's lots of choice.
Happy eating!