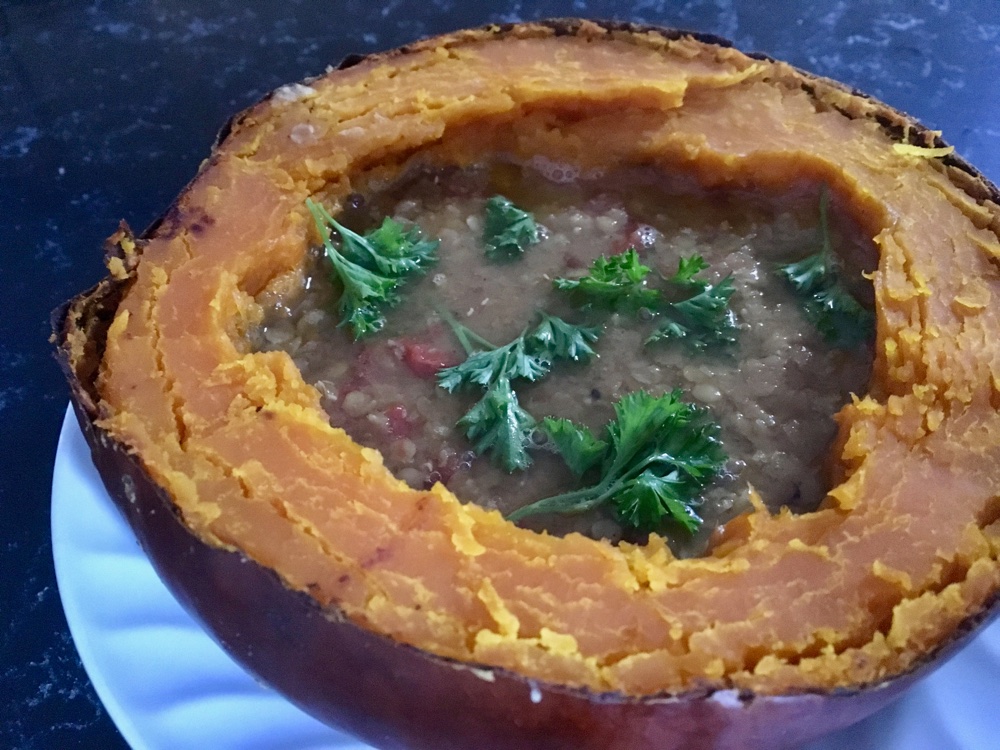 A couple years ago, I went to a Thanksgiving potluck for people in Montreal who didn't have family in the city. It was called an "Orphan Thanksgiving" and it brought people from all over the world together at the loft of a group of circus performers. Most of their friends were also international circus performers living in Montreal to train with some of the best trapeze, silks and Chinese pole teachers in the world. Plus people like me: friends of friends who wished they could do a handstand…
…which made for a lot of variety in a Thanksgiving buffet.
I don't even remember what I made, but I do remember one Brazilian dish: rice, beans and kale served in a baked squash. The traditional version is not vegetarian, the tall Brazilian DJ with sandy blond dreadlocks explained, but the meatless variation was awesome none the less. As a gluten-free person, getting to eat the equivalent of the Tim Horton's bread bowl was actually really exciting. And the combo of sweet roasted squash, soft chewy rice and savoury beans with a tiny bit of bitterness from the kale was heaven.
This is a riff on that dish, with a lentil stew replacing the rice and beans. The bitterness comes from the parsley garnish. The sweetness can be varied depending on the type of squash you use. I like kabocha, but acorn, dumpling, buttercup or whatever pumpkin you can find with a hollow centre will all work. The only squash that isn't great is butternut, because it usually doesn't have a lot of room for stuffing.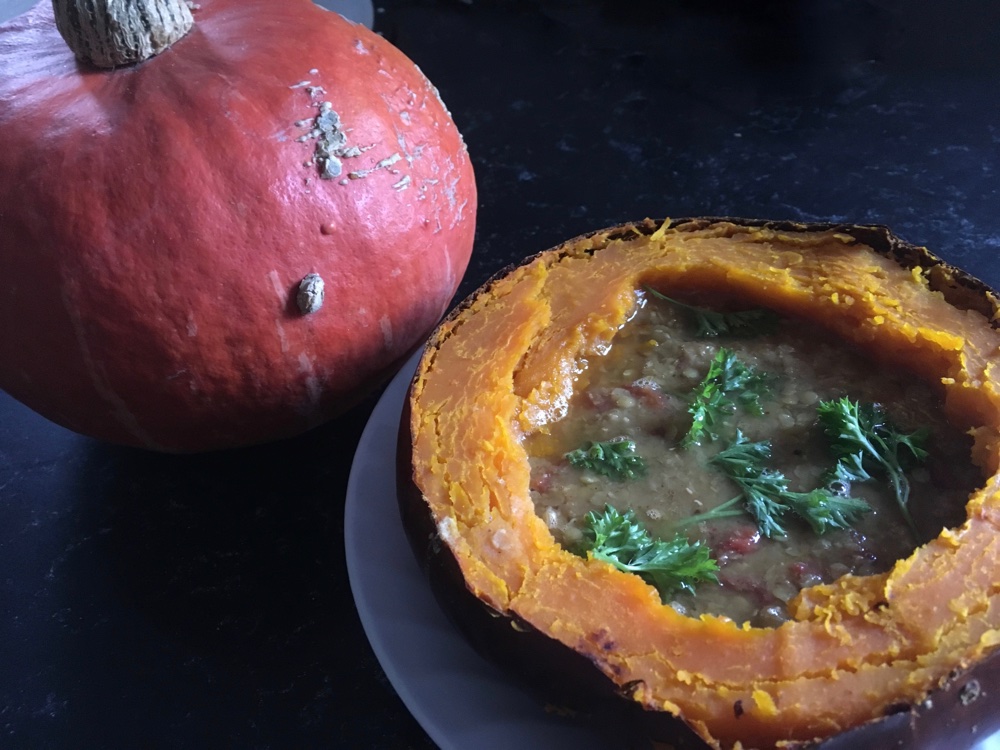 Then all you do is make a lentil stew and roast the pumpkin. There are two ways to cook a pumpkin easily:
How to Cook a Whole Pumpkin
Method 1: Place it on a baking sheet and stick it, whole, in the oven at 400˚F for 40 minutes or so, until the skin is blackening and the flesh gives a little when you push on it with your thumb (use a spoon – but push hard – if you can't handle the heat). Then slice the pumpkin in half horizontally and scrape out the seeds.
Method 2: Slice the pumpkin in half and scrape out the seeds. Brush the insides lightly with olive oil and salt, place cut-sides up on a baking sheet and bake at 400˚F for 30 minutes or so, until the flesh is soft and you can insert a fork easily. I find the flesh is a little more flavourful and caramelized this way, but it's harder to cut the squash when it's raw.
How to Make Lentil Stew
While your pumpkin is roasting, make a vegetarian stew. Either this one:
Spiced Yellow Split Pea Stew 
2 cups yellow split peas
6 cups water
1 1/2 tbsp extra virgin olive oil
1″ ginger, peeled and minced
1 tsp turmeric
1/2 tsp ground cardamom
1/2 tsp salt
1 large tomato, finely chopped
1/2 tsp black pepper
Rinse lentils well and if you have time, soak them for a couple hours or overnight. This makes them cook more quickly and be easier to digest.  Drain lentils and combine in a large pot with 6 cups of water. Bring to a boil, reduce heat to medium low and cook until tender, about 30-45 minutes depending on the age of the lentils and how long you soaked them. Boil off any excess liquid if you like the dish more like a stew than a soup.
After the lentils are soft, heat the olive oil in a small pot and then add the ginger, turmeric, cardamom and salt. Cook for 2 minutes. Add the tomato and black pepper and stir for 1 minute more. Scrape into the lentils and stir to combine.
Or this one:
Simple Lentil Stew
2 cups red or green lentils
1/2 tsp olive oil
2 medium carrots, diced
2 branches celery, diced
4 cups vegetable or chicken broth, or water
1/4 tsp turmeric powder
1 tsp dried thyme
2 bay leaves
1/2 cup freshly chopped parsley
2 tbsp toasted coconut, optional
Bring the lentils to a boil in a large pot with 6 cups of water. Drain, rinse and set aside. Heat the olive oil over medium heat in a large pot. Add the carrots and celery and cook gently over low heat for 10 minutes, stirring frequently. Add the broth, turmeric, thyme, bay leaves and lentils. Bring to a boil then reduce heat and simmer, covered, for about 20 minutes, or until lentils are tender. Garnish with parsley and toasted coconut.
Then all you do is ladle the stew into one half of the baked pumpkin. You'll probably have leftovers. That's half a squash, after all. Or maybe you won't…