This Park Ex restaurants helmed by chef Aaron Langille has been open for a couple years now. It's far from my place and there are always newer places opening, but those aren't excuses for having never gone, especially when the changing, seasonal menu is this exquisite. It's also naturally gluten free and dairy free, or adaptable while maintaining the best parts of the dish. I hate a restaurant that says, "Choose anything on the menu and the kitchen will adapt it," because no, it doesn't work that way. If you take the bread out of the Nduja on the menu below, for example, you're eating a spicy sausage spread and marinated shallots with nothing to spread it on. Besides the lack of salt, crunch and chewy components, you're missing out on Aaron's amazing bread, which is essential to the dish (and lets not forget that you're paying for a half empty plate at that point – see my review of Lili.Co and they're skimpy, though lovely, carrots).
So when Aaron came to our table and told us what was gluten free and dairy free, we just ordered all of those dishes. We arrived early when he still had time to do this, before the group of 8 descended on the Chef's Table, situated smack dab in the middle of the back kitchen.
In my mom's words, "The meal was like a symphony that crescendoed." She's a musician and we were celebrating with sparkling wine, so please forgive the floweriness of the metaphor.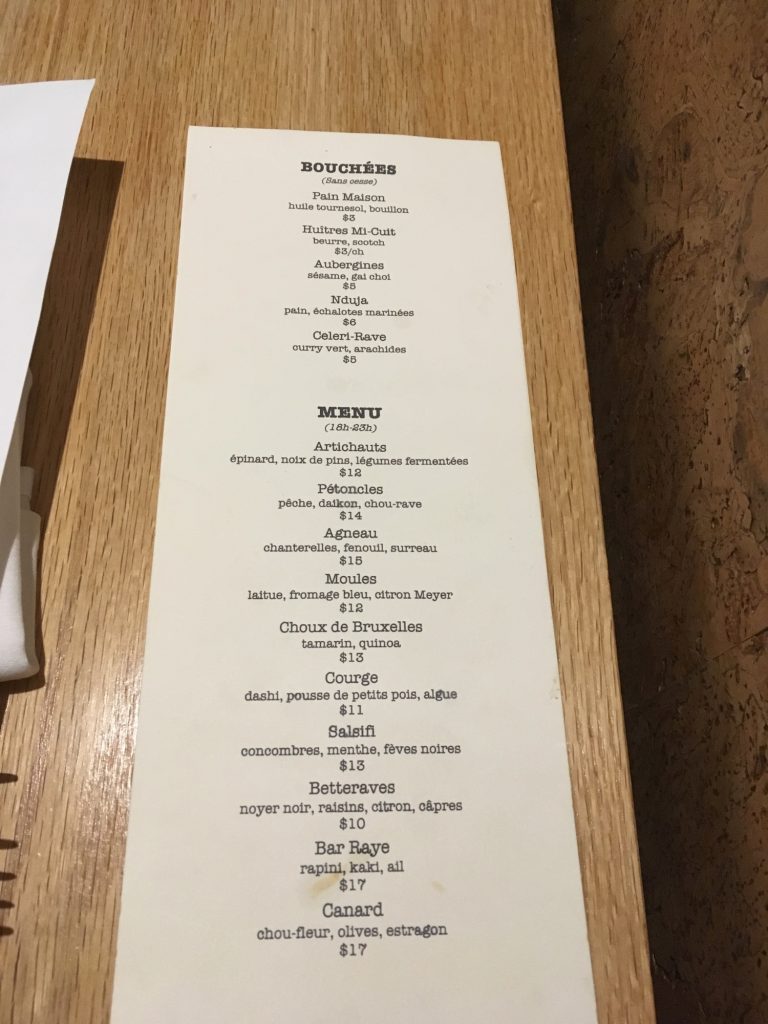 So we ordered the celery root with green curry and peanuts as a snack to start. Then the artichokes with spinach, pine nuts and fermented vegetables; the raw scallops with fermented peach, camelina seeds and kohlrabi; the Brussels sprouts with tamarind, fried quinoa and quinoa foam; the striped bass (bar raye) with rapini, persimmons and garlic; and the duck breast with charred cauliflower, tarragon and olive-caramel. Six dishes for two people was just right.
We also had the sparkling wine to start (a Pet Nat that came 2nd in the best natural sparkling wines category at the Jugement de Montreal last fall: Osterreich 2015, Kalkspitz, Christoph Hoch, below; it has a bottle cap top, no cork) and a couple other glasses from the mostly natural/biodynamic/organic wine list with the meal.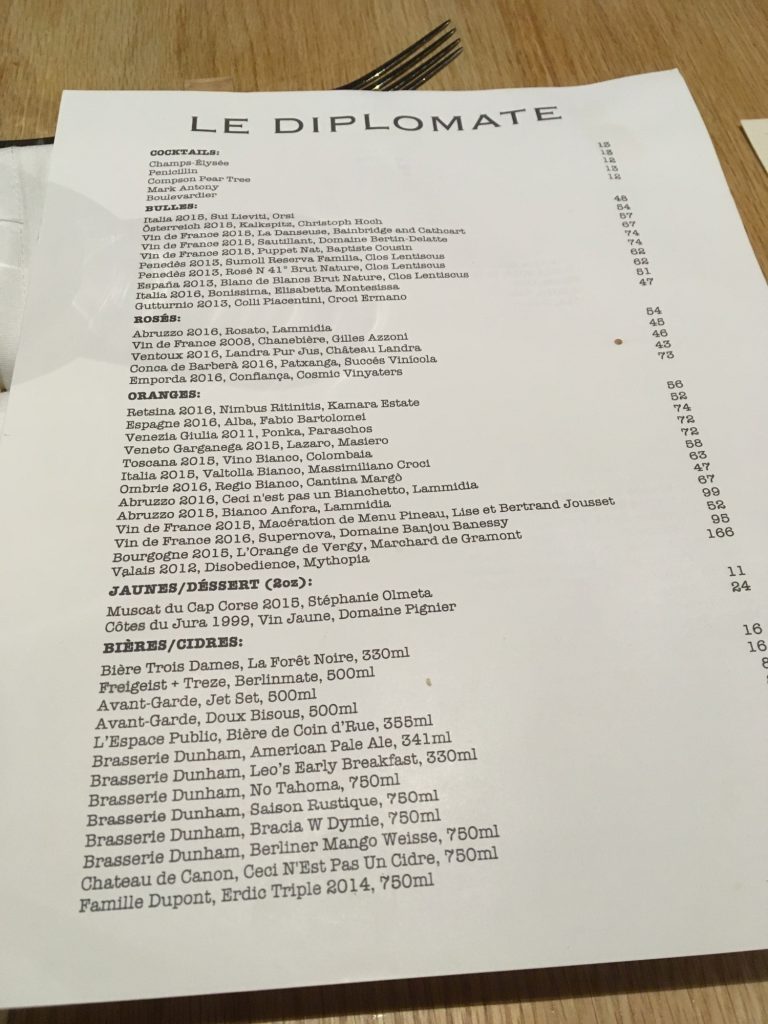 Nothing is indicated by-the-glass, but they always have lots of bottles open. Hint: Follow the Le Diplomate's Instagram account to see their recent arrivals.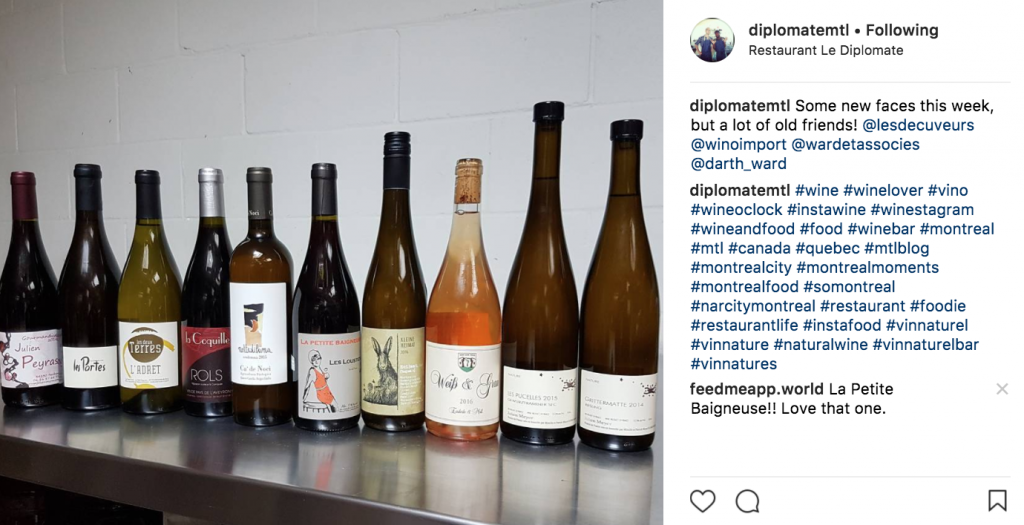 The first dish to come was the celery root with green curry and peanuts, which I promptly forgot to photograph, busy as I was eating. I wished for some funkiness from fish sauce, but it was vegan, so lightly salted. And while curry can be a tough pairing, it was great with the sparkling wine.
The second was the artichoke dish: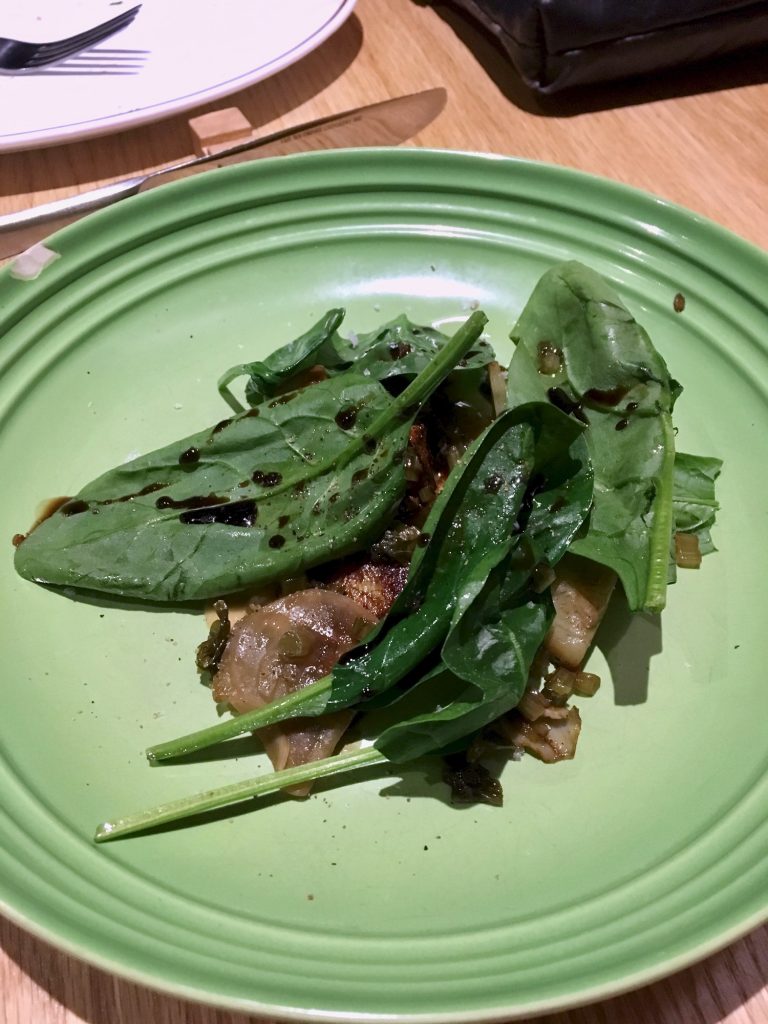 This doesn't look amazing, but those fresh artichokes hiding under the spinach leaves were so, so good – sweet and soft, with diced fermented Tokyo turnips (the white ones; no, they're not actually from Tokyo) and that dark, sweet reduction on top. He's a sauce genius, Aaron, which I learned at Sardine, his old spot in the Mile End. I already knew he was a fermenting master, which I learned when we swapped sauerkraut (his) for jam (mine) at the former DNA restaurant (which now houses Atelier Argentine) in Montreal's Old Port. When we pulled our mason jars from our respective bags while sipping a half price Canadian bottle during the now defunct restaurant's happy hour years and years ago, I knew we'd be friends.
All that to say, eat his artichokes, ferments and sauces whenever possible.
Also eat his Brussels sprouts. This was my favourite dish of the night. The sweet-and-sour tang of the tamarind sauce on the beautifully charred sprouts was offset by the savoury green onion tops, mild quinoa foam (think foamy nut milk) and crispy fried quinoa (those are probably a pain to fry because they're so tiny, I feel – up there on my list of 'least favourite things to do in the prep kitchen' along with peeling artichokes. Kudos to the sous chefs).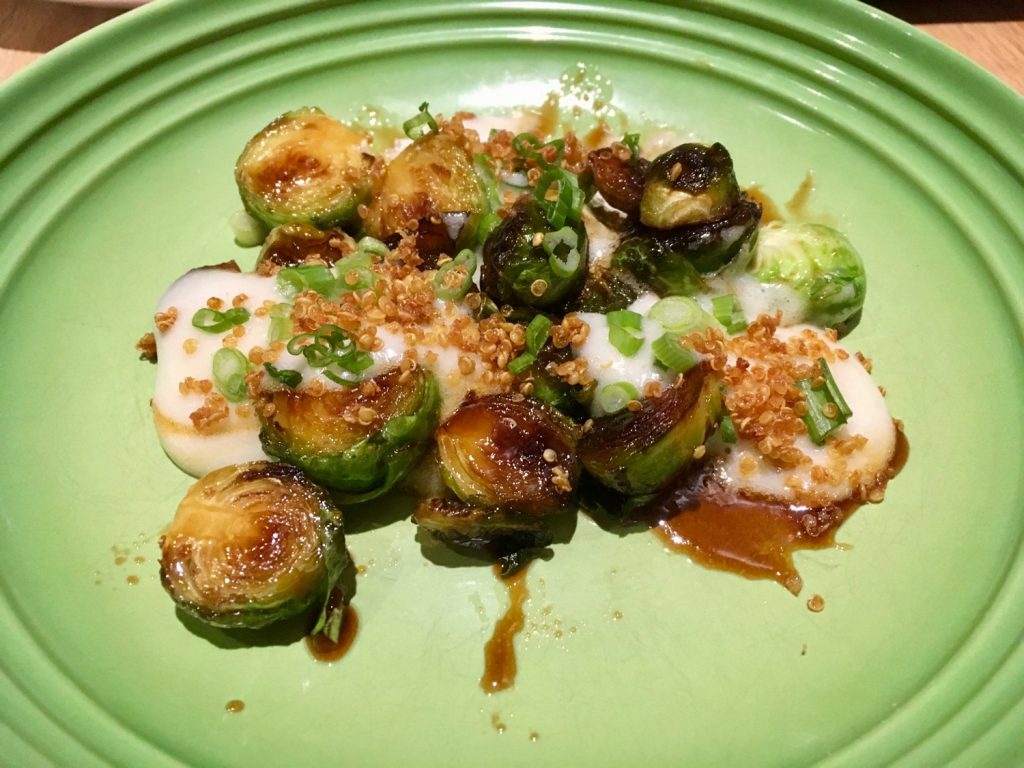 Next came the striped bass, with cubes of persimmon. The fruit grows well in North America, specifically the northeastern US, but most of what you see at Jean Talon market in the fall and winter comes from China or Spain. It's a really sweet fruit, somewhere between a papaya, a banana and a peach. Sure, let's go with that. And it contrasted the bitter rapini and tender fish.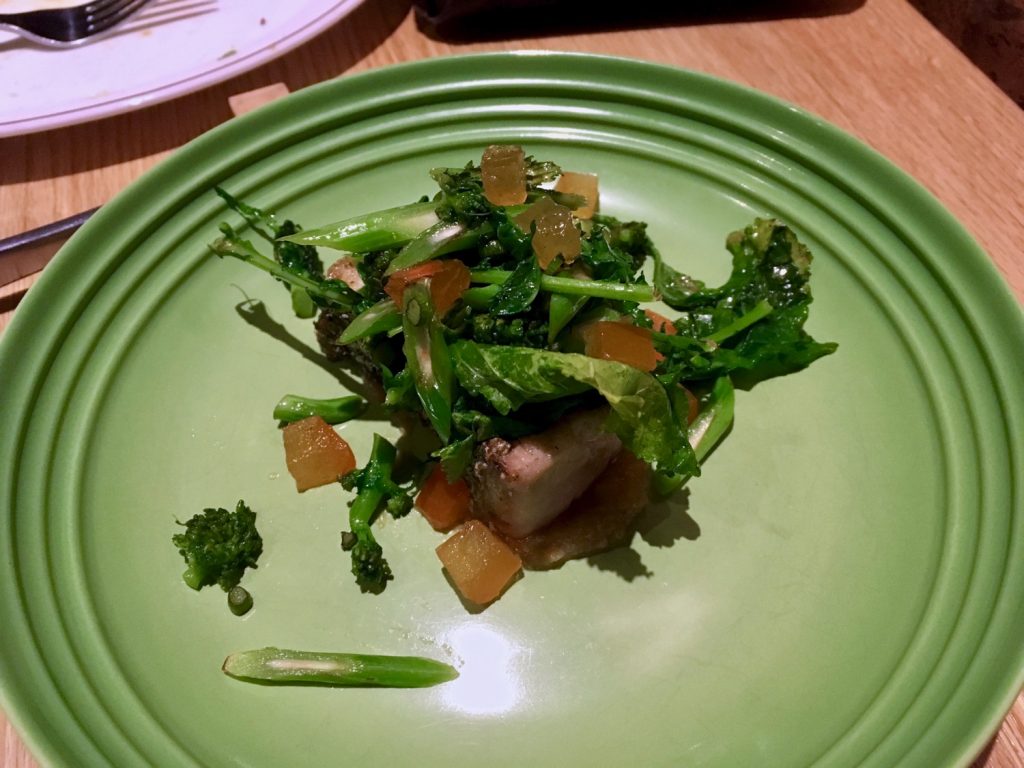 The last dish was the duck breast. My mom's favourite Montreal restaurant is Toqué!, which is renowned for its duck breast. This is not that. Whereas I go home feeling sated but heavy when I eat Toqué!'s deliciously fatty duck breast slices, I'd prefer Aaron's duck almost any day. This mostly has to do with the olive caramel (blend olives and combine them with a basic caramel, he says), which was so simple and so brilliant. Those charred cauliflower florets and hits of fresh tarragon are plenty nice, but you'd come back for the caramel.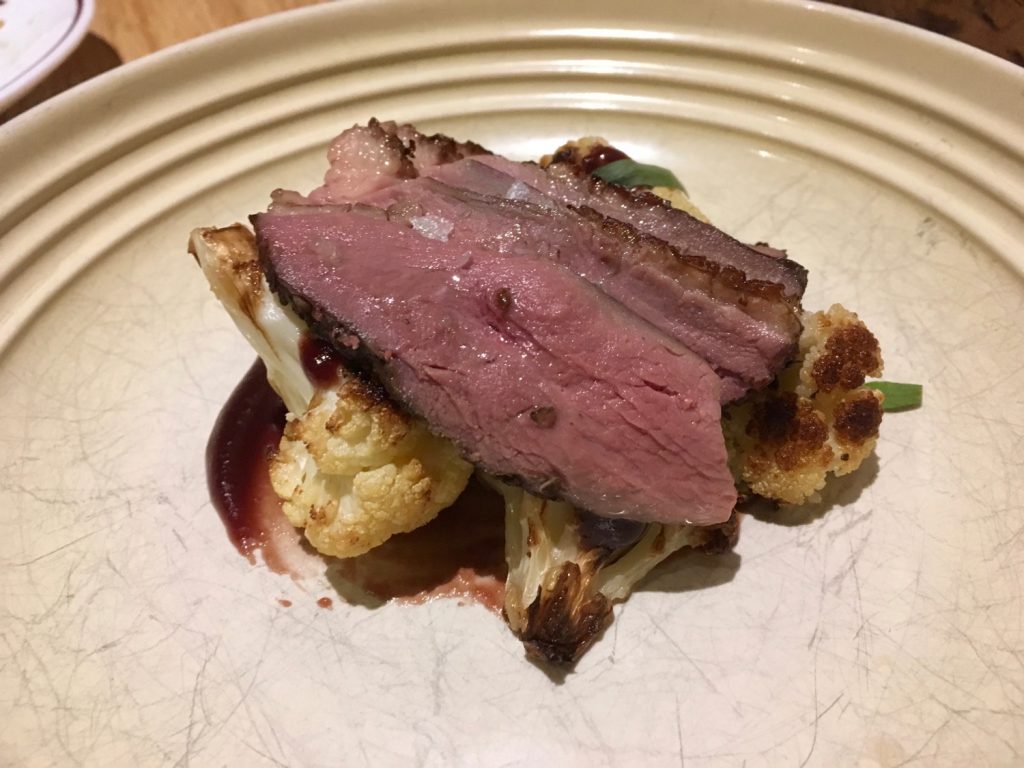 I feel bad describing all these lovely things when you can't go to the restaurant and have them yourself (though this menu is still currently online, so there's hope! Date: Jan. 9, 2018). But it gives you an idea of the chef's creativity. There's always great fish, vegetables and meat on the menu. And the fun is in discovering what's new, what he's come up with lately, and how he uses seasonal ingredients throughout the year. Despite this, it's real food. Nothing gimmicky. Not too expensive. And the wine is great.
All in all, one of the top upscale dining experiences in Montreal. And maybe the most under-appreciated one.
Le Diplomate
129 rue Beaubien West, Montreal
514-303-9727
Hours: Mon-Fri 4pm-midnight, Sat 6pm-midnight
How much: $65-$70 per person with tax, tip and a glass of wine or cocktail