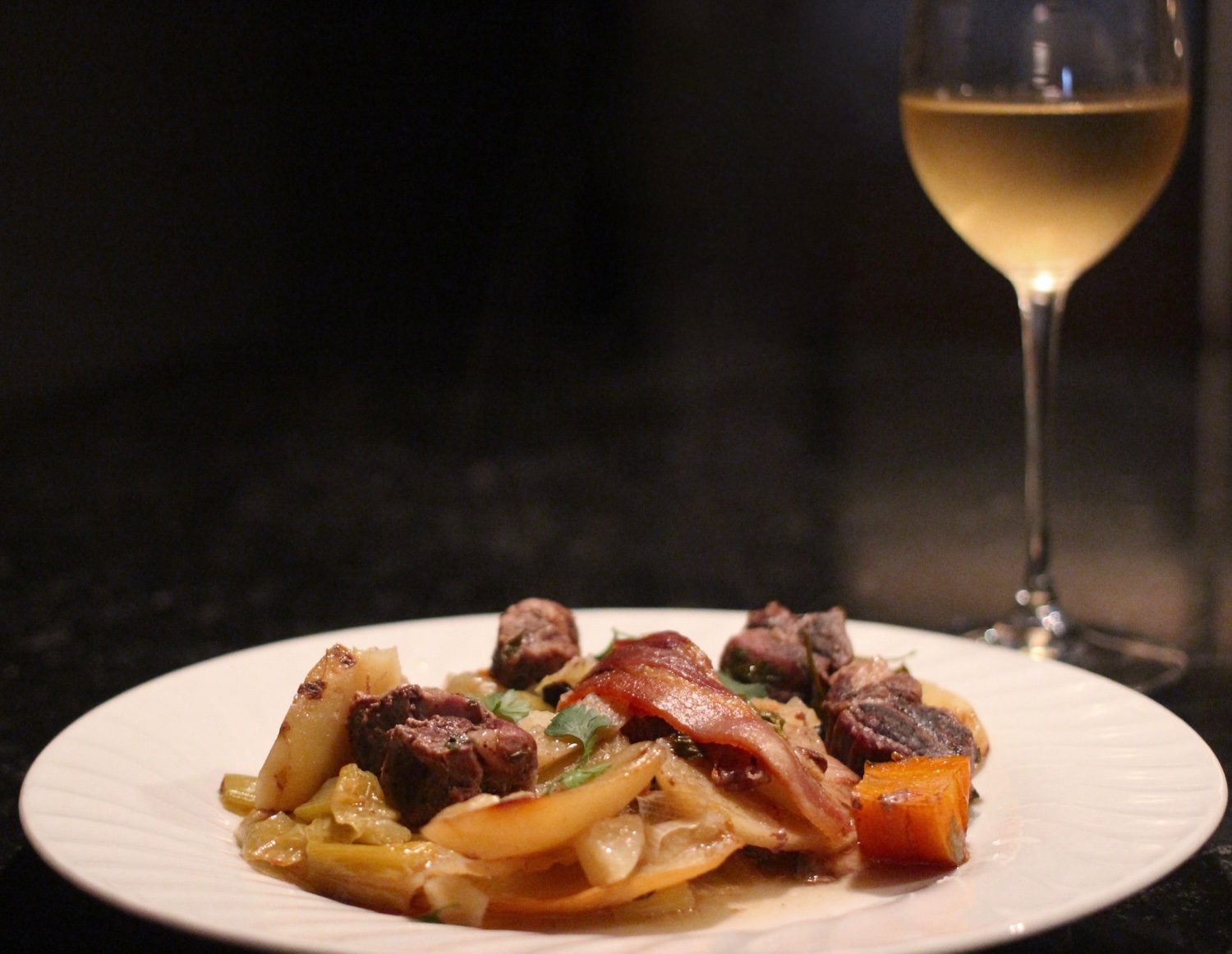 I don't eat a lot of pork or beef, which is why it's a bit strange that a conversation with a recently arrived Alsatian in Montreal inspired me to both buy a Le Creuset casserole (second hand…I don't have that kind of cash) and scour recipe books to get to the heart (pun intended) of the authentic recipe for offal-heavy bouchées de la reine and slow-cooked bacheoffe.
Much as I wanted to start peeling sweetbreads (…), I decided to start with the less intimidating bacheoffe. A simple stew?, you ask. Yes and no. The way the Alsatian described it (or maybe the look of nostalgia in his eyes) was what sold me: It's a slow-baked combination of silken leeks in a meat juice-heavy wine sauce with a pastry rim that crisps when baked, sealing in all the flavour until you break the rim. Then an aromatic wave of lamb and wine rush up to meet you, whispering for you to break off a piece of pastry and dip it in the warm, fatty wine sauce.
How is this different than a slow-cooker stew? You can't do a pastry seal with a slow-cooker. And while you need to brown the meat before putting it in the slow-cooker, here the pot does all the browning, making less work for you.
But the question was: would I break my no-pork rule for stew? Actually, I broke my no-pork rule for a dish that required 3 cups of Reisling and a generous sprinkle of juniper berries. Not a lowly stew.
Mostly I wondered if I could keep the gluten-free version of the pastry I'd have to make (no cheating there) from falling onto the top of the organic bacon, itself sitting pretty on layers of wine-kissed sliced Yukon golds, the sweetest organic carrots from Ferme Darlington (I got them just before their Atwater Market stand closed), leeks, garlic, juniper berries, bay leaves and cubes of meat.
The Saveur recipe I used in the end called for a pound each of beef, pork and lamb, but I went for lamb, turkey thigh (a good replacement for pork because it's got flavour, a dark colour and more fat than turkey breast, which might dry out) and wild boar (I wanted bison, but Boucherie de Tours at Atwater didn't have any). What I love about my butchers is that they'll cube you whatever you need. So I didn't chop a single piece of meat. Compared with filleting fish or cubing turkey thighs myself, this was a walk in the park.
There's no oil added (duck fat optional to grease the casserole dish, but it's not needed, and I like those sticky bits of potato on the side) and there's plenty of fat in the meat, which gets soaked up along with the wine into the potatoes. You use Yukon Golds because they get creamy in the stew, but other starchy baking potatoes work well too.
I tried my best to avoid pork (see turkey explanation above), but there was no lamb bacon at the market, which was to be my replacement. So I went to the organic butcher shop (usually too expensive for me) and bought a small package of lean-looking pork bacon. I only needed a little, and it really wouldn't be authentic without it.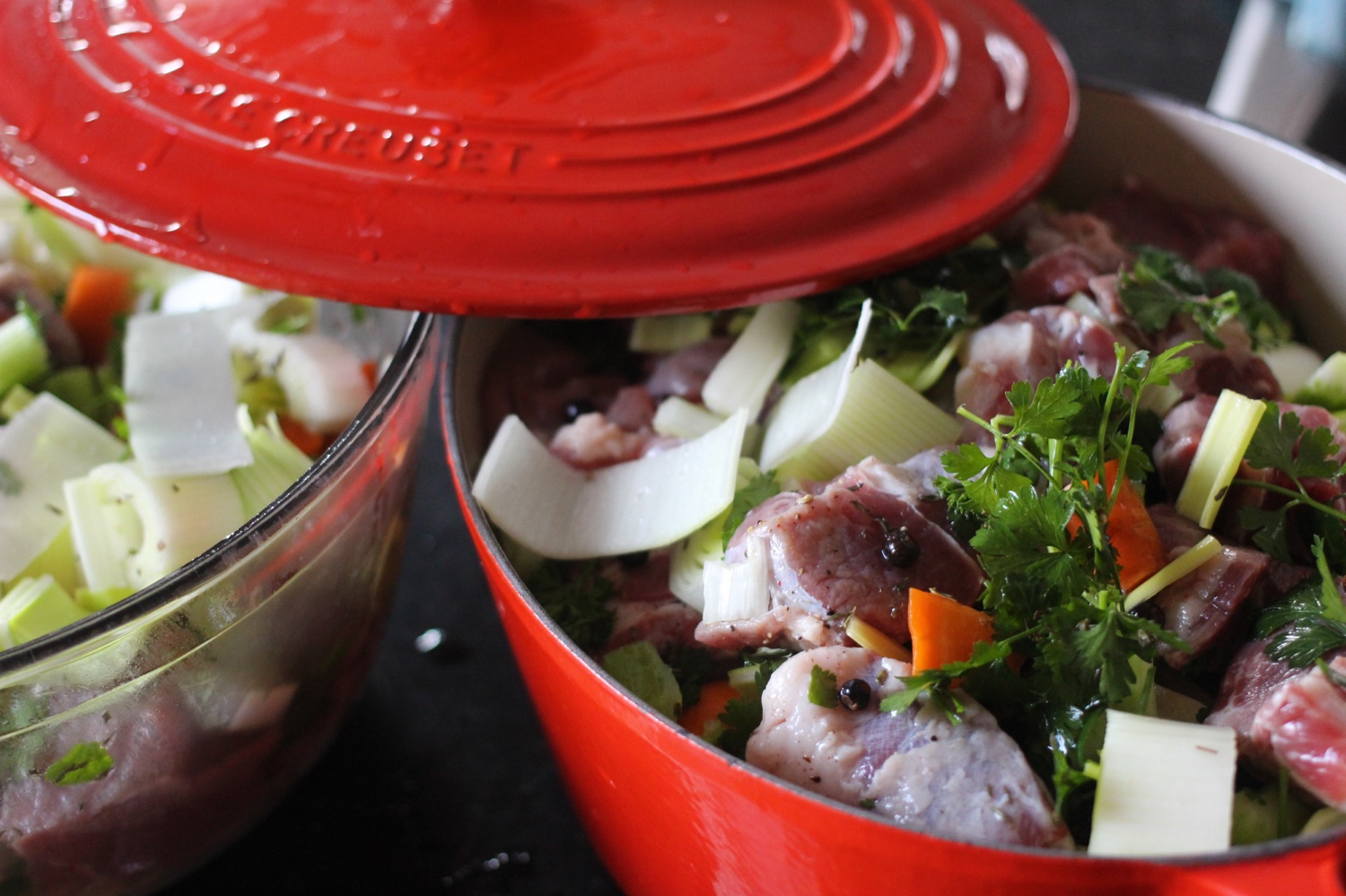 Then I marinated the meat and vegetables and layered them in my gift-to-me Le Creuset with the potatoes, topped with the bacon, poured over some of the marinating Reisling, rolled out and stuck on the pastry, gently placed the lid, and baked the whole thing for 3 hours.
The recipe called for more ingredients than my casserole could handle, so I'll be letting a bunch marinate for two days and baking it tomorrow.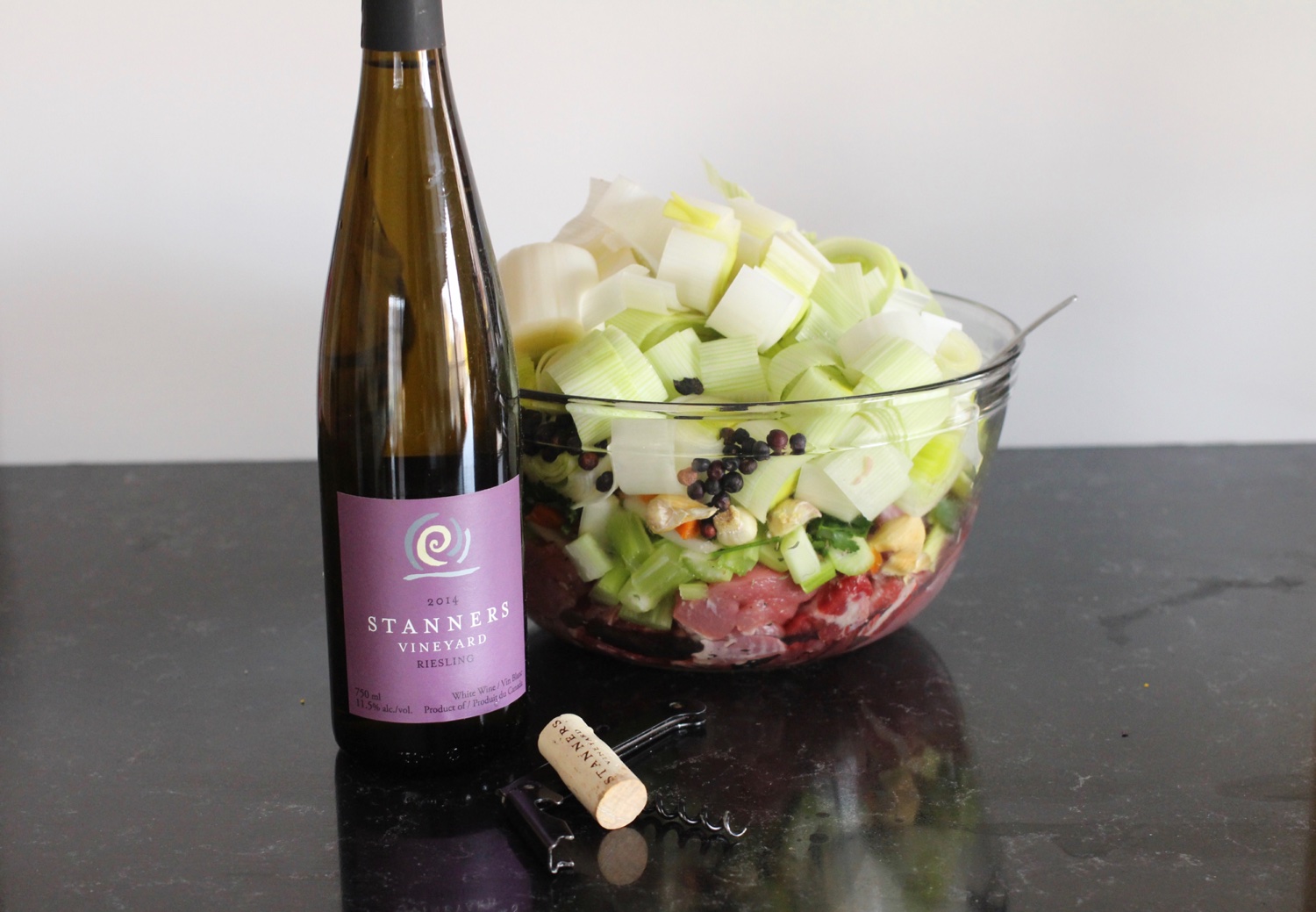 A note on the Riesling: You're supposed to use an Alsatian dry white wine. This generally means Riesling in my mind. I used an Ontario Reisling, which you have to be careful with because many are incredibly sweet. This one from Stanner's Vineyard I tasted in Prince Edward County last year. It was lovely. Alsatian to the core, nice balance of sweetness, freshness and acidity to cut through. The recipe conveniently calls for 3 cups, which means there was just enough left over for a glass with the meal – as though Saveur planned it that way.
Editors. Brilliant people.
A note on juniper berries: The berries are the most unique part of this dish. Though the flavour is subtle, don't skip them. Otherwise you're just making an awesome stew, rather than an awesome Alsatian stew (albeit with an Ontario Riesling).
And a note on the casserole dish: I was not paid by Le Creuset to write nice thing about them. I actually almost bought a Cuisinart casserole dish on sale for $99.99 (marked down from $329) because all the reviews I read said it was just as good as the Le Creuset. But I fell to the brand snobbery and convenience of Le Creuset in the end because the person I found online selling their brand new one (they'd won it at work but already had one at home) lived two blocks away from me. The idea of lugging a very heavy kitchen tool from more than two blocks away wasn't as appealing than spending a little extra money on a trusted brand that a little huffing and puffing would get home easily. Did I waste some money? Probably. But the bacheoffe was delicious. It probably would have been just as delicious with the Cuisinart, but I'll never know.