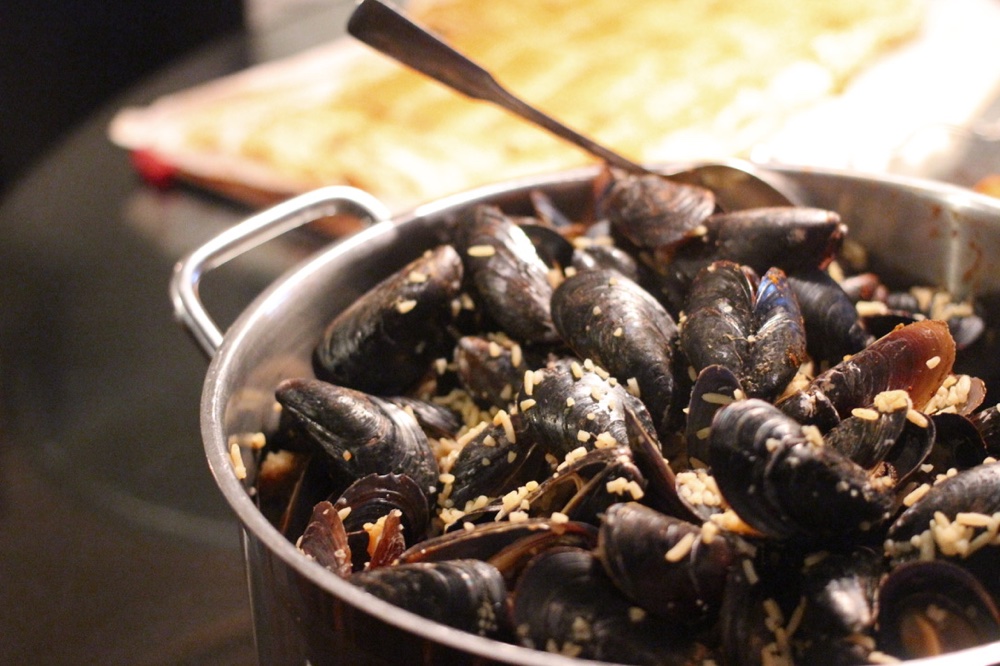 Spanish people are going to hate me. I accept that. In fact, I deserve their shaken heads and disapproving frowns, because this paella is not paella. It's basically spiced rice with mussels.
It's more like Peruvian arroz con mariscos, but cooked so that you get a bit of a char on the outside of the rice – paella-style.
There's a word for that deliciousness – socarrat. And though some people might scoop the rice from the pot and leave the hard-to-remove crispy edges, some people would be stupid.
Some people might also waste a ton of money buying expensive clams and shrimp. Restaurants go cheap with squid rings and mussels, and here I skip the mussels, because squid are so fussy to chop if fresh, and bland if pre-cut and frozen.
Mussels, on the other hand, are very flavourful, and don't tend to turn into balls of rubber like cherrystone clams.
I could have added chorizo or other sausage. Or sautéd some onions and garlic. I could have splurged on saffron. But I didn't.
Speaking of spices, I used smoked paprika, sweet paprika and cumin (the latter being a non-traditional paella addition), and used the juices released from the first batch of mussels as a quick seafood broth. Commercial seafood broth is expensive! Mussels are cheaper and delicious.
I didn't even used La Bomba, carnaroli or arborio rice, three classics for paella or risotto. they have higher starch contents than Basmati or Jasmine rice, which makes the result creamier. But who cares? This is the easy version. It's not as creamy or as umami-rich as a traditional paella, but I still got lots of compliments. And my day was so much less stressful.
So here you go, seafood and mussels. Or a paella recipe for people who think cooking doesn't have to always be so fussy.
Cheater's Paella
6 lbs mussels, scrubbed in running water and de-bearded*
6 cups water
2 tbsp olive oil
2 cups rice
2 tbsp sweet paprika
2 tbsp smoked paprika
1 tbsp cumin
2 tbsp dried oregano or parsley, optional
1 tsp salt

Heat 6 cups of water in a very large pot. Add 5 lbs of the mussels and steam them for just a couple minutes, until they open. Strain the juices into a medium saucepan and shuck the mussels once they've cooled. Discard the shells.
While you're waiting for them to cool, heat the olive oil over medium heat. When hot, add the rice and stir to coat it in oil. Add the spices and stir. Add half the reserved mussel juices and bring to a boil. Reduce the heat and simmer, covered, for about 10 minutes. Then add the remaining stock. Stir and return to a boil. Then reduce heat again and simmer for another 10 minutes.
Put the remaining mussels on top of the rice and cover the pot. Cook 2 or 3 minutes, until the mussels open. Either stir the shucked mussels into the rice or place a portion of shucked mussels in bowls and heap the rice and cook, un-shucked mussels on top.
You could garnish with parsley, but that seems fussy, doesn't it?
*Don't let the mussels sit in the water or they'll drown; keep them cool in the fridge in an open bowl or bag once clean, if you're a very slow cleaner – they shouldn't sit at room temp too long either