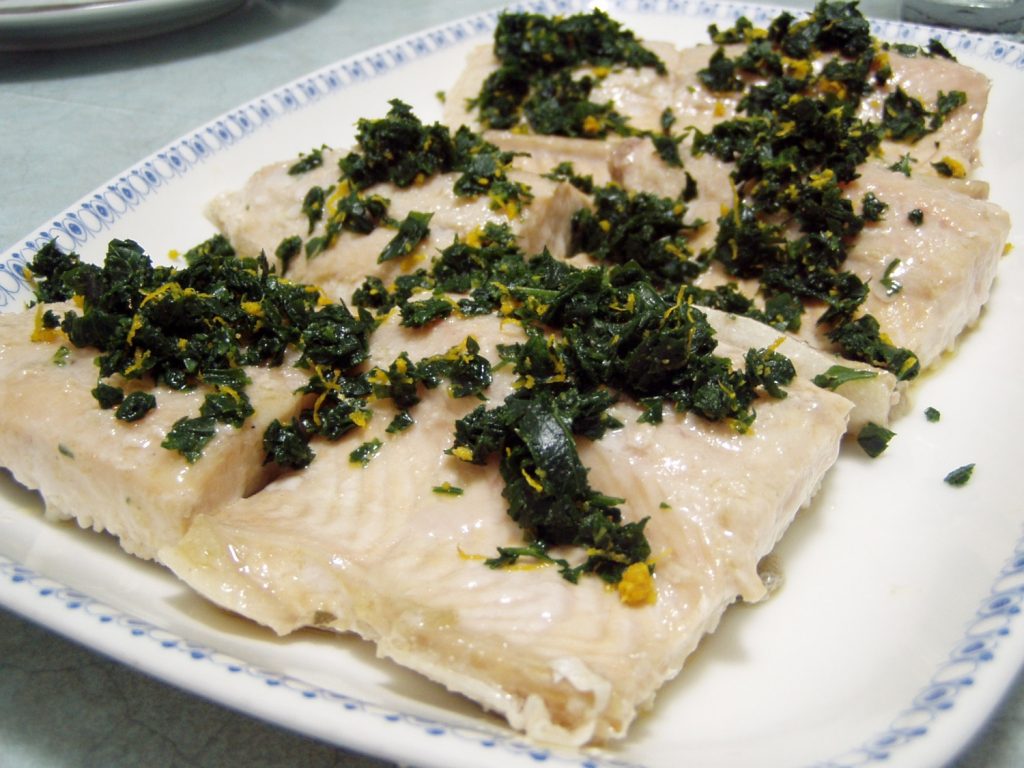 The inspiration for this dish came from a dinner at Lili.Co in Montreal. From our table a few steps from the bar/open kitchen, we watched a chef spend more than five minutes slowly basting a fillet of fish in hot, seasoned oil, essentially poaching it in oil. He then topped it with a parsley, citrus gremolata that cut through the fat of each bite with salty herbaceousness. There were some Jerusalem artichokes and other vegetables involved, but let's forget about those and concentrate on this: a successful example of the original low-temperature cooking, no vacuum-sealed plastic required.
Sure, it's less precise than sous vide, and it requires a lot more paying attention on the part of the chef to ensure proper cooking, but where's the art in ripping open a bag of fish? Knowing that the thickest part of the fillet needs a little more basting than the tail, however – now that's a challenge.
And actually, the subtle differences between textures throughout the finished fillet can be a good thing. It wasn't as though one part was raw and another dry and overcooked. Instead, you can taste what medium-rare is like, then slightly less rare, then slightly more rare. Then go back to your favourite. Why would you want it all monotonously the same?
The other upside of this dish is it's really easy to do at home, and is more forgiving than searing fish. The fish's skin won't tear and make for an ugly presentation after sticking to a hot pan. You don't have to flip the fish, so it won't fall apart into pieces (unless it's a really tender, flaky fish like turbot or black cod). And it takes just a bit of love to get right. Kind of like fish for dummies.
The restaurant served the fish with its head on, but you can get your fish monger to remove it if you prefer when he or she cleans the fish for you (or do it yourself). If you're buying the fish pre-cleaned and fillets at the grocery store, try to get skin-on at least. For the recipe below, I removed the head and used it to make fish stock. You can also use salmon, but please not Atlantic salmon. And choose your Pacific salmon wisely. This was a wild Labrador coast, flash-frozen char. You can find container-farmed char more easily in Canada, which is fine. It's not as Omega 3-heavy but doesn't have the environmental concerns associated with farmed Atlantic salmon and the contamination concerns of wild Pacific. Your call.
Second last note: Use organic orange peel. The pesticides of a conventional orange are mostly retained in the skin.
Last note: There's a ton of oil in this, but you don't serve it all. The leftover oil makes a very good flavouring for rice, paella or soup, though, and will last about five days in the fridge if strained after use.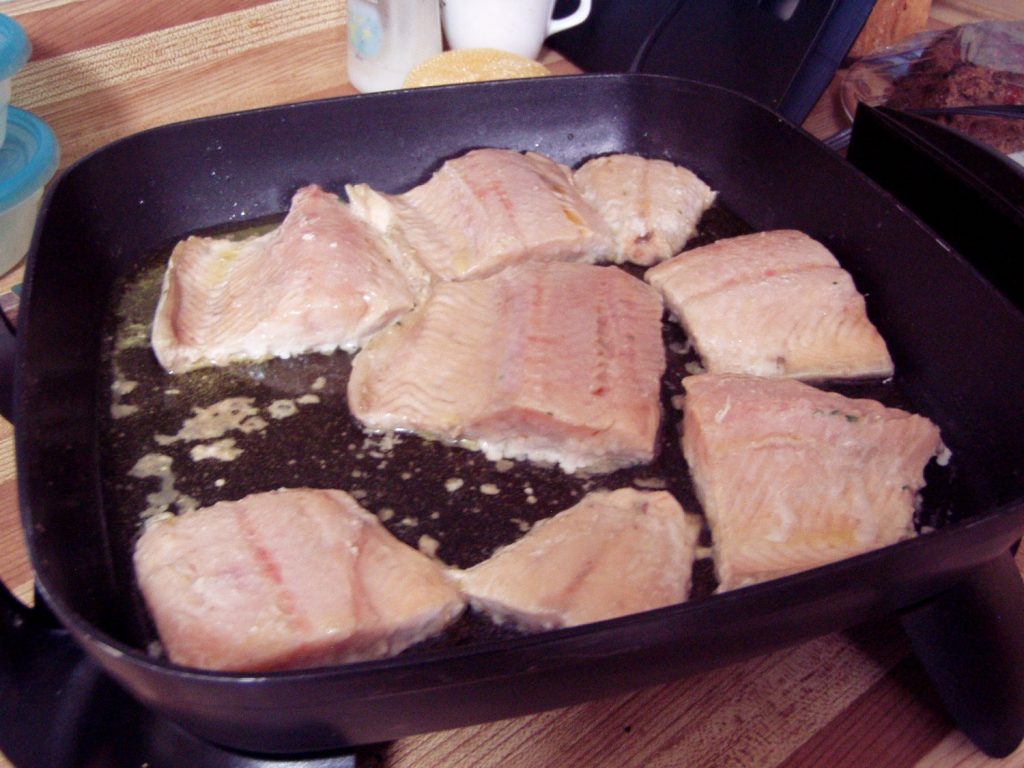 Slow-Braised Arctic Char Fillets with Gremolata
Serves 5-6
One 2-3 lb whole Arctic char, skin on, cleaned and cut into ~4 oz fillets
1/2 cup extra virgin olive oil (use a buttery one, or use half oil and half vegan margarine or butter)
1 tsp salt
Gremolata:
1/2 cup minced parsley
1/4 tsp salt
2 tsp grated organic orange peel (or organic lemon peel)
Make the gremolata by combining all the ingredients in a small bowl.
Heat the oil and 3/4 salt over medium heat in a skillet or grill pan large enough so that all the pieces of fish can fit without touching. Heaven forbid they be denied personal space.
Reduce the heat to medium-low and add the fish fillets, skin side down. Play with the heat so that the oil just begins to think about bubbling, but isn't boiling. Tip the pan so you can spoon the hot oil over the fish, spooning more over the thickest parts. If you have a turkey baster, use that. If not, use a wide-bottomed spoon – and more patience. Don't flip over the filets. Continue doing this for about 5 minutes, until the fish is no longer translucent inside. Cut into the thickest part of the fillet to check. It shouldn't be solid pale-pinkish-white either. That's overdone. If the oil is on the less-hot side, it will take longer. I overcooked mine a touch, erring on the side of safe rather than sorry.
Use a spatula to remove the fish to a plate lined with paper towel, leaving the fish skin behind. Top with the gremolata. Serve with vegetables of some kind and potatoes or rice if you like, drizzled in fish-flavoured oil if desired.