Back when I lived in Outremont about six years ago, there weren't a lot of affordable and delicious dinner places in the Parc and Bernard area – and nothing even close to the new Délicieux Veg Fusion Café.
There were tons of breakfast and lunch places, but dinner out meant either expensive sushi, expensive Italian/French, expensive mussels or greasy Chinese. Any vegetarian options? Nope – the Café Dépanneur closed early.
But now, there are a couple more options – Greek spanikopita being the closest – yet to get decent vegetarian fare, you still need to take a walk, either south on Parc Avenue to Café Resonance or way over to Aux Vivres on St-Laurent. Crudessence and La Panthère Verte both left their St-Viateur locations and there's no Copper Branch up here.
So when the Fruiterie du Mile-End bought the old Em Café space and partnered with family friend Ilyas Butt, he saw a need for a healthy, casual vegan place with good food. Vague, yes. Here's what that translated into: eye-popping rice and turmeric-quinoa bowls, tempeh and chickpea omelet sandwiches on homemade sesame seed buns and pesto and pistachio wraps, organic açai bowls, smoothies, gluten free donuts, Algerian pastries and enough in-house vegan gelato and sorbets to make a dairy-free sweet tooth swoon.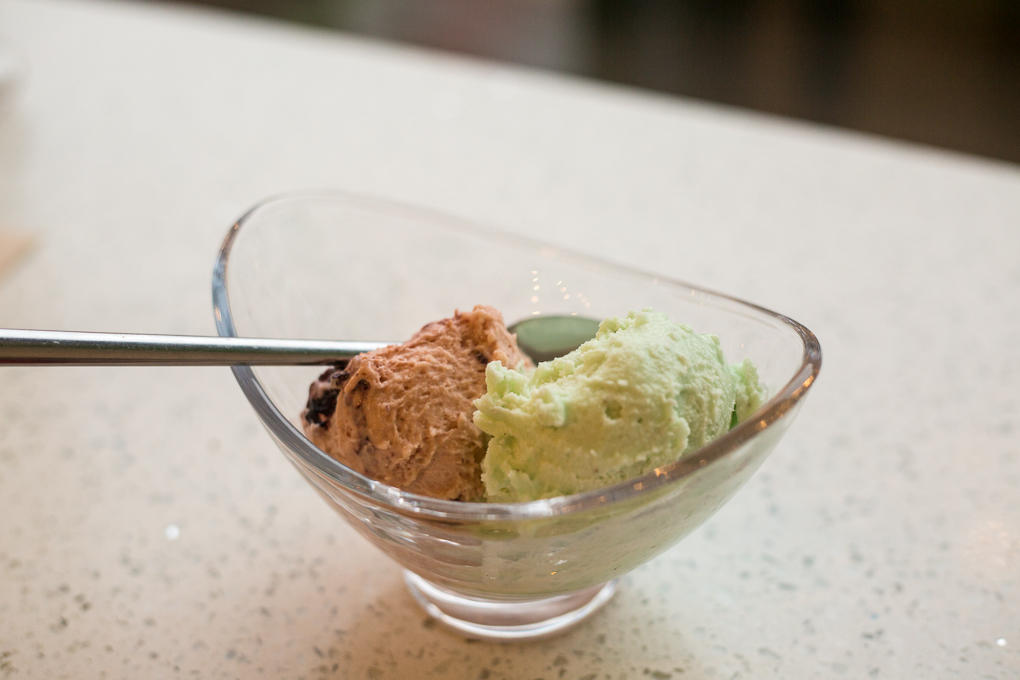 "You have to think about what you're eating," the restaurant veteran and software developer told myself and fellow food blogger Ksenia Prints of At the Immigrant's Table. (Note: We didn't pay for our food but our opinions are our own. The gorgeous photos are Ksenia's.) "We're not targeting just vegan. It's a passion helping people eat healthier."
To me, this sounded a bit like David Côté, formerly of Crudessence, who championed raw food back when Montreal didn't believe in wheat grass. The 100% raw restaurant is now "just" vegan to be a little more accessible. But Délicieux is trying to be even more so. That's why they have fake vegan ginger chicken with the Délicieux Veg Fusion bowl and Bâcha Kuccha pita sandwich and are planning on launching a sandwich soon with vegan beef. None of the faux meats are gluten free, but for people transitioning to a vegan diet or for non-began friends coming to the restaurant who don't believe a meal is complete without meat, it's a strong option.
Throw in the fact that the restaurant is 90% organic, has a competitive price point and almost nothing is deep-fried (order those baked sweet potato fries and shallow-fried Algerian jalebi pastries – they're similar to the Indian version but made with rice flour and don't involve sweetened condensed milk) and you've got the makings of a winner.
But it all came down to the food. So Ksenia and I went to work. 
How good can a rice bowl be?
Every vegetarian restaurant these days seems to have a rice bowl. And there's a reason: they're generally delicious. Combine a bunch of colours, textures, tastes on a bed of comforting grains or seeds and pour over a sweet and/or sour and/or salty and/or spicy sauce and your tongue gets set a-tingling. For example, I love Café Resonance's rice bowls, which are a couple dollars less expensive than Délicieux Veg Fusion Café's, but there's a freshness and variety of flavour in Délicieux that wins out.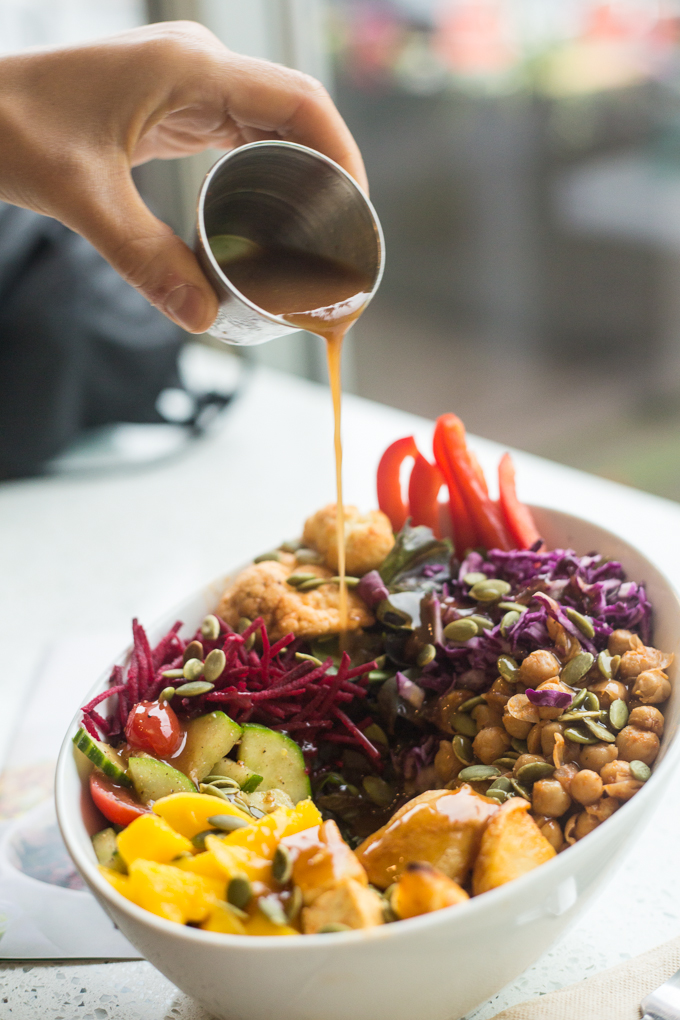 For example, Délicieux's Indian Diva Bowl's ($12) combines roasted Tandoori potatoes and tofu cubes with spiced chickpeas, shredded sweet-pickled beets, fresh mango, cherry tomatoes, cucumbers and al dente cauliflower. The sauce is oil-free and is made with mango chutney as its base. One of the best things about this bowl is that it didn't make me thirsty for the rest of the evening like the sauerkraut and kimchi at Résonance or tempeh-topped buddha bowl at Aux Vivres. 
I also like the bowls at Copper Branch, but I feel like they're really oily and not as crunchy, fresh and elegant as Delicieux's. And while Aux Vivres was the first in the city to do rice bowls, (their Dragon Sauce is famous, after all), you don't always want to eat the same thing. Besides, the price is a touch higher at Aux Vivres.
All of Délicieux's bowls come on a base of brown rice, turmeric quinoa or organic soba noodles. The noodles aren't gluten free (most commercial soba is a mix of gluten free buckwheat flour and non-gluten free wheat flour), but most of Délicieux's menu is. You can get any burger or sandwich on a freshly made buckwheat crêpe instead of the specially made beet juice-, spinach- or turmeric-coloured breads and wraps. And you should get that crêpe to have the Temphisto burger: a combo of sweet-marinated tempeh with a compressed chickpea omelet (fresh seasoned chickpeas pressed into a patty). The same omelet doubles on the all-day breakfast menu as an egg-free egg sandwich with lettuce, tomatoes and vegan mayo.
Here's how it's made: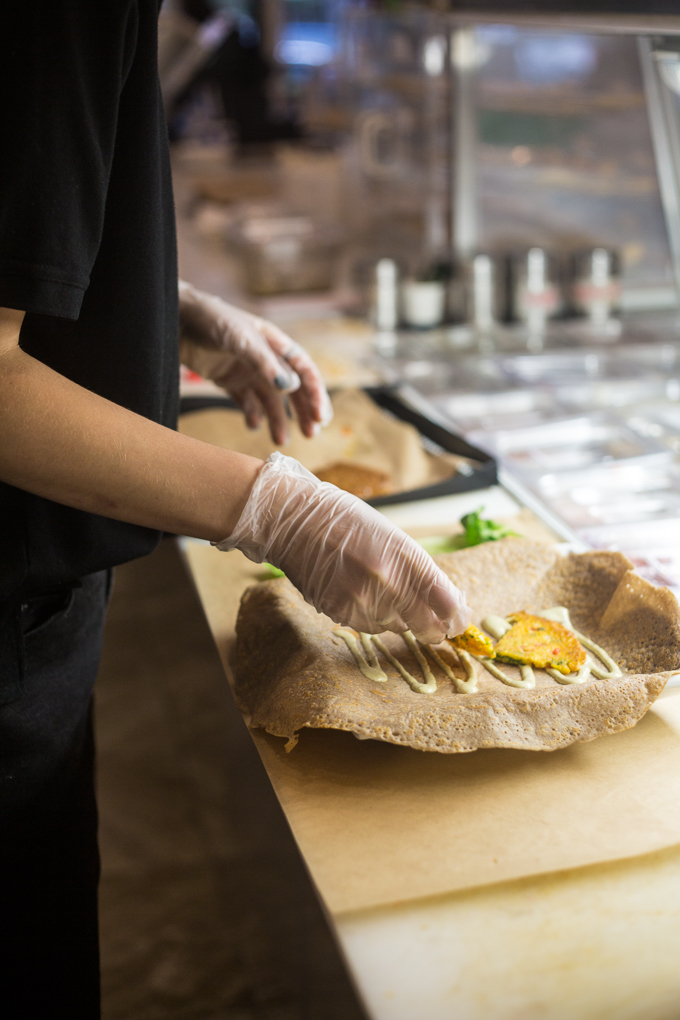 Take a freshly made buckwheat crêpe (there's a crêpe slab at the front of the restaurant by the window so you can watch from the street). Squeeze on some jalapeño vega mayo and then some slices of chickpea omelet.
Then add the coleslaw, lettuce and tomatoes. the tempeh and a little more sauce. And that's a wrap: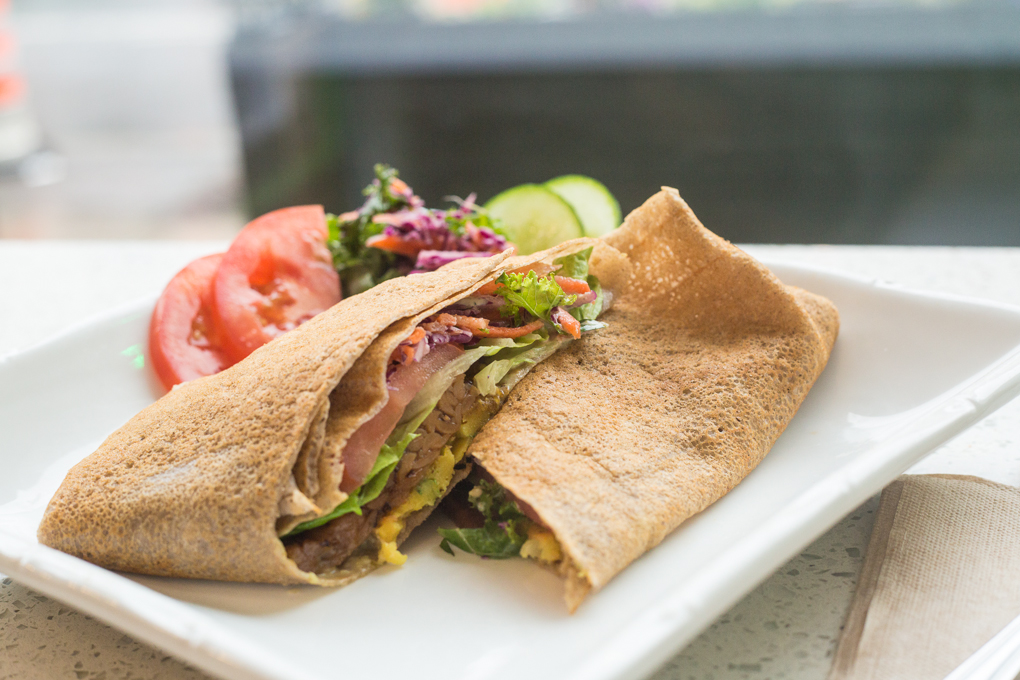 Super Food Power and All-Day, Vegan Breakfasts
Some might balk at the $8.50 price tag for the açai power bowl with beets, raspberry, kiwi, strawberry, bananas, coconut milk, granola and sunflower seeds, but you're paying for a generous serving of organic fruits and seeds. Same goes for the $7.50 Qi Chi Power Bowl: a creamy quinoa and chia seeds pudding sweetened with coconut sugar and maple and topped with bananas, kiwi, strawberry, raspberry, blueberry, toasted almonds, coconut milk, almond butter and goji berries.
To me, if I'm craving a hearty mixed fruit bowl in Montreal, this one is tops. I love it when fruit tastes strongly of the actual fruit. And the creamy pudding at the bottom of the bowl will definitely get you through a long morning without a sugar spike or hunger pang.
Desserts
Those looking for a sugar spike, though, need look no further than Délicieux's wall of sorbets and gelato. The café has already gotten some good press for their vegetal flavours including kale and avocado, but I'm going to shout out for the mojito, strawberry and cherry & tomato sorbets.
The gelati are mostly made with soy milk, but the pistachio with coconut milk is the owner's favourite. Most of the icy treats are made in-house with some imported from Italy, but they're transitioning to making more in-house. They're also swapping out soy milk in many of the other recipes for coconut milk, because it gives a better texture. Either way, there are no gums, additives, gelling agents, glycerin, potassium sorbate, cellulose gum, artificial colours or anything fake in their gelato or sorbets. That bright green pistachio you see at ice cream places in Little Italy? That's a not-so-delicious mix of fd&c yellow 5 and fd&c blue 1.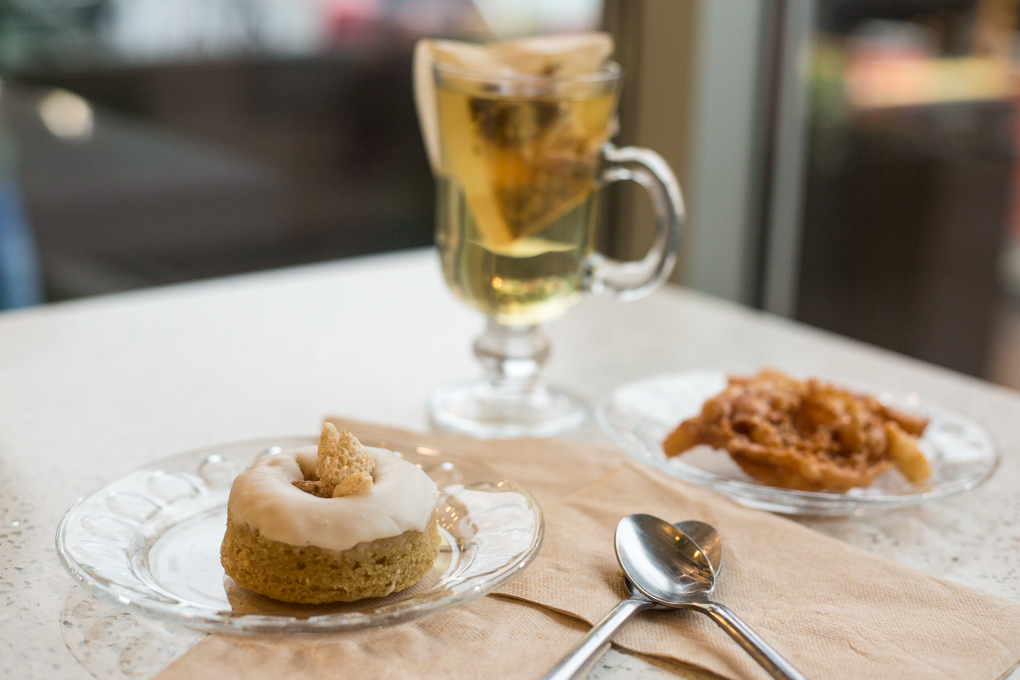 And though we were completely stuffed, we had to try the chai tea, jalebi and a gluten free chex donut. "We import tea leaves from six countries," says Ilyas Butt. He also imports a lot of the organic spices he uses, because he just can't get them at a good price and quality in Montreal. The chili and cumin come from India, for example.
The donut was dense and cake-y, and while small, it's a donut that I can actually eat. The crispy pastry of the jalebi and a cup of chai would be perfect as an afternoon snack.
What do people have against fusion cuisine?
While some people hate the word 'fusion' when it comes to restaurants, Ilyas Butt isn't one of them. "We want to educate people," he says. He isn't trying to make authentic tandoori fake chicken and naan. Instead, he's trying to open people's eyes to international flavours and vegan cuisine by using full-flavour organic ingredients. 
This might sound strange coming from a non-vegan who has a twenty-year restaurant history including the well-known Tandoor et Grille (now Tandoor et Grille Haveli) on Sources Blvd in Dollard-des-Ormeaux. But Ilyas Butt can legitimately call a lot of international cuisine his own. Though born in Pakistan, he came to Montreal from England in 2001. In fact, when the Fruiterie du Mile-End told him they had a restaurant for him to run next door, they also mentioned that they wanted him to open an Indian place like Tandoor et Grille – to bring some homestyle Pakistani cuisine to the Mile End. 
It might also sound strange that a restaurant with such a clean, slick, franchise-friendly feel gives a third of its profits to charity. How can you make any money in high-rent Mile End? I asked. "It's not about making money," he says. The charity he works with, HMR Trust, was originally just an organization started by his father in Pakistan to provide education, clothes, clean water and food for street kids. Seven years ago it became an official charity. Now, Délicieux is involved, providing plant-based boxed meals and working with local farmers to grow organic vegetables for those meals. 
I said "franchise-friendly" and it turns out he's already had offers. "But we have to make sure first that people like what we're doing." That means adjusting the menu, finding the best suppliers and building a loyal clientele. 
Happy, full and riding a sugar high from that mojito sorbet, I have a feeling he'll get it. 
Délicieux Veg Fusion Café
5718 avenue du Parc, Montreal
(514) 379-1279
Hours: 8am-9pm daily
How much: ~$10-$15 for breakfast or lunch including tax