I know, I know. I'm lactose intolerant. Why am I writing about a recipe with Italian sheep's milk cheese?
Because life's too short. And just a little bit won't kill me. So what if my digestion was unhappy for a few days? Worth it. I could blame Yotam Ottolenghi and his gorgeous recipes for it, but really, I have only myself to blame.
I'm a regular reader of Ottolenghi's Guardian newspaper weekend recipe column. Each week has a theme (e.g. end of summer tomatoes; zucchini; perfect desserts; stuffed vegetables) and each week I salivate over the combination of herbs and spices. But rarely do I actually make a recipe. I own three of his books already and I find the recipes on the site are often not Amie-friendly (aka contain cheese, gluten or pork – none of which I usually eat). I also don't like bastardizing his recipes by adjusting them to my needs, since they're generally carefully balanced and well tested.
But sometimes he writes a column where all three recipes look so good that I leave the tab up in my browser for a month, saving the recipes for the perfect day when I have a little extra time to cook and a little more ambition. I think I had this page on recipes with Pecorino cheese up for about six weeks before making any of the recipes. But they all fell to my chef's knife, one by one, starting with the roasted figs, simply because I had some lacklustre figs that could use some concentration from roasting with red wine vinegar. Plus, I had tons of fresh tarragon and basil in my garden.
It was meant to be.
I made the dish without the cheese the first time and it was still delicious. The second time, I nibbled a touch of cheese that I'd bought for the flatbread pizza, and it was, yes, still delicious. More so? Maybe.
In addition to the recipes, I often enjoy and always appreciate the intimate tone of the introduction to these columns. It's usually a personal anecdote or an educational explanation of an ingredient. In this case, I had no idea that there were three kinds of Pecorino cheese, and upon shlepping from cheese shop to respected cheese shop at the Atwater Market in Montreal, I found only one Stagionato and zero frescos or semistagionatos, fresco being creamier early season Pecorino and semistagionato being half aged. Stagionato is the fully aged version and is best for grating and shaving like Parmiggiano. I hoped I'd be better off with Pecorino, though, digestion-wise because it's made with sheep's milk rather than cow's milk, and therefore contains less lactose.
So I bought the cheese, anchovies, lemon (organic because I'd be using the zest) and new potatoes called for in the recipe and walked home with my treasures. I had green onions in my garden already.  The only changes I made to the recipe were the Mascarpone cheese and the pizza dough. I would have been really sick if I'd eaten the fresh Mascarpone, so I used almond meal left over from making almond milk, which added protein and a little Mascarpone-like sweetness, plus a tiny bit of lemon juice. For the crust, I used the same weight of brown rice flour, tapioca flour and chickpea flour (I was inspired by Italian socca) as the as the bread flour called for in the recipe. And even though the dough didn't rise much (I think measuring by weight wasn't the best plan in the end because the dough was too crumbly and needed more liquid), it was still tasty, and pleasantly nutty from the chickpeas.
Rolling it out was tough, so I rolled it between parchment paper and then flipped half onto a greased baking sheet, pressing the crumbling bits back into the sides, and just baked the other half directly on another baking sheet.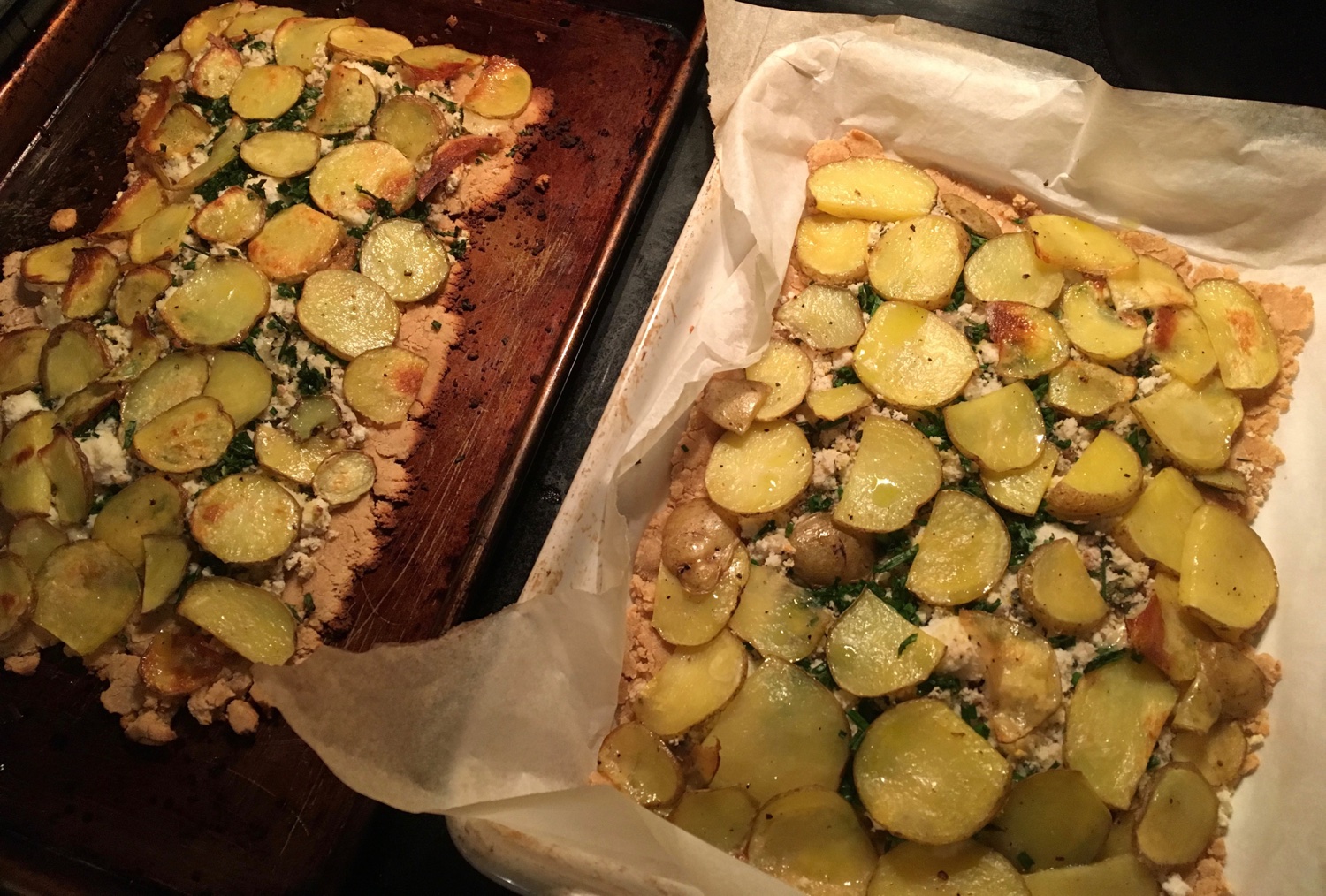 The results?
Delicious. Both ways. Dense and nutty with just enough salt and umami from the cheese and anchovies and just enough brightness from the lemon zest. The crust and almond meal made my mouth dry, but it was addictive in a strange way. I'm sure Yotam Ottolenghi's was much, much better.
But. No regrets.