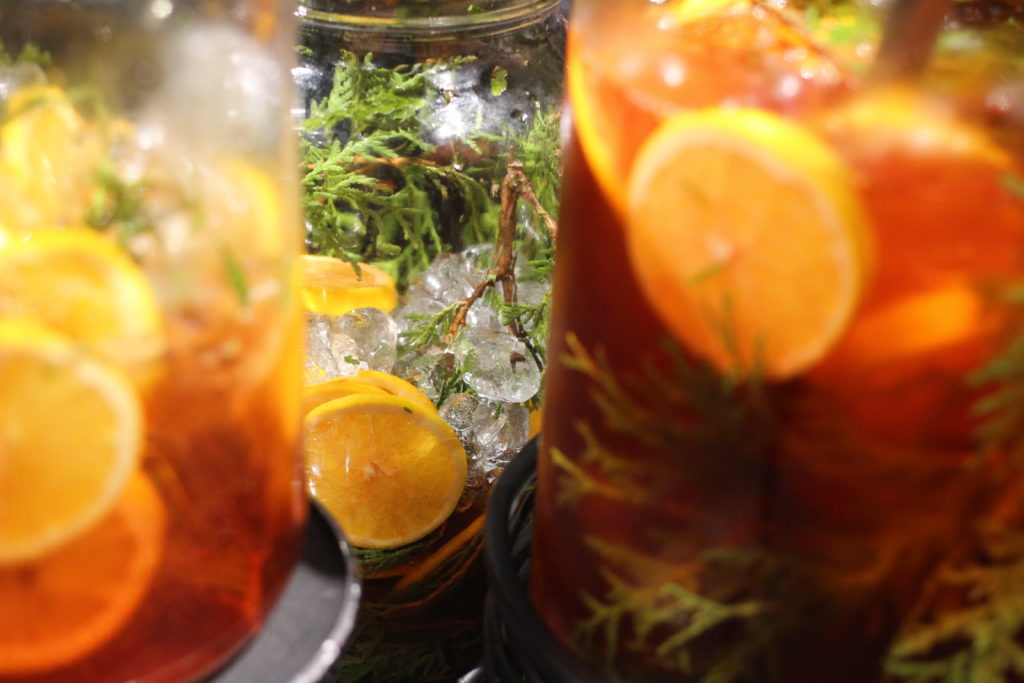 Made With Love was another grand success, this being its tenth year of cocktail competition mastery in Montreal. The two big winners were:

Public's Choice: Jérémie Dussault – Mile Public House Blainville and
Judges' Choice: Alexandre Lindsay – Bar Le Jockey
My favourite cocktail didn't win, but its creator, Kevin Cacho of Coldroom, came third in the Public's Choice comp and his team turned every dog tag that he did receive into a party – hooping and hollering and cheering his name, which happened a lot.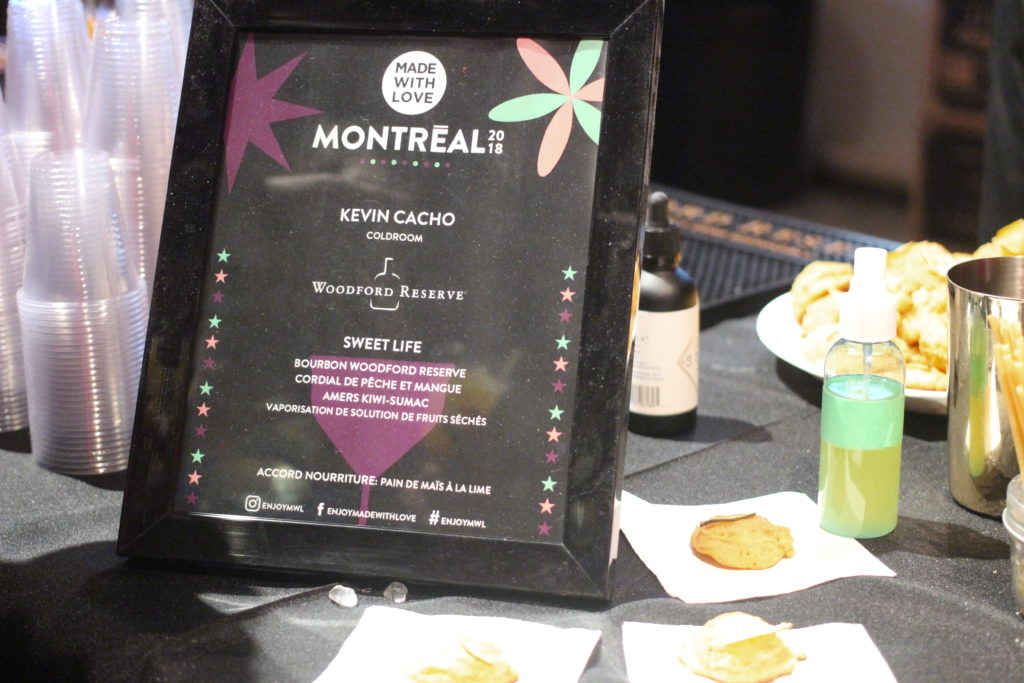 Bourbon, peach and mango cordial, kiwi-sumac bitters and "vaporized solution of dried fruits" were the ingredients in this sweet and boozy treat that paired well with savoury cornbread-style cookies, also made the cordial, I think? There was something about all the ingredients not being wasted, so that would make sense. The cornbread was to match the corn-based bourbon.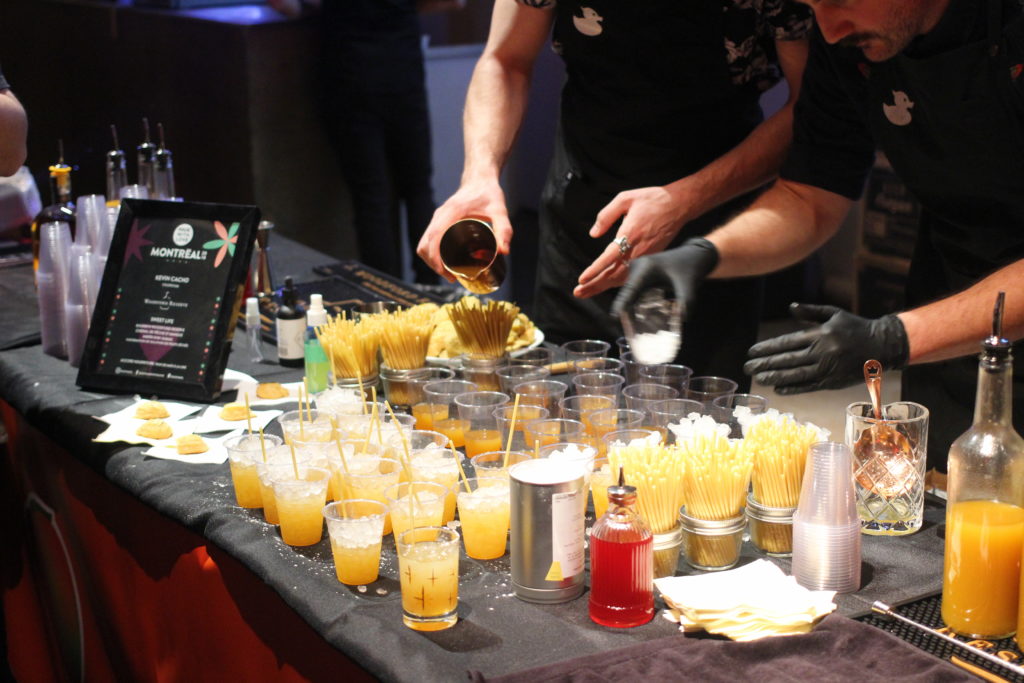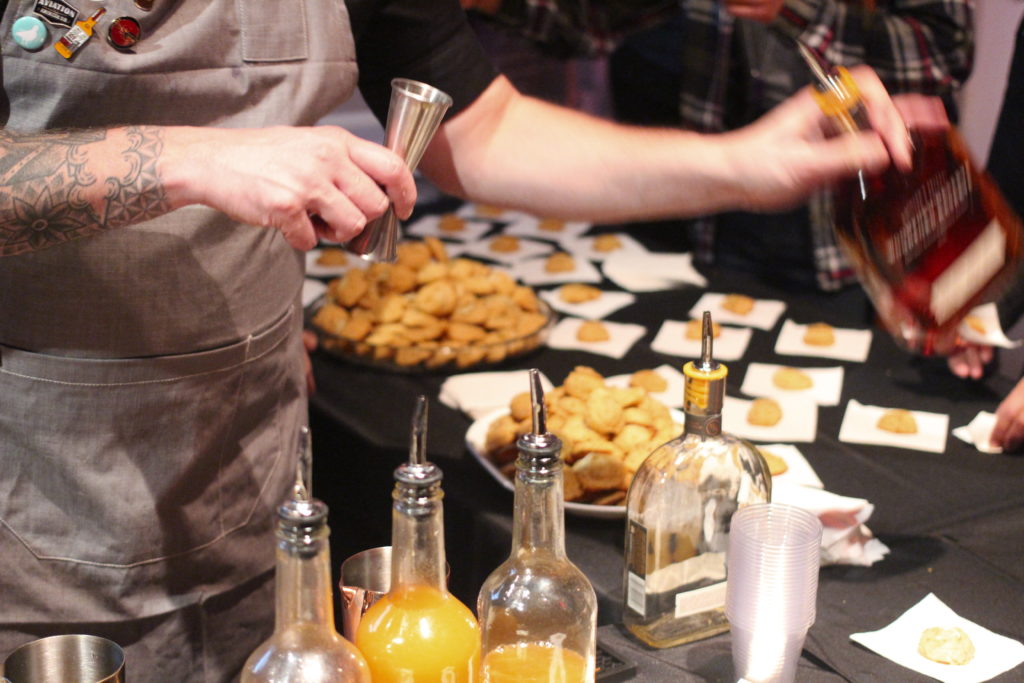 Here are the cocktails and their recipes from the two big winners:
Alexandre Lindsay – Mile Public House Blainville

LA NARCISSE
– Ungava Gin
– Wild rose, orange flower and lemon granule syrup
– Lime juice
– Miraculous foamer from Ms Better's Bitters (aquafaba, chickpea foam made with the slimy brine of cooked chickpeas – it's like vegan egg whites)

Food pairing : Melting fondant with Alexandre's face 3D printed onto each little square.

This was a pretty tart drink, but with the pure sugar fondant square, it was perfect. Like adding sugar to-taste to your boozy lemonade.
Jérémie Dussault – Le Jockey

MUMBAI SOUR
– Flor de Caña Gran Reserva rum
– Citrus juice (vague…)
– Curry-ginger syrup
– hazelnut butter
– Egg white (it's like carnivorous chickpea brine!)
– Habanero shrub
– Vanilla bitters

Food Pairing: Honey-smoked butternut squash cubes with homemade ginger labneh, spiced pumpkin seeds and pollen.

This one tasted like a meal. It was very curry-y. I couldn't say I loved it, but it was strongly flavoured and unique, so I couldn't say I didn't like it either.
Here are the rest of the photos, with ingredient lists, mixologists/bartenders and their respective bars:
The first cocktail I had upon entering, this was a bit watery with Southern Comfort and some funky spices like Labrador Tea, sumac and ?

A very strange guacamole cocktail. This is the drink and snack together

Plantain, fig

Really tasty seared tuna

Smoking the cocktail was a very fun effect. I liked the bitter pine offsetting the Campari

Orange, Campari and pine?

This is the Mumbai sour – the one that tasted like curry and a full meal

Butternut squash cubes to go with the Mumbai sour

LOV had you write a love letter when you took a drink and put it in a box. Each glass came with a fill-in-the-blank love letter. Mine had a hand-written phone number on it. I texted the number, of course, and told the random person that I was in love with someone else. They texted back. They were cool with it.

This last one had a whole Hollywood thing going, like glamour cinema. Unfortunately the Prosecco Fiol overpowered the whole thing. It's not Champagne, after all, it's super sweet sparkling wine.

Didn't love the cinema cocktail, but the drapes to get in were cool. Good presentation.
Until next year, Made With Love!