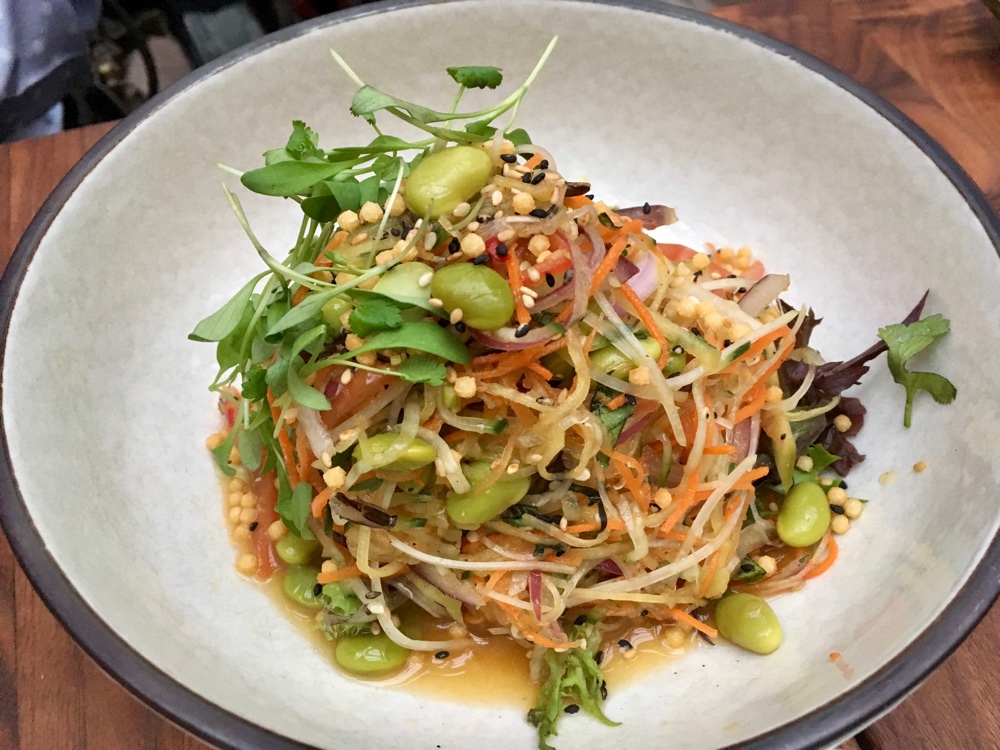 Did you notice that Montreal only has one restaurant on the Top 10 of enRoute Magazine's Canada's Best New Restaurants list this year? It was a slow year for la belle province in general. Though Quebec City did take home the #1 spot, there weren't many other strong contenders.
LOV, an enRoute Top 30 contender, doesn't even train its staff in wine service! It spent tons of money on a beautifully designed space to go with its natural and biodynamic wine list, impressive cocktail menu and most impressive vegetarian fare the city has ever seen, but good luck selling a bottle of something that's "Italian and sort of dry" or "German but, honestly, very sweet." And the Chardonnay? "It's Chardonnay," said my stressed out server before she ran to the kitchen to pick up her next order. Turn those tables, lady.
But why does a city need amazing new restaurants every year? Are we already bored of our previous amazing restaurants? Are they any less amazing? Sometimes chefs leave or get tired and the place suffers. Two years is the average make-it-or-break-it length of time for a restaurant, so two years after its Canada's Best New Restaurants nomination in 2015, it was time to head back to Jatoba and see how things were going. The original chef is still there, Olivier Vigneault, who used to work for Antonio Park. Park is also a shareholder in the space, but the pan-Asian menu is Vigneault's. It's supposedly mostly Japanese (gyoza are a whole menu section), but there are lots of non-Japanese things like papaya salad, Chinese-leaning sweet-and-sour eggplant with crispy wontons and Chinese steamed buns with duck. But I'd say about half the menu has local, seasonal touches, like the milk fed veal with pattypan squash and the pan-seared halibut with tomato salsa.
I suspected the fairly large downtown restaurant still got a busy lunch crowd (there are apparently lots of business people who will pay $25-$37 for a posh lunch) but might have a hard time filling seats Monday to Wednesday – especially when dishes (which are meant to be shared and are smaller than your average main course, explained our server) at dinnertime run from $25 to $50, with a lofty average of around $36 for meat and seafood.
But if you order smartly, you can make it out of here well fed and not poor. The trick, I feel, is to order steamed rice, edamame, the Jatoba salad and just one or two other dishes. We ordered these, but then splurged a little more than I've suggested, including a very nice bottle of wine from the pretty (and long) list of mostly biodynamic bottles.
Here's our meal, in pictures: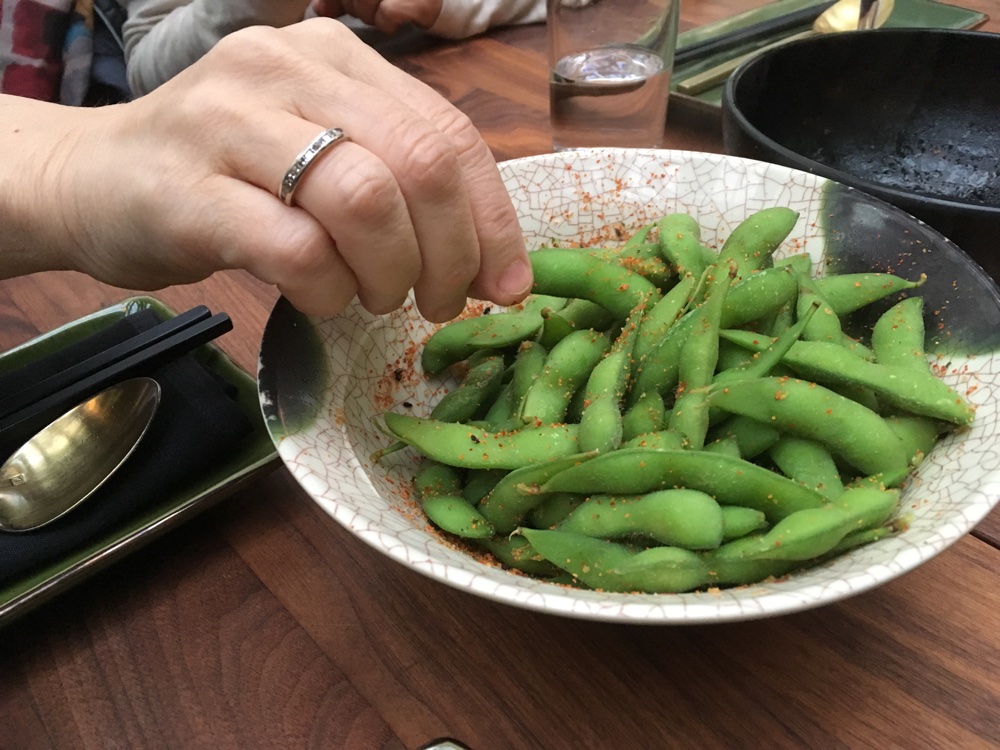 The edamame ($5) is a very fair sized serving of perfectly steamed soybeans sprinkled with yuzu powder (Japanese citrus that's somewhere between a lemon and a mandarine orange), togarashi and fleur de sel. The togarashi spice blend usually includes chile pepper, but this is very much not spicy. It's a great start to the meal, or even a $5 main protein for someone wanting to dine light.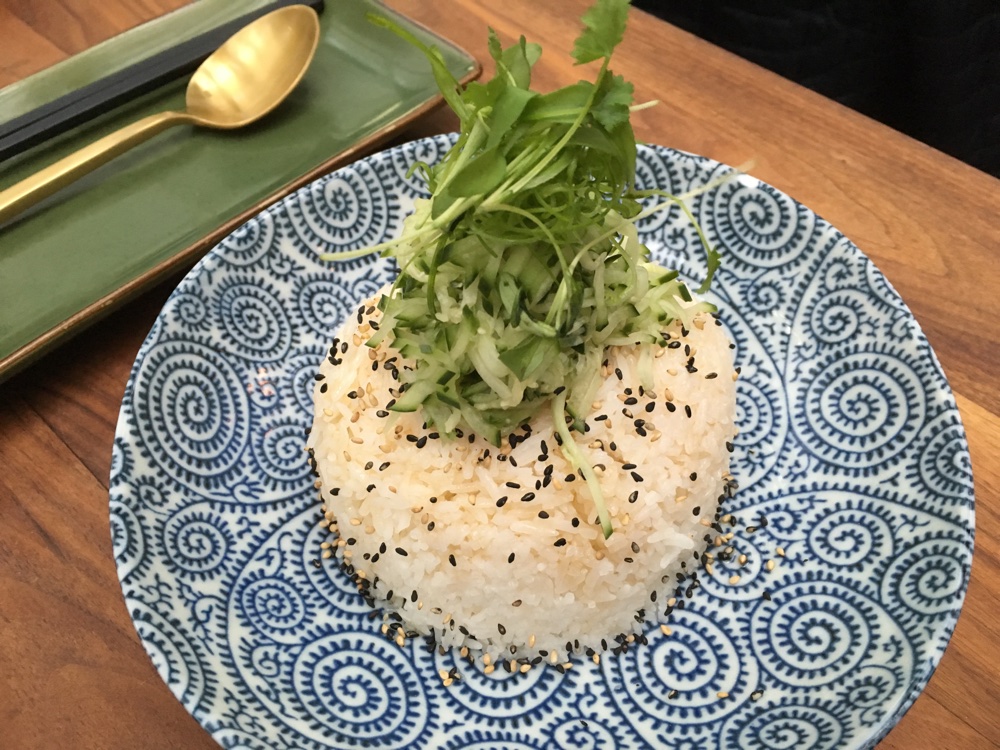 The steamed rice ($8) comes sprinkled with sesame oil and sesame seeds and was topped with shredded cucumber, green onions, sprouts and cilantro. It's enough for 3 or 4 people.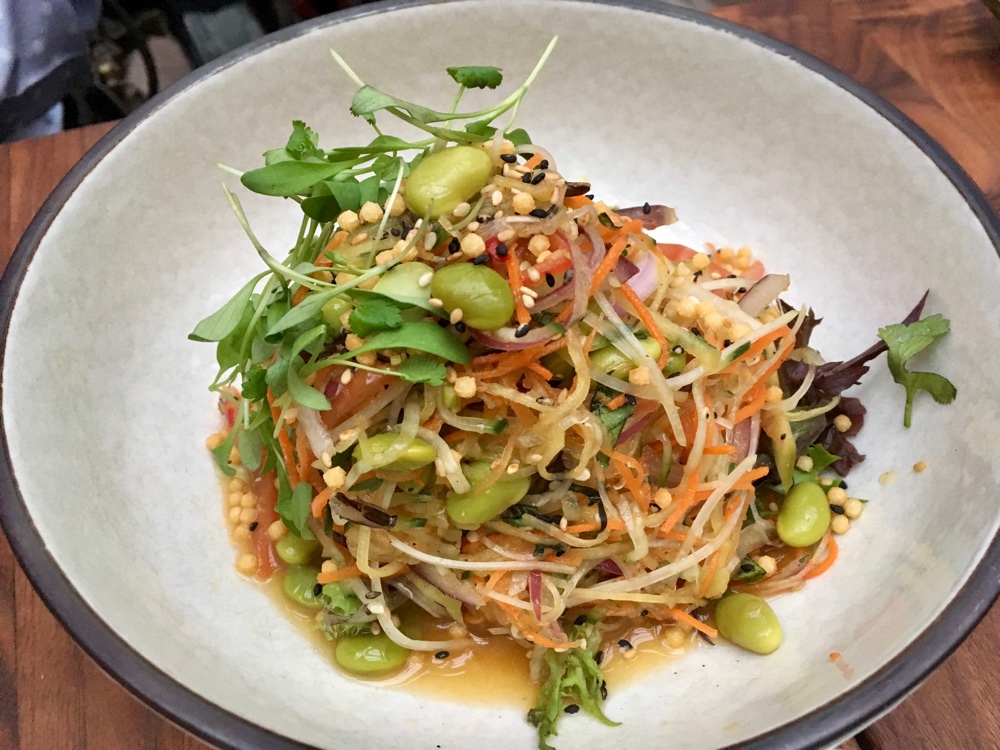 The Jatoba salad ($16) is delicious. It could be a very small lunch on its own, but is a great sharing dish. Edamame, shredded cucumber, carrots, green papaya, red onions, crispy rice puffs, wild rice, sesame seeds, sprouts, cilantro and a beautifully balance plum and ginger vinaigrette.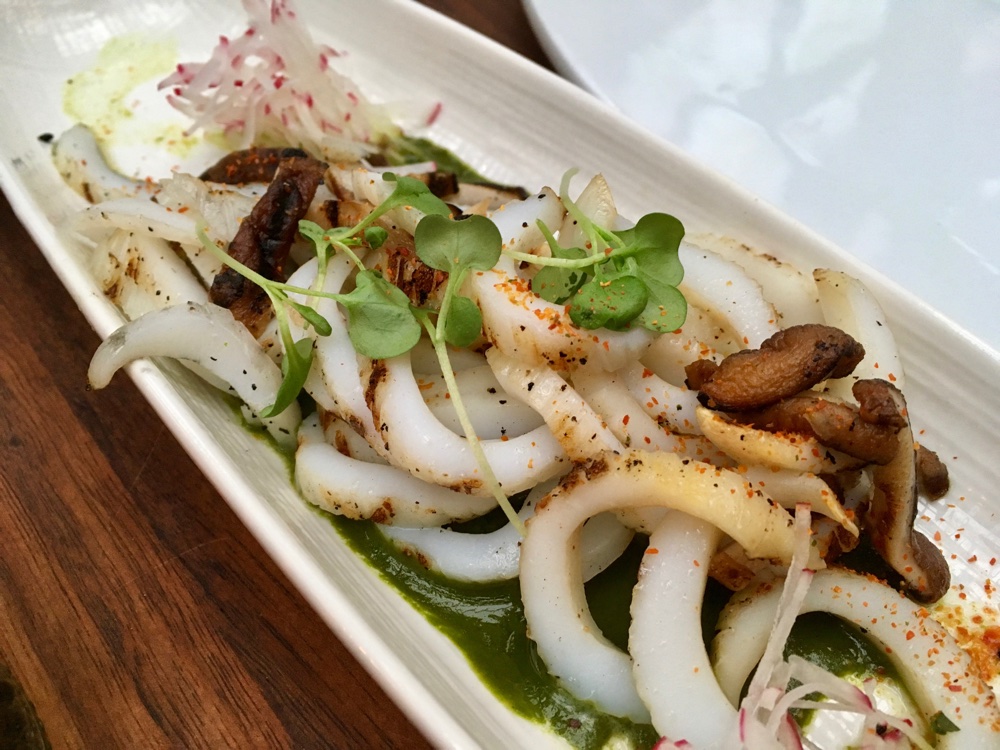 I should have ordered the lobster or halibut, but I wanted to save money by getting the squid ($26 versus $52 for the lobster). Too bad, since it was the only disappointing dish of the night. There was nothing wrong with it. The grilled calamari rings were tender, but very bland. And the cute little grilled shiitake mushrooms, togarashi spices, micro sprouts, julienned radishes and yuzu-shiso sauce underneath couldn't save them. That being said, we didn't leave any behind, but they didn't get lapped up like the black cod: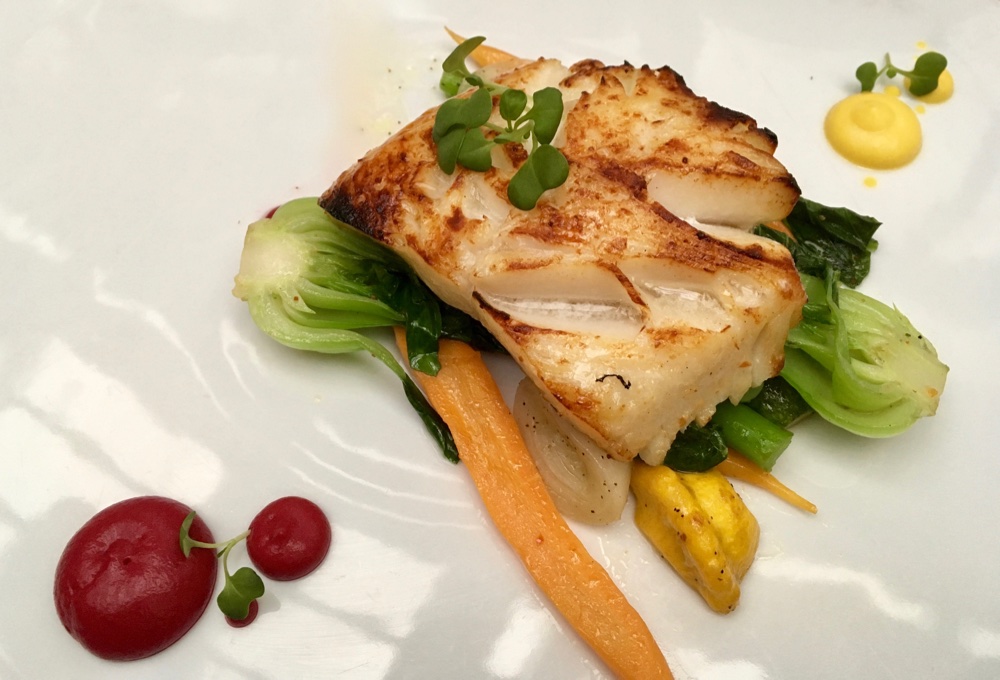 Every Pan-Asian restaurant has a black cod dish. It's sustainable, it's simple and it's delicious. The famous Nobu version is with miso, soy and sake or mirin. We had one more like that at L'Atelier de Joël Robuchon at the Montreal casino just a few nights before, in fact. But the Jatoba one ($37) was simply grilled and served with seasonal vegetables and some beet blobs. It normally comes with an earthy celeriac purée, but it had dairy in it so we had to skip it, lactose intolerants that we are. The fish was sweet and tender and juicy, and grilled gently until the fish just began to flake.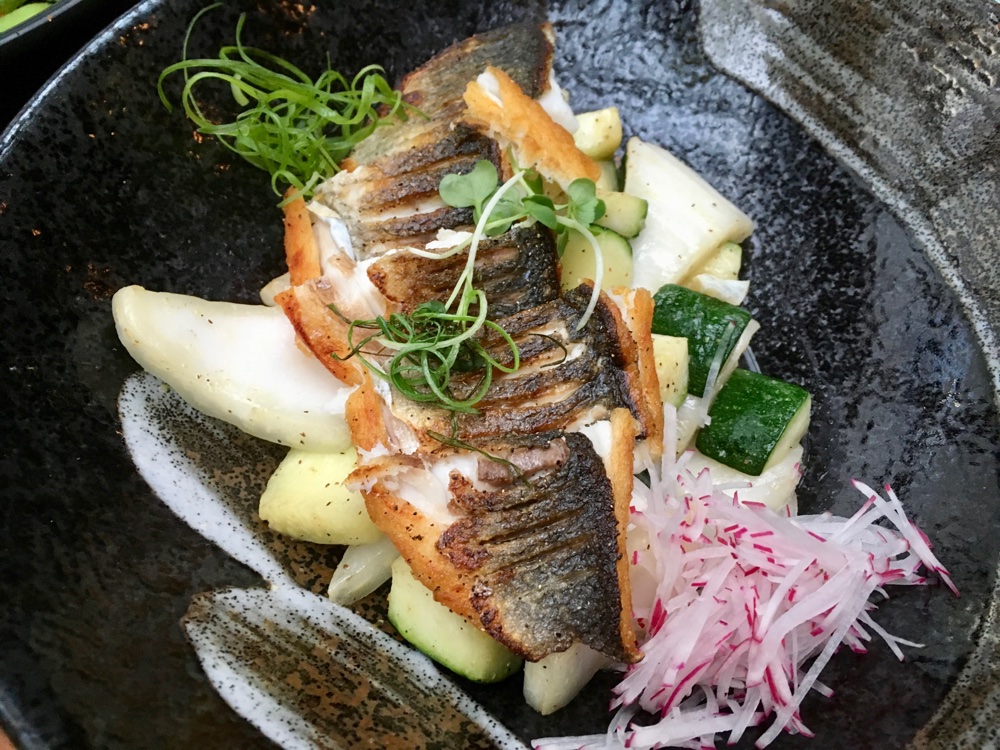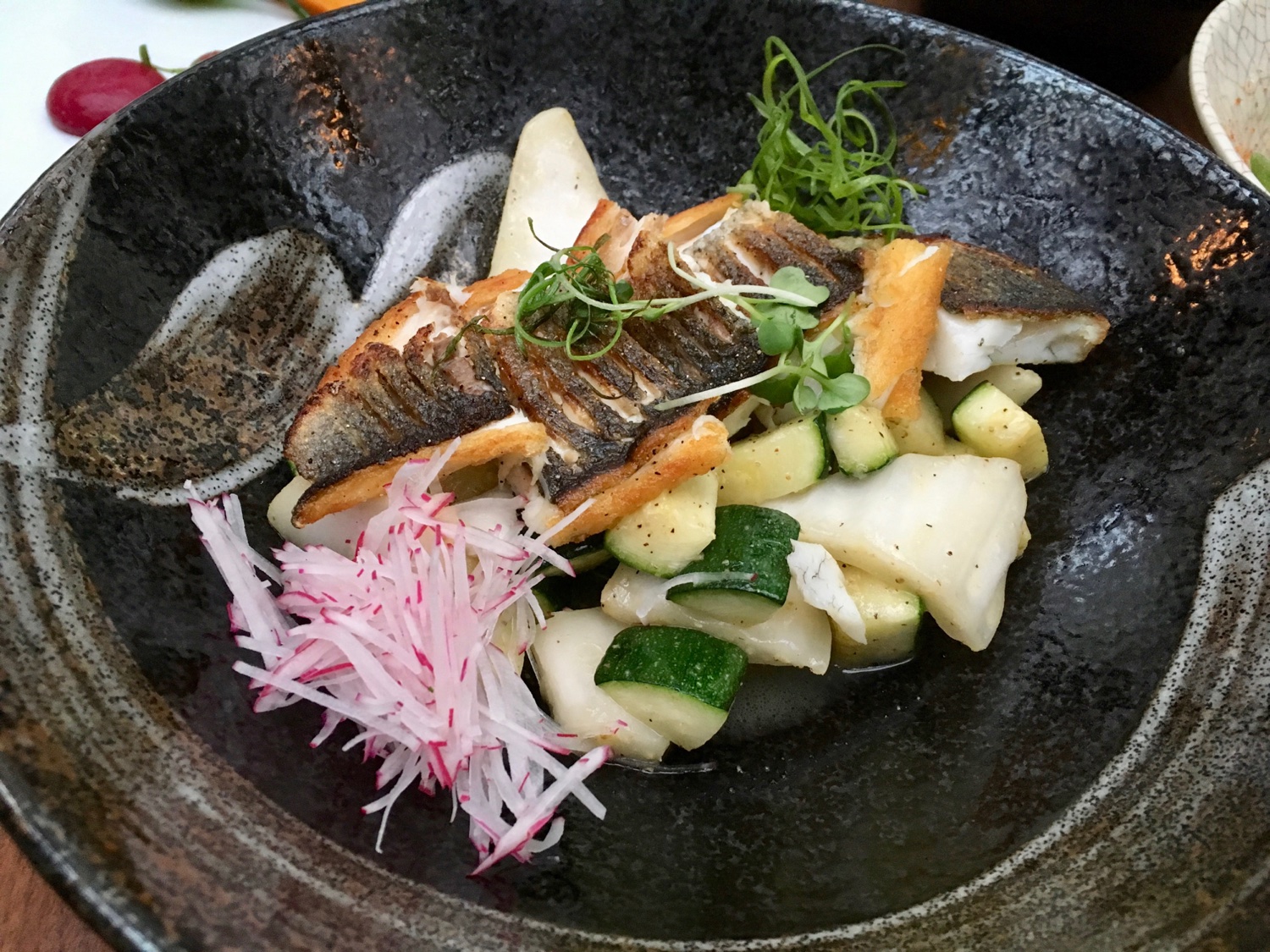 Two shots of the grilled seabass ($31), so you can see the zucchini and thick stems of the nappa cabbage (the white triangle to the right of and below the zucchini). The fish is so flaky that it's tough to keep it in one piece when it comes off the grill. But I didn't mind because of those great grill marks on the salty, crispy skin. It came with sansho pepper (another mild pepper), ginger, more julienned radish and shredded green onions. Simple and delicious.
Was it worth the price? There are definitely cheaper options, but the prime downtown location, the beautiful presentation and the delicious dishes from a large menu have given this place longevity. I saw lots of 30- and 40-something couples, lots of groups, lots of people in suits. It's not hipster. It doesn't feel too bustling. The back gazebo area with the open kitchen is lovely. It's vegetarian and gluten-free friendly. Service is professional (our server spoiled us for LOV). This is still one of Montreal's best restaurants and if it had launched this year, I imagine it would have made the enRoute cross-Canada list again. Two years in, it's going strong.
Jatoba
Address: 1184 Place Phillips
Hours: Lunch Mon-Fri 11:30am-2:30pm; Dinner Mon-Wed 5-10pm, Thurs-Sat 5-11pm
Price: $35-$60 per person plus wine, tax and tip
Phone: 514-871-1184