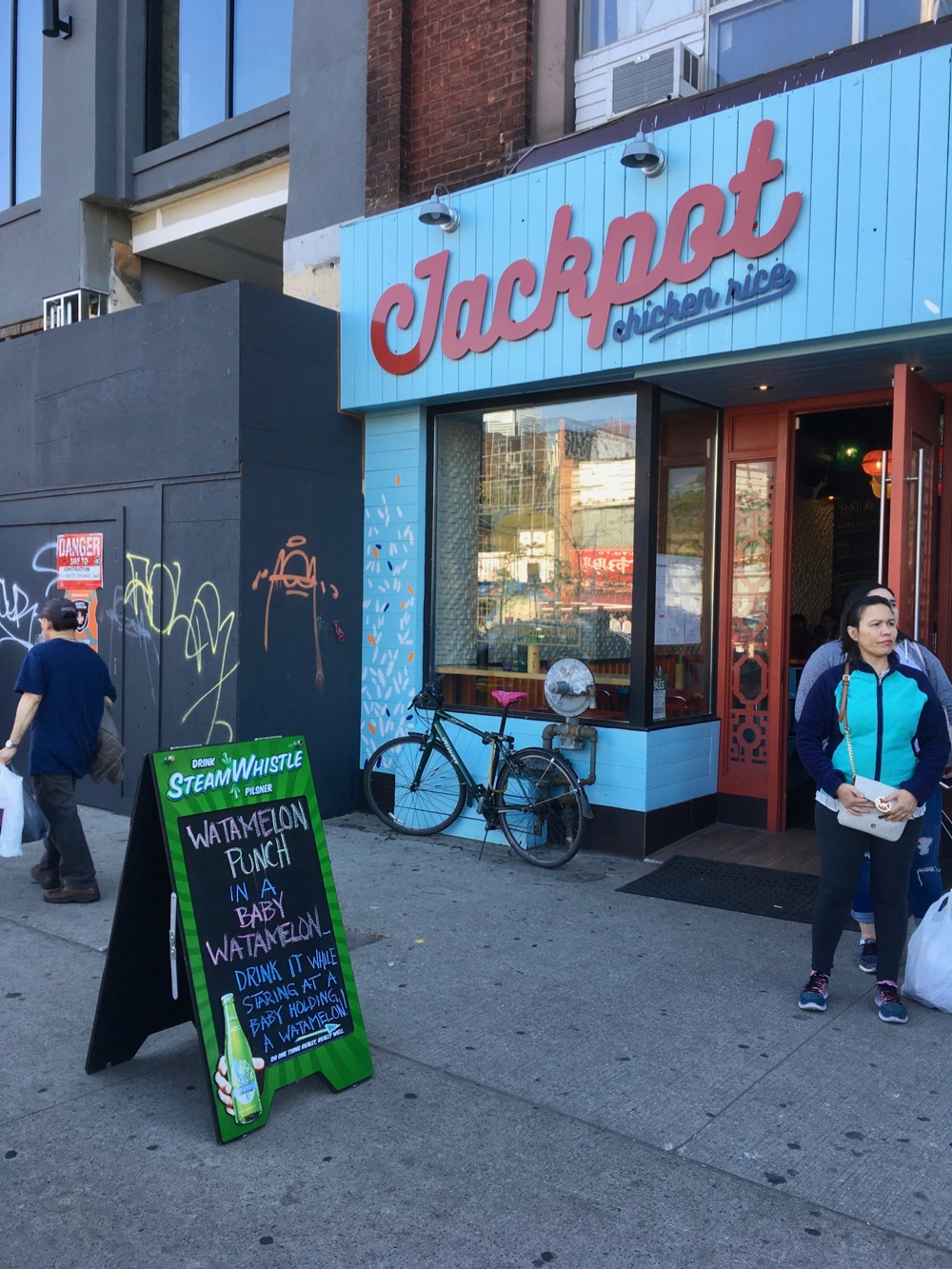 Seems as though Spadina Avenue, what most people think of as the home of cheap Chinese food in Toronto, is a hotbed of stellar eating. First there was Alo, the fine dining tasting menu place perched above the Avenue that has a months-long waiting list. Now there's Jackpot Chicken Rice.
Whoa! Those two restaurants are nothing alike!" you're yelling at me.
First, stop yelling at me.
Second, go yell at enRoute Magazine.
Both were voted top 30 new restaurants in Canada in their respective years of opening – Alo almost won the whole shebang in 2016, coming second to Vancouver's Kissa Tanto. This year, Jackpot is in the running. Jackpot is a much more casual restaurant than Alo, it's true, more in line with Ossington Avenue's Hawker Bar or Montreal's Satay Brothers. Yet the schmaltz rice, the traditional poached hainanese-style chicken with soft skin, ginger-scallion and chili sauce and the sambal-glazed roasted chicken (dark-coloured, less flabby skin) with pickled green papaya are winning over hipsters a gaggle at a time.
The cocktails don't hurt.
Well, they do hurt you, but they only help the restaurant's popularity. Same goes for the local beer list (plus Tiger beer from Singapore, because obviously).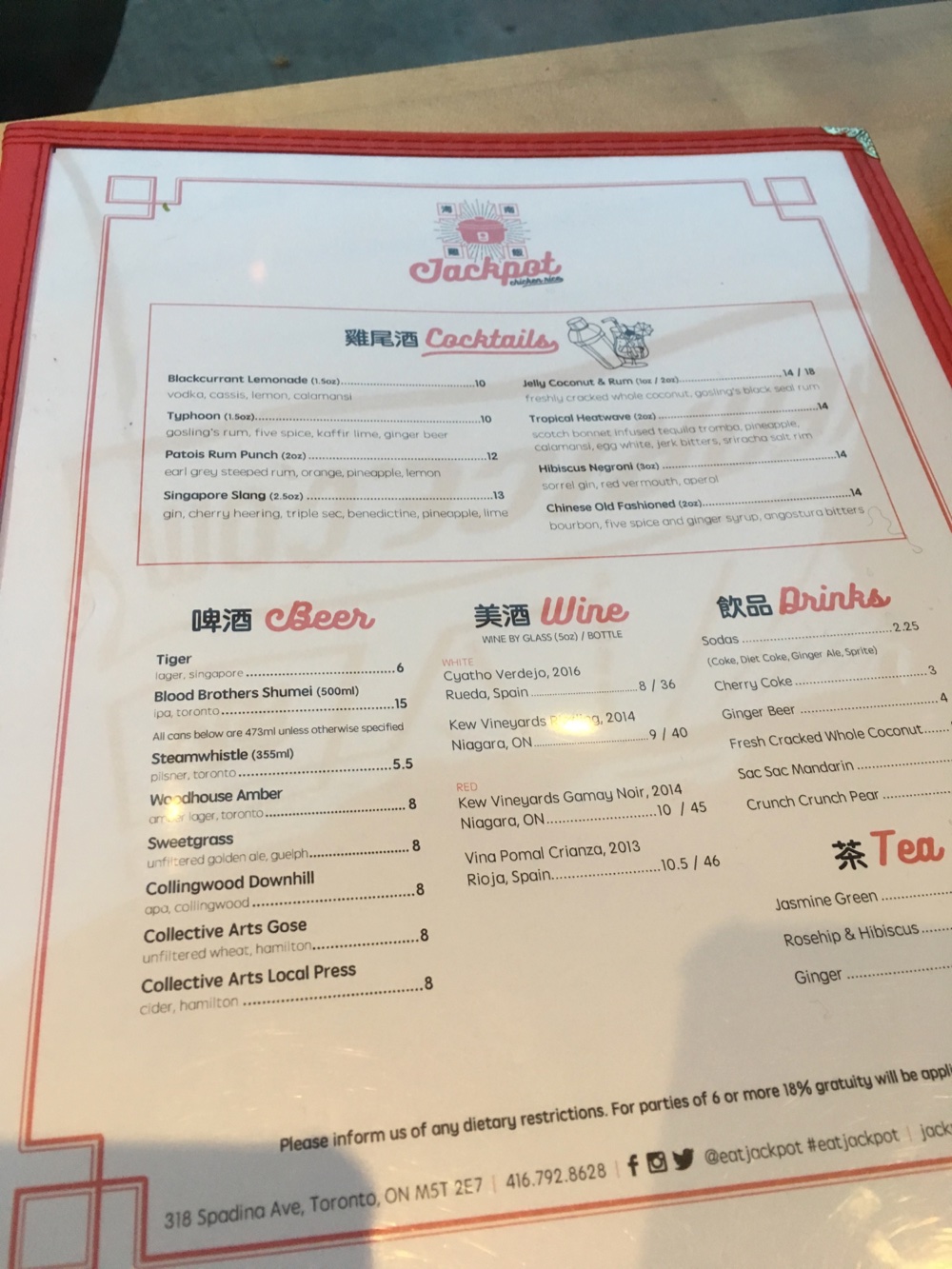 ,
"But Amie, if everyone loves this place and it's getting all this good press already, why are you bothering to write about it?"
Great question. Because I wasn't going to. I actually went there and had an awful meal. Everything tasted great. Service was amazing. And then one of the items marked gluten free on the menu turned out to not be gluten free. See that "please inform us of any dietary restrictions" on the bottom of the drinks menu? I did that. I was sick for the next two days.
I was going to not write about it because I liked my servers so much. They apologized profusely. They'd promised the vegan mushroom rice was gluten free. I'd started eating it. It tasted like soy. I asked if it used gluten free soy sauce. They double checked with the kitchen then came back and told me the rice was fine but the shiitake mushrooms had soy in them.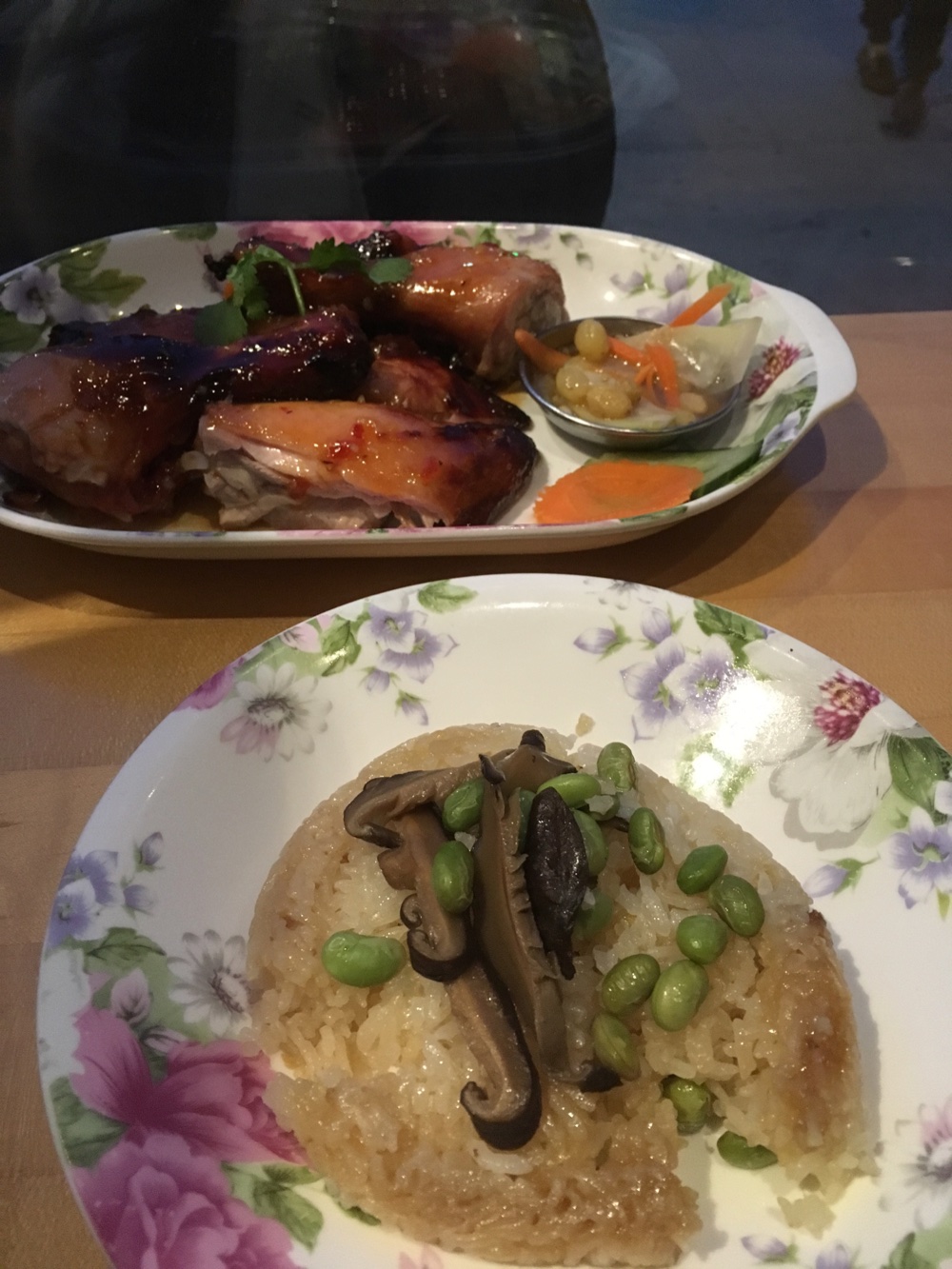 It was too late. There was nothing I could do but let what was going to make me really ill go through my body. My servers looked about ready to cry. I felt sorry for them.
"You really need to update your menu," I told them. They nodded, their brows furrowed in concern. That's why I wasn't going to write about them. But then I checked their online menu months later and it was exactly the same. I wonder how many other people got sick. Maybe they switched to gluten free soy sauce for the vegan rice, but I'm skeptical. Maybe they updated the in-restaurant menu. But I just can't trust them. I can never going back.
I ate a little more of the Hainanese chicken before leaving, because the shiitake damage was already done (I'll never get into the gelatinous skin – it's an acquired taste that I haven't acquired) and the sambal-coated roasted one. I could live on sambal, but the flavour was lost in the roasting. The straight-up dipping sauce with the Hainanese chicken was much more pungent than the lacquer on the roasted chicken.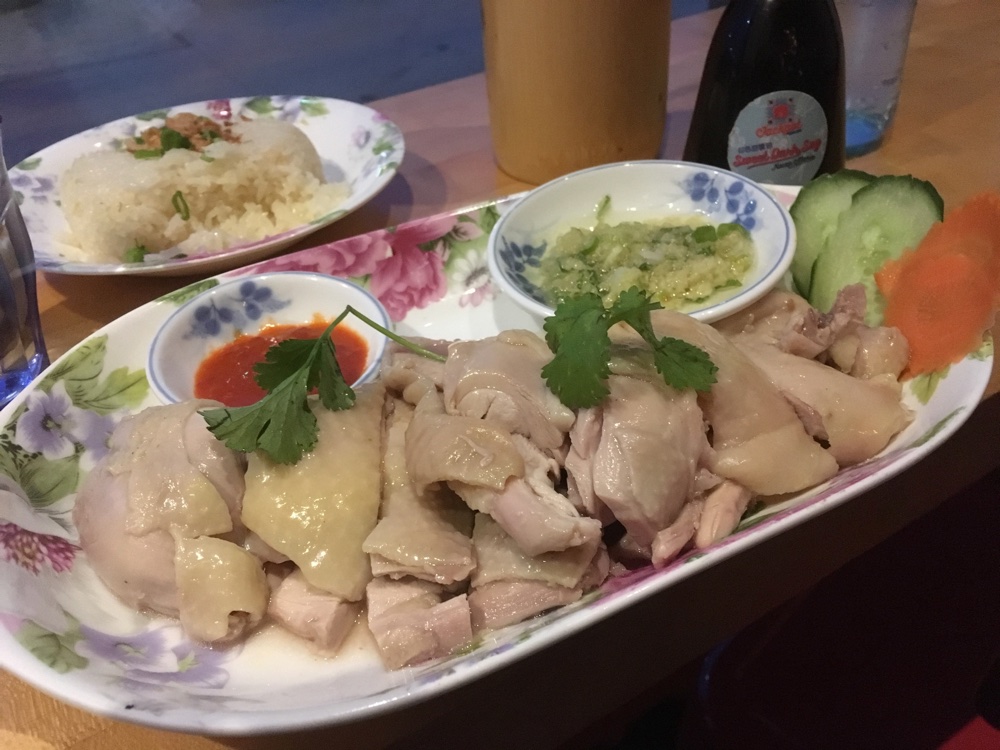 The chicken itself in the Hainanese chicken dish was super tender and the star was the ginger-scallion dipping sauce (even better than the sambal, which I prefer funkier with more belancan shrimp paste). The pickled cucumbers and carrots on the side were a good offset to all the fat. The Hainanese chicken was actually better than the roasted chicken, I felt, which wasn't actually crispy – more almost-crispy and really caramelized, but still soft and slimy. See below: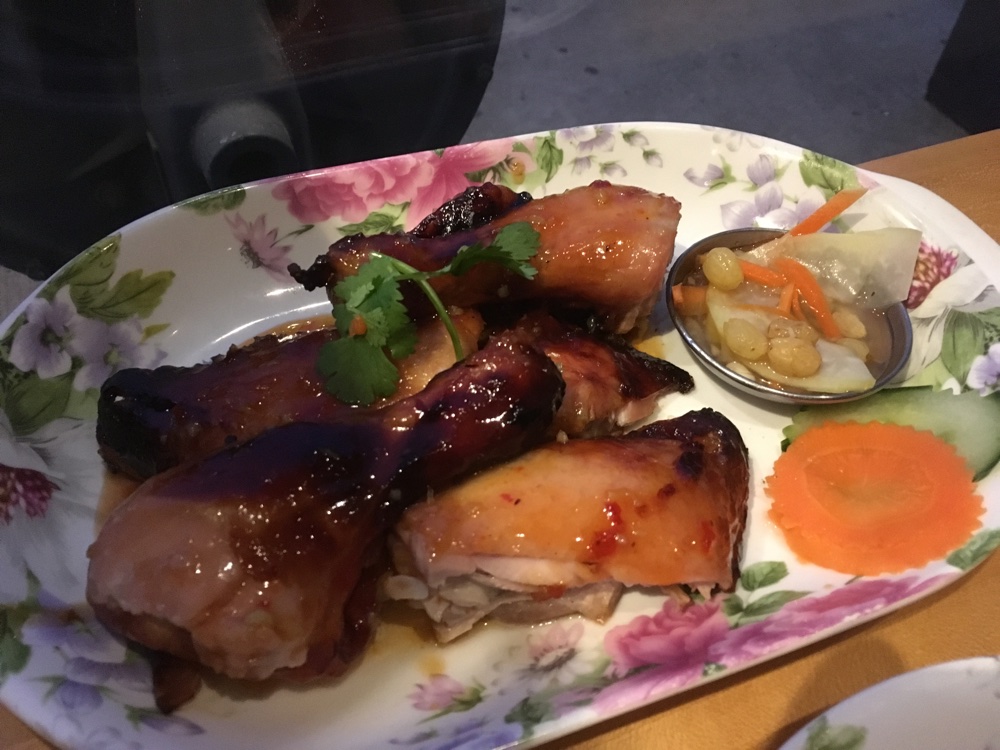 The chicken itself was again super tender, but I could have just slathered that ginger-scallion on everything and been happier.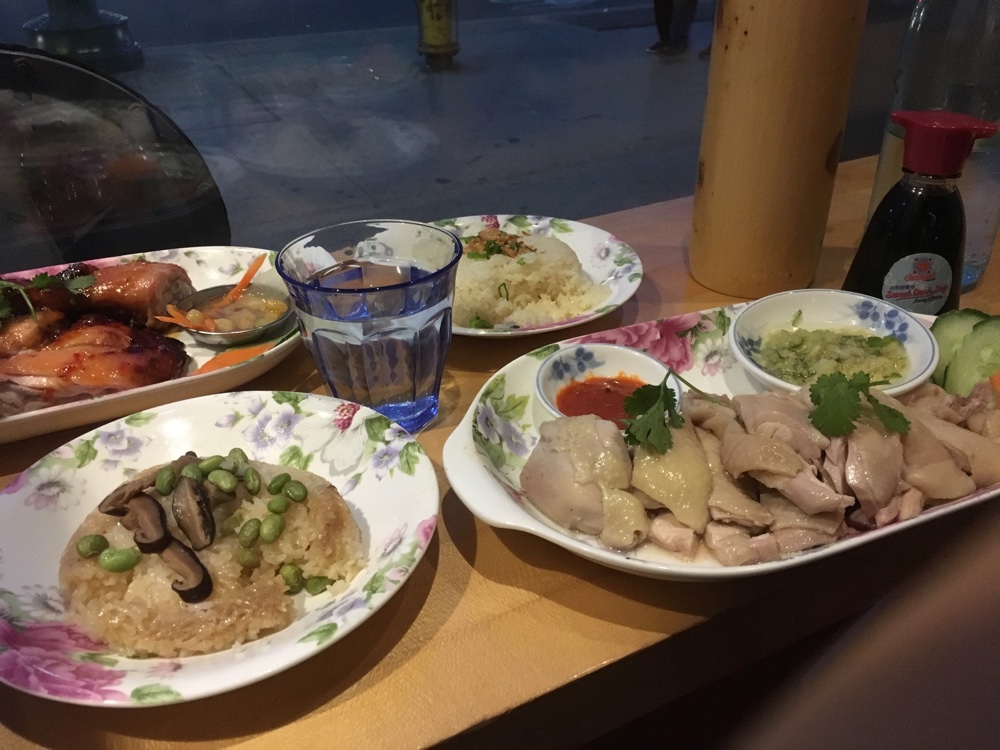 Five measly shiitake mushrooms. That's what wrecked my meal here. Too bad. But I still don't think this place is top 30 in Canada. It was pretty homestyle. There were nice touches, but I was thirsty for hours afterwards and if I hadn't been sick from the gluten, I still would have been sick from all that chicken fat in the schmaltzy rice. It's just too rich. This is the kind of place where you want to come with a big group and then have just a little of everything. Too much of a good thing is just…too much…
…the same way that even a little bit of soy sauce in the supposedly gluten free vegan rice is too much soy sauce. And if you're going to furrow your brows and be incredibly apologetic, please follow through on your words and actually change your menu both online and in-restaurant. That's what a great restaurant would do.