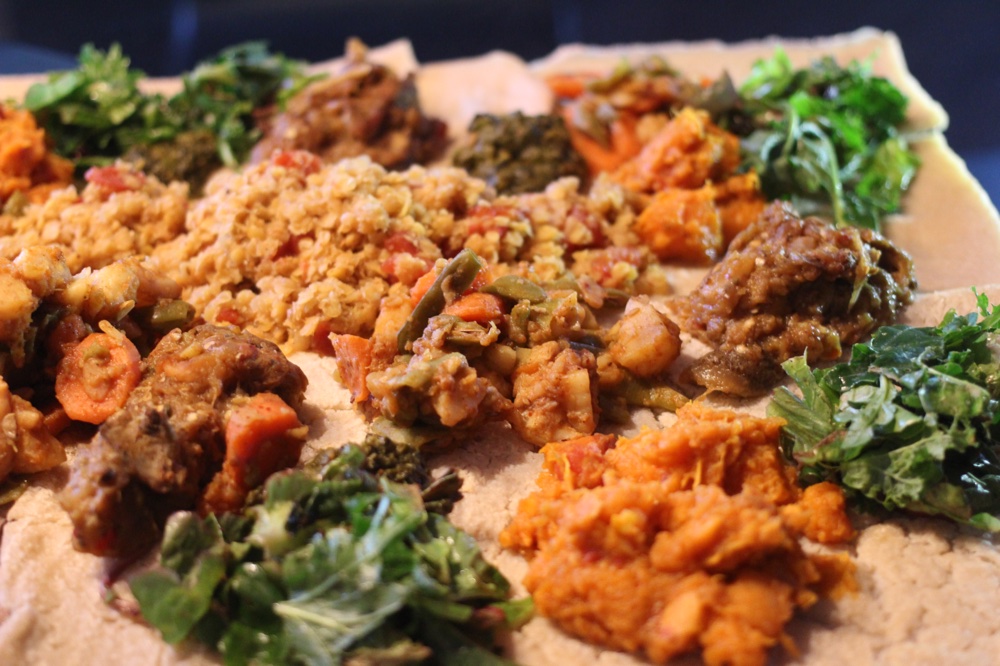 All I'd told my dinner party guests was that I'd be making an Ethiopian feast. Gluten free injera from scratch and a multitude of berbere-spiced stewed dishes. What I didn't tell them was that we were going to eat the meal with our hands…directly off of the table. Yes, I took advantage of my position of authority as the dinner party thrower.
To be fair, I sterilized my table first with hot, soapy water followed by a scrub with vinegar diluted in water. And I would have laid down a gigantic platter like you see in Ethiopian restaurants if I'd had one. Hard to come by in Montreal, those platters.
So to recreate the Ethiopian experience where a meal is usually shared, and the restaurant experience where a ton of braised dishes are placed on top of a giant platter lined with spongy, fermented injera (traditionally made with teff, but most often made with wheat and/or barley flour in North America – cheaper, easier to find, less bitter than the teff flour we do find here), I used my portable non-stick flattop grill to make sheets of injera and then overlapped them on my clean table. The result was a square, not a circle, with some leaky spaces in between the pieces of bread. And I tried to roll up the remaining breads into pretty scrolls and serve them alongside, another restaurant tradition.
The idea is you use the rolled up scrolls and the plate of injera itself to scoop up pieces of various stews with your hand (I assume it's traditionally the right, as with Indian cooking, but I could be wrong). The most sought after pieces are those where all the spiced butter of the stews have soaked into the injera, making for luxurious, buttery bites that close the meal and fill your stuffed stomach to the brim. There's no real dessert tradition in Ethiopia, but there's strong coffee, and a number of restaurants I've been to in North America serve popcorn with it. Since I again had final call, it being my dinner party, I skipped the coffee in favour of tea and board games. My injera was square. I'd clearly already given up on authenticity.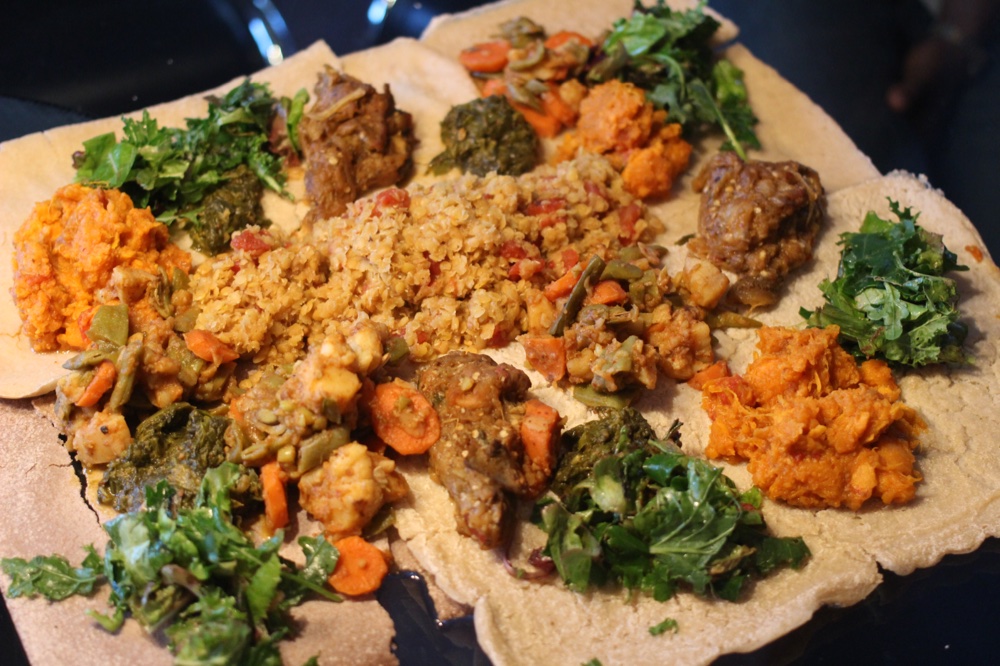 While beef (stewed or rare), lamb (generally long stewed) and chicken are all important parts of Ethiopian cuisine, there's also a strong vegetarian tradition. You eat what you can get. Whatever the dish, there's nothing like pouring it directly from a sizzling skillet onto a bed of injera, spicy melted butter, cooking juices and all.
A lot of restaurants will serve a vegetarian platter to share and a non-veg platter to share (which usually includes a red or yellow stewed lentil dish like an Indian dal (but often with berbere instead of or in addition to garam masala), a stewed vegetable dish, stewed collard greens and a lemony salad doled out by the scoopful on the injera for all to share). Another traditional specialty is a spiced pumpkin dish (my favourite because it's sweet and spicy and hot). I added a roasted eggplant dish…because I felt like it. I'm not sure if it's traditional, but it worked perfectly with the vegan feast, impersonating an Indian baigan bharta, but again with berbere instead of garam masala.
What's the difference between berbere and garam masala? A handful of spices different. I find berbere usually has more sweet spices (cloves, cinnamon, star anise), but like garam masala, it's just a spice blend and varies from house to house. The kind of dried chiles is probably different too, but that's harder to source.
My mixed vegetables dish above was carrots, potatoes and long green beans from my garden. My pumpkin dish was actually sweet potato and was heavy on fresh ginger, and my injera was actually closer to dosa batter (I fermented urad dal and added some teff flour on day two of the fermentation after grinding the lentils to a batter). I also tried baking the batter on parchment paper-lined baking sheets to save time. Cooking them on the flattop was time-consuming. IT was also hard to make them thin enough and still be able to flip them or remove them from the grill. They're thicker than dosa and thinner than uttapham, so it was tricky making sure they cooked through. I ended up baking them for about 8-10 minutes in the oven at 350˚F depending on the thickness. That drove me the least crazy.
This meal takes a fair bit of time for all the dishes, but there's nothing hard. The key is the make your own berbere from whole spices that you toast and grind yourself. And I'd recommend using organic vegetables for better flavour in the stews. There are a lot of spices in these dishes, but you still want to taste the carrots.
And how did my guests feel about eating with their hands. They were too polite to say if they didn't enjoy it. But the important thing is that I loved it, right? Well no, the important thing is that it was healthy and delicious and we shared and appreciated a meal together. And that I cleaned the table again afterward.
Homemade Berbere
1 tbsp whole cumin seeds
24 cloves
1 tbsp cardamom seeds, removed from the pod (use the sides of a knife to do this or a rolling pin by rolling it over the seeds in an unclosed plastic or paper bag)
1 1/2 tsp black peppercorns
1 tbsp fenugreek seeds
1 tbsp coriander seeds
24 small red dried chiles
1 1/2 tsp ground ginger
3/4 tsp ground allspice
3/4 tsp turmeric
1 tbsp salt
3/4 tsp ground cinnamon
1/2 cup + 2 tbsp paprika
Toast the cumin seeds, cloves, cardamom, peppercorns, fenugreek, coriander seeds and chilies in an oil-free frying pan over medium heat, shaking the pan frequently, until aromatic and slightly browned (about 3-4 minutes). Leave to cool completely before grinding in a spice grinder with the ginger, allspice, turmeric, salt, cinnamon and paprika until you have a fine powder. Store in an airtight container until ready to use.Note that the recipe above only calls for 2 tsp! Not the whole thing or you'll be coughing up spices!
Spiced Yellow Split Pea Stew (Kik Alicha)
2 cups yellow split peas
6 cups water
1 1/2 tbsp extra virgin olive oil
1″ ginger, peeled and minced
1 tsp turmeric
1/2 tsp ground cardamom
1/2 tsp salt
1 large tomato, finely chopped
1/2 tsp black pepper
Rinse lentils well and if you have time, soak them for a couple hours or overnight. This makes them cook more quickly and be easier to digest.  Drain lentils and combine in a large pot with 6 cups of water. Bring to a boil, reduce heat to medium low and cook until tender, about 30-45 minutes depending on the age of the lentils and how long you soaked them. Boil off any excess liquid if you like the dish more like a stew than a soup.
After the lentils are soft, heat the olive oil in a small pot and then add the ginger, turmeric, cardamom and salt. Cook for 2 minutes. Add the tomato and black pepper and stir for 1 minute more. Scrape into the lentils and stir to combine.
Ethiopian Mixed Vegetables
2 tsp extra virgin olive oil or vegan butter, divided
1 tsp minced ginger
1 green chili, chopped (optional)
2 tsp berbere
3/4 cup sliced carrots
1/2 cup water or vegetable broth
1/2 tsp salt
2 medium cooked potatoes, chopped into chunks
1 lb green beans, trimmed and chopped into 1″ pieces
Heat half the oil in a large pot. Add the ginger and chili and stir and cook for five minutes. Add the berbere powder and cook another 2 minutes, adding a tiny bit of oil if things start to stick. Add the carrots, 1/2 cup water and the salt. Bring to a boil, reduce heat to medium and cook five minutes.
Then add the green beans and potatoes and mix well. Reduce heat to medium-low and cook 5 minutes.
Berbere-Spiced Roasted Eggplant
2 large Italian eggplants
2 tbsp extra-virgin olive oil
1 tsp whole cumin seed
1 tbsp grated ginger
3 canned tomatoes, roughly chopped, juices reserved
1 tbsp berbere
3/4 tsp salt
Place the eggplants on a baking sheet and roast in a 400˚F oven until soft, about 25 minutes. Remove from oven, cut open and let cool. When cool, scoop out the flesh into a medium bowl.
Heat the oil and add the cumin seeds. Cook for 30 seconds, then add the ginger. Cook for 2 minutes. Add the tomatoes and their juices, berbere and salt along with the reserved eggplant flesh. Mix well and bring to a boil cook. Reduce heat to medium-low and cook, stirring occasionally, for 10 minutes. Add more tomato juice from the can, water or vegetable broth if the stew dries out or starts to stick. Taste and adjust seasoning. A little more salt? Berbere?
D'Ba Zigni – Ethiopian Pumpkin Stew (but with sweet potatoes)
1 tbsp oil
1″ piece of ginger, finely chopped
2 tsp berbere
2 large (about 750 g) sweet potatoes
3 tbsp tomato purée (not paste, just blended tomatoes – the less juicy, the better. In fact you can cut them open and remove the seeds and juices, then just blend the flesh. It's less bitter and
1 tsp salt
1 cup water or vegetable broth
1/4 cup chopped cilantro or parsley to garnish, optional
Roast the sweet potatoes the same way you roasted the eggplant (on a baking sheet at 400˚F until soft, about 40 minutes depending on the size of the sweet potatoes). Cut open and let cool, then scoop out the flesh.
Add the oil to a large saucepan over medium heat. When hot, add the ginger and berbere. Cook until the spices darken (about 1 minute) then stir in the sweet potato and coat with the spices.
Add the tomato purée and salt and water or broth. Stir, cover and bring to the boil. Reduce heat to low and simmer for 10 minutes. Top with cilantro (optional) when you serve.
Ethiopian Green Salad
4 cups iceberg, romaine or other hardy lettuce (I used arugula from my garden – not traditional but worked fine)
2 tbsp extra-virgin olive oil
1 tbsp lemon juice
Toss everything together. You can add tomato wedges or onion slices if you want, but this salad is usually simple. It's mostly for crunchy texture and a colder mouthfeel than the rest of the meal.
Homemade Ethiopian Gluten-Free Injera
I'm convinced this is the ultimate injera recipe for North America. It has photos of the traditional grill and cooking method and shows the different results from using wild and commercial yeasts. Most importantly, it follows a 4-5 day fermentation instead of the one-day fermentation you see in most magazine articles and websites. This is much more accurate, I believe, and also easier to digest, though the bacteria that forms on top is disgusting. The whole process of pouring off the excess liquid then cooking some of the batter with boiling water before adding it back to the rest of the batter is also unique to the recipes I've seen…and ingenious since it results in the correct thickness of batter. The cooking process itself is also a mix of grilling and steaming, which makes for the spongy batter we want. You can also make a dosa batter like I did, following the same directions essentially but using lentils or a mixture of rice and lentils, but this obviously results in a different bread. It works. But it's not Ethiopian.