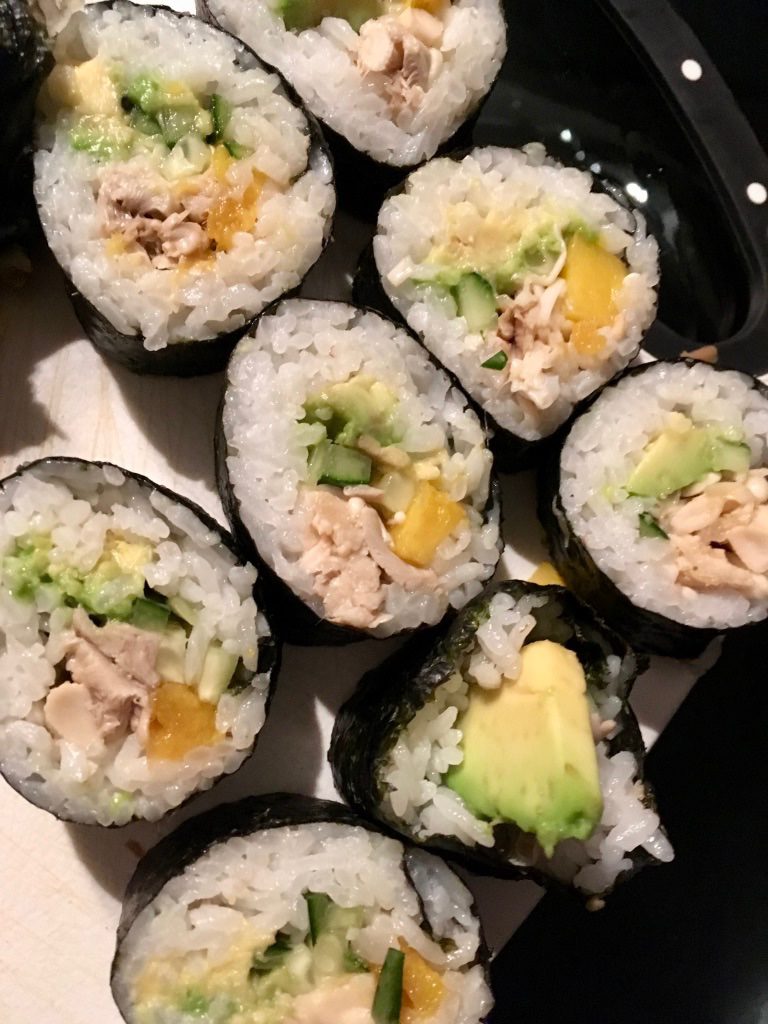 People often ask me where I go for sushi in Montreal. Most of the time, I don't. The variety and often the quality of fish just isn't that good. I refuse to eat farmed Atlantic salmon unless the farms are closed containers and the restaurant can tell me about the sustainability of what they're fed and is very confident that they're not regularly or even occasionally doused with antibiotics to keep them healthy in their cramped dwelling. And that's just salmon. Some restaurants bring in acupunctured sea bream, and I confess that I while I appreciate the soft texture, and am happy that the fish did't die in pain, I don't find there's any flavour. Sure, I can find decent tuna sometimes, but I'm much more likely to find exceptional maguro that doesn't take a year to chew at any above-average sushi place in Toronto and pretty much any sushi place in Vancouver or New York. So why should I bother with sub-par sushi in Montreal?
Instead, I make my own. And since I can only find sashimi-grade tuna, uni and occasionally a couple other fish, I end up making a lot of maki rolls and a lot of vegetarian rolls.
The best part is, it's easy and cheap. And since my favourite fish market in Montreal, La Mer, is about 45 minutes from my house, it takes pre-planning to make a fish-based sushi dinner at home. It's much easier to be lazy and make vegetarian sushi.
An avocado will keep for days on my counter, not so for sashimi-grade tuna in my fridge.
Which brings me to jackfruit: the wünderkind of vegan cooking right now. The giant, underripe fruit has very little flavour, which lends itself perfectly to heavy sauces. You can buy it brined in cans for about $2, or shredded and marinated in BBQ sauce or teriyaki sauce for $5-$10 more at your local health food store or large grocery. It's very popular for vegan pulled pork and sloppy joes. Basically, it's just texture. Like that sea bream, but no sushi pro would slather that acupunctured sea bream in teriyaki sauce and no diner should pay $20 for a slice of it.
What else can you add to vegan sushi?
I added Chinese white fungus (a type of flimsy mushroom that's a bit like neutral-tasting seaweed, which you can find at Asian grocery stores) marinated in a little gluten free soy sauce, rice vinegar and sugar, slices of avocado, cucumber, mango and yellow pepper and toasted sesame seeds.
The trick is find really ripe mangoes and really tasty and ripe avocados. If the mangoes are underripe, they'll be acidic and make the roll taste sour and harsh. And if the avocados are too ripe, they'll be mushy and ooze out of the rolls, but they shouldn't be too tough either or they'll have no flavour.
I'm not saying this makes awesome sushi – it's no Jiro Dreams of Sushi, though I have channeled him in a previous photo shoot I did with the most expensive whole fish I've ever bought. But it's not supposed to be. Instead, it's healthy and simple and chewy and nutty and satisfying. And to me, that's a good vegan meal.
Jackfruit and Avocado Sushi
Ingredients:
2 cups sushi rice (sushi rice is a short-grain rice that turns sticky when you cook it. You can find it at most grocery stores and all Asian specialty grocers)
1 three-inch square piece of kombu (green, thick dried kelp also available at most grocery stores)
2 cups cold water
1/4 cup plus 1 tbsp unseasoned rice vinegar
1 tbsp sugar
1 1/2 tsp salt
2 Lebanese (or English or Japanese) cucumbers, trimmed and cut into 1/2″ x 1/2″ x 6″ matchsticks
1 can jackfruit in brine, drained and shredded in a food processor or with two forks
1 avocado, pit removed, cut into 1/2″ x 1/2″ x 6″ matchsticks
1 ripe mango (yellow or red), cut into 1/2″ x 1/2″ x 6″ matchsticks
1 loose cup of white fungus, optional, torn into small pieces
2 tbsp sesame seeds, toasted in a small pan over medium heat for 5-8 minutes, until golden and fragrant.
1 package nori sushi wrappers
Wasabi powder (look for real wasabi, or a horseradish blend without artificial colours, flavours or preservatives), mixed with a few drops of water and let stand 5 minutes until solid
1/4 cup gluten free soy sauce or tamari
1 1/2 tbsp rice wine vinegar
1 tbsp sugar
Directions:
1. Soak 2 cups of sushi rice in cold water. Carefully swirl it around with your hand until the rice is cloudy. Drain it (I drain it in the saucepan in which I plan to cook the rice, and use a little fine-mesh sieve to catch any escaping grains), and soak it again in more cold water. Swirl, drain, soak. Repeat at least 3 times or until the rice water is clear. This removes the starch and makes the kernels more tender and toothsome.
2. Add 2 cups cold water to the drained rice. LET IT SIT FOR 30 MINUTES, which is supposed to make the rice fluffier, but you can skip it if you're in a rush.
3. Add the square piece of kombu to the soaked rice, cover it, and set it over medium heat or in a rice cooker. You can also add a tbsp or two of sake if you happen to have any. I seem to always be out…
4. Bring the rice to a boil over medium heat. When it simmers, cover it, and reduce the heat to low for 15 minutes.
The Gas Stove Method: Now reduce the heat to its lowest point for 5 minutes. Turn up the heat for 7 seconds, then turn off the heat, remove the pot from the burner, and let it sit, covered, for 15 minutes.
The Electric Stove Method: Reduce the heat to its lowest point for 5 minutes. Remove from heat.
5. After the 15 minutes (or immediately if you, like me, have more important things to do with those 15 minutes plus 7 seconds of your life), gently release the entire mould of rice from the saucepan into a large flat dish (traditional) or baking sheet, or leave it in the pot (keeps you sane).
6. Mix together the 1/4 cup rice vinegar, sugar and salt in a small bowl and slowly drizzle it all over the rice. Stir the rice gently, preferably with a wooden rice paddle while fanning with your other hand or the hand of a sushi assistant (who has one of those?) until all the vinegar dressing has been distributed evenly and steam is no longer rising from the rice.
7. Cover the rice with damp towels until you're ready to roll your sushi.
8. Now take a little bowl, add the remaining tbsp of rice vinegar to 4 tbsp of water. Dip your fingertips in the mixture and then tap them on a dry towel. This will keep the rice from sticking to your hands, so dip your fingers every time they get sticky.
9. Chop all the filling ingredients and simmer the drained jackfruit and mushrooms in 1/4 cup gluten free soy sauce, 1 1/2 tbsp unseasoned rice vinegar and 1 tsp sugar for 5 minutes, then drain, reserving the sauce for dipping, or thickening it with a little cornstarch and simmering it for a few more minutes to make a thicker teriyaki-style sauce.
10. Roll a maki by taking a piece of nori (seaweed), placing it on a sushi roller (or not) and spreading 1 cup of prepared rice from the bottom of the nori until it reaches three quarters of the way up the nori. Make sure it touches all the edges or the roll will be bumpy. And make sure the rice is very thin for the same reason.
11. Dip your hands in a small bowl of the toasted sesame seeds, then spread the seeds over the rice. Place a few pieces of cucumber, avocado, mango, jackfruit and mushroom halfway up the rice, spreading them evenly from left to right so the maki won't be bumpy. Don't overfill. Err on the side of too little fillings than too many for your first roll.
12. Put your thumbs under the bamboo roller and use your other fingers to hold the vegetable pieces in place. Roll from the bottom of the bamboo up over the filling, until the bamboo reaches over and touches the upper edge of the rice or the nori above it (it will touch the nori if you used lots of fillings and will touch the rice if you didn't.
13. Hold the roll in place and tug the upper middle of the bamboo roller in the middle and tug a few times. Tug a little on the upper left and upper right to tighten, lining your other hand up with the top hand each time you tug. Carefully unfold the bamboo roller (just the roller, not the sushi roll), pull the partially-rolled sushi roll back to the edge of the roller, and put your thumbs back underneath with your fingers wrapped around the top of the half-wrapped roll. Repeat the rolling process again, lifting the roller over until it touches down on the other side of the roll. Pull firmly in the middle, the left and the right on the upper part of the bamboo roller while you hold the bottom of the sushi roll and bottom of the roller in place. Unroll the bamboo, place the sushi roll on a cutting board and slice into 8 pieces. Coat the knife in a little of the vinegar-water mixture to keep it from sticking as you slice.
14. Make another roll with any fillings you desire. Dip in soy sauce, or in the reduced soy-vinegar-sugar mixture, or drizzle the mixture over top. Serve with wasabi and pickled ginger.