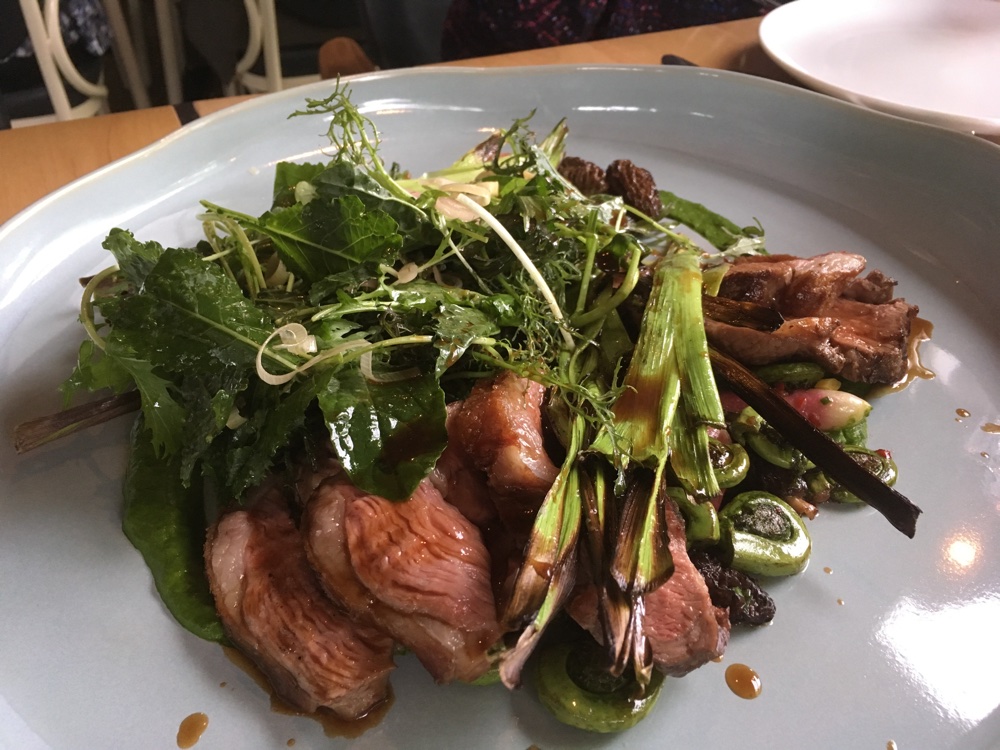 Ever feel like you're on an endless journey in search of the perfect meal?
Okay, so the whole Odyssey comparison is a bit exaggerated; I haven't battled a cyclops or been tempted by Sirens or fought a sea monster lately. But I could tell you a good yarn about hopping a plane to Seattle for a week of experimentation at the Modernist Cuisine Lab, holding on for dear life on the back of a scooter winding up a Malaysian hillside on the hunt for Miracle Fruit at an organic orchard and eating guinea pig soup in rural Peru after soaking in dirty eucalyptus hot springs.
But getting to Hoogan et Beaufort was about as hard.
After jumping in a cab the moment I got home from a late afternoon flight back from the Terroir Symposium in Toronto, I didn't think I'd make it to my dinner reservation with my family at Hoogan et Beaufort. First, the new high-speed train downtown had been 15 minutes late.  That meant I missed my early afternoon flight because a surly manager at Air Canada wouldn't let me check my bag one minute after the cut-off time. Then, the flight two hours later sat on the runway for an hour while a freak thunder and lightning storm swept through and we joined the lengthening queued to take off.
The reason we were going to Hoogan et Beaufort was because we had tickets to the the Tohu for a circus show at 7:3opm. After extensive research, I'd decided H&B was the best restaurant within a short drive of the Tohu. I'd been to Marc-André Jetty's last restaurant Les 400 Coups and found this one was getting as much praise. The menu looked gluten-free, dairy-free friendly too.
While sitting on the runway, I texted my mother to let her know I'd be late and she should order me the lamb-for-two with morel mushrooms, charred green onions, fiddleheads and baby kale (my dad would eat the large open-stuffed ravioli if they'd kindly put it on a side plate), if she was interested in sharing. Otherwise, I'd take the Bobine's Farm trout – a farmed Quebec rainbow trout that's nowhere near as good as wild salmon, but is local and, I feel, is generally is more tasty than walleye, another current menu option.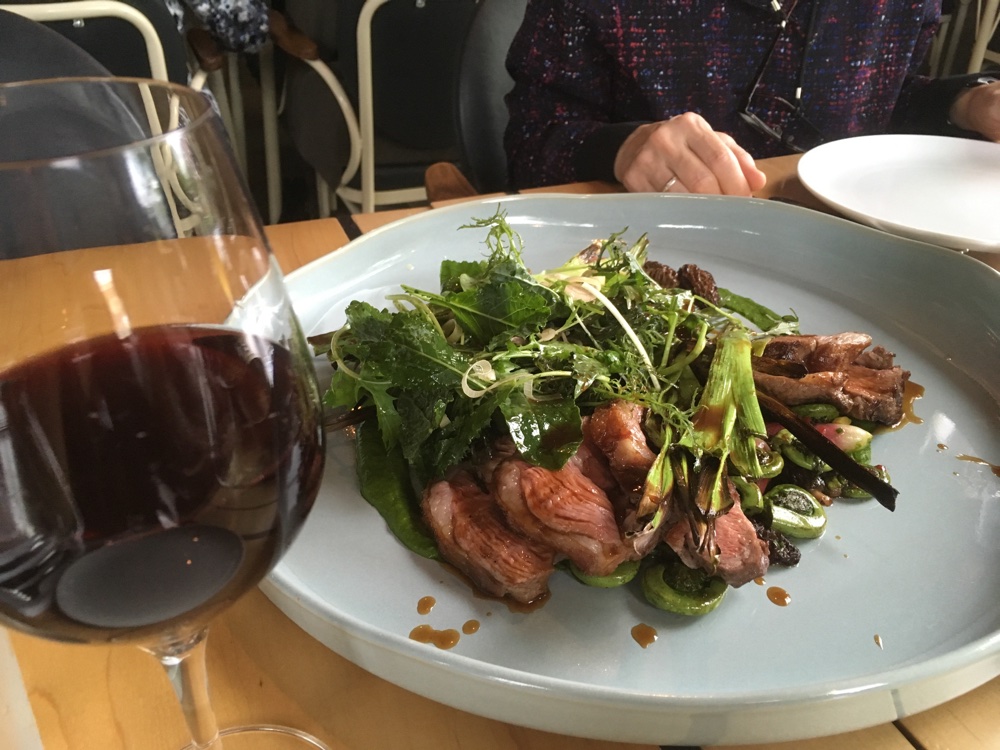 No time for an appetizer for me, but she and my dad could enjoy some oysters, grilled octopus or Quebec asparagus while awaiting my arrival.
But then my cab got lost. To be fair, it wasn't the driver's fault. It was the GPS. Google Maps said the restaurant is at 4095 rue Molson, but for some reason when the driver entered the address, it came up as Andre Laurendeau, the street a block north.
Everything after that was Hoogan et Beaufort's fault. There was no big sign, no obvious restaurant in the area. I'd never been up here, and while I knew it was a gentrifying area, it felt like suburbia, meaning a block stretched a quarter kilometre because everyone's expected to drive. I walked/ran down to rue Rachel and then around to rue Molson, exhausted from the day of traveling. knowing that I was wasting precious time better spend eating lamb.
Finally, I found a little strip of restaurants and cafés with a tiny sign. I saw a terrasse. Not H&B. I walked along glass windows for a minute. It must be here, I thought.
Lo! My parents! There they were, sitting inside the glass window, my mom jumping out of her chair to wave wildly as though I were blind (or a cyclops with my head turned in the wrong direction) while the servers politely ignored her.
But where was the door? At that moment, after that long day, I had a split second though of jumping through the glass window. It would surely be the most efficient way to get into the restaurant. Instead, I looked left. No door. I looked right. No door. I threw my hands in the air and shrugged my shoulders until my mom rushed to a up-until-then hidden door that miraculously opened.
Along with me into the restaurant came a wave of stress. The server quickly offered me a drink. I wasn't planning on it, but after looking at all the biodynamic by-the-glass options on the menu, I went with an Italian red (the 2015 Tuscan Sincero from Cosimo Maria Masini is currently on the menu at $11 a glass). The tall woman whom I secretly and irrationally blamed for poor restaurant signage was nothing but compassionate. She quickly took away the appetizer plates to make room for the soon-to-come lamb and my dad's lobster strozzapretti (think cavatelli noodles, but a little longer) with baby arugula and gorria pepper (a mild, Quebec-grown pepper that's similar to Espellette that tastes like grilled pepper or tomato).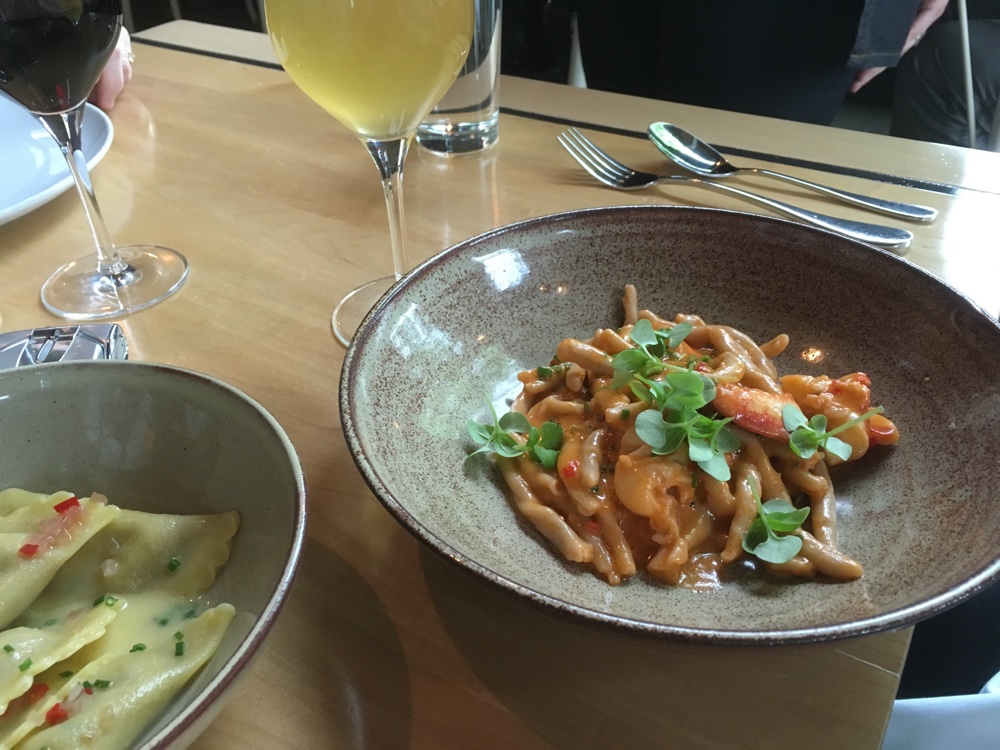 We even had time for dessert, a one-off dairy free, gluten free creation involving swirls of gels and sorbet and herbs, typical of what we get from the better kitchens in Montreal when they have a moment to concoct a special dish on a less busy or early evening.
As the quick meal progressed, I found myself wondering what the server must think of us three. Was she trying to figure out if it was me or my mom who'd chosen this restaurant (me), what this girl who couldn't even find a door and looked like she should be taking a nap rather than eating lamb was doing here, and if I actually knew anything about biodynamic wine (I've drank a little, but I'm no connoisseur)? Or was that just me being self-conscious? All I knew was that it wasn't too sweet, wasn't too tannic, wasn't too fruity, and wasn't too dry. It made the whole day slow down. It made the tender slices of lamb in its reduced jus a little sweeter by contrast to the wine's acidity, and made the meat a little tougher as I chewed. The fiddleheads soaked up that textbook pan sauce and added just enough fat to satisfy. My shoulders pulled slightly away from my ears, where they'd clenched all afternoon, and we all relaxed. Our server, too, I imagine.
Was it worth the adventure of coming out here? There's really nothing else like it in the area. The price is very good for the quality ($30 mains instead of $40 like you'd get downtown) and it's really not that far unless you live in the southwest like me. Plus, now that I know where the door is, I won't be pulling my hair out in frustration next time. I'll also try to come on an evening when I can take my time getting there. The restaurant filled up even over the course of the hour-and-a-half my family was there. We'd come so early that the place was pretty empty when I'd arrived, making me wonder if people actually came out of their way to come here, despite the enRoute Magazine Canada's Best New Restaurants nod a few years back. The answer is, yes they do. Goodness know how they managed to find the place the first time, but maybe their GPS was better and they're really good at seeing small signs…
As I took my last sip, I wondered what kind of wine Odysseus drank to celebrate the end of his odyssey. Syrah, perhaps. It does come from his area. And I believe wine was the drink of choice at the time.
Yes, definitely Syrah. Because as that Greek man knew, after all of his adventures, the demonstrations of The Fates and the will of the gods, whatever will be, will be.
Hoogan et Beaufort
Where: 4095 Rue Molson, Montréal, QC 
Hours: Dinner Tues-Sun 5:30-10:30pm; lunch Tues-Fri 11:30am-1:30pm; brunch Sun 10am-2:30pm
How much: $60-$90 per person with tax, tip and a glass of wine
514-903-1233