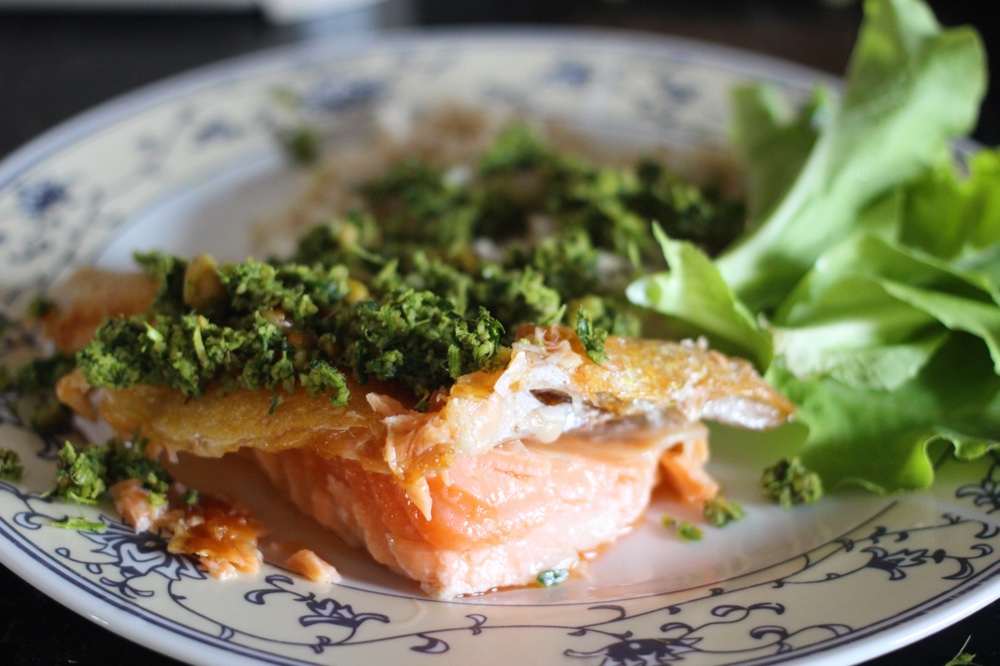 When you buy an absolutely giant whole sustainable salmon to filet for a food photographer, you end up with a lot of salmon. That's not a problem for me. It is a problem for my freezer, which lacks space because freezing a fresh batch of jam in ice cube trays is a heck of a lot less work than canning it.
Fortunately, the solution is delicious:
Eat more sustainable salmon. Fast.
So I did. I got out five cookbooks and chose the simplest yet gourmet recipes – ones that would highlight and enhance the natural flavour of the fish. Here's the first recipe, adapted from a June 2014 edition of Bon Appetit magazine that, yes, I've been saving for three years. I made it dairy free by substituting Earth Balance for butter and I made the pesto with mostly parsley instead of a half-and-half mix of parsley and cilantro. I just didn't have enough cilantro. I'm also calling it pesto rather than "relish," as it's called in the magazine, because it doesn't feel much like a relish. To be honest, though, the consistency was not very pesto-like. I didn't add the whole 1/2 cup of olive oil called for because the fish is already so buttery (if you use sockeye salmon or a leaner salmon, then sure, add more olive oil, but my New Zealand salmon was pure, delicious, healthy fat already). What's the point with all that butter already? But that's my blender's fault. If you have a Vitamix, Blend-Tec or other high-powered blender, this will definitely be more like a dairy free pesto than a relish. It should probably be called a relish. Big-budget magazine fact-checking wins again. I did actually use the correct kind of lettuce called for – little gem – which I pulled fresh from my garden.
The only other change I made was searing a whole large fillet instead of cutting it into 4 6-oz. pieces. For this, I believe the editor would forgive me. Because just look at this photo: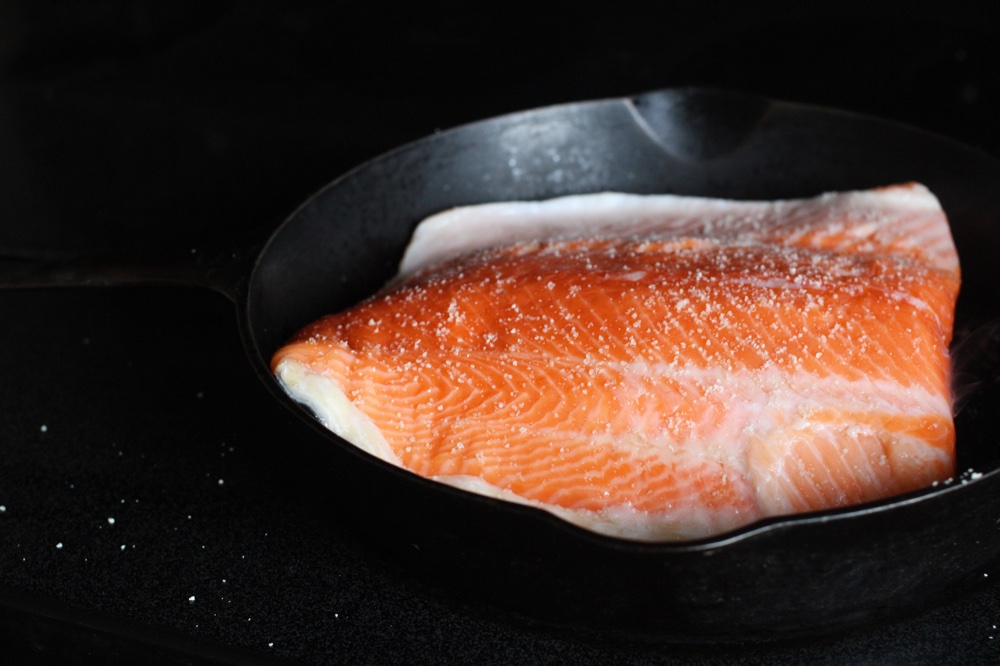 Butter-Basted Sustainable Salmon with Hazelnut Pesto (Gluten Free, Dairy Free)
1/4 cup blanched hazelnuts
1 small clove garlic, optional
1 1/2 cup fresh parsley leaves (or a mix of parsley and cilantro)
1 tbsp capers, drained
1 tsp grated lemon peel (preferably organic because of the pesticides on the skin)
2 tbsp extra-virgin olive oil (plus more to blend, if necessary, or use these 2 tbsp then add a little water if your salmon is oozing fat)
1/8 tsp + 1 tsp sea salt or Kosher salt
1 tbsp cooking oil (sunflower works really well, but anything that can take the heat is fine)
4 6-oz. pieces skin-on salmon fillets (or one large 24-oz. fillet)
2 tbsp Earth Balance (or unsalted butter), cut into small pieces
2 heads tender, small lettuce, such as Little Gem, Boston, Green Oak or Lola Rosa
Toast the hazelnuts by preheating the oven to 400˚F and baking the nuts for 6-8 minutes, stirring occasionally so they brown on all sides. Remove from the oven and into a heat-proof dish immediately to stop them from burning in the hot pan.
Combine the garlic, herbs, capers, lemon zest and half the hazelnuts in a blender or food processor until finely chopped. Pour in the olive oil in a thin stream with the machine on (only do this once the other ingredients are combined, or you'll have hazelnut and parsley flying everywhere). Add the 1/8 tsp of salt (a small pinch because the capers are already salty) and adjust to taste.
Coarsely chop remaining hazelnuts (I do this in a mortar and pestle or by placing them in a paper bag and pounding it gently (making sure to not seal the other side or it'll explode and hazelnuts will fly everywhere. Been there, done that).
This is the important part: Heat the cooking oil in a large, ovenproof skillet over medium-high heat (preferably a cast-iron skillet, because it'll give you a gorgeous browned crust). Sprinkle the salmon with the remaining teaspoon of salt and place skin-side-down in the hot skillet. Leave it for about 4 minutes, until the skin is crisp (don't touch it; just gently lift up an edge with a spatula to check for brownness).
Add the butter piece by piece and cook, basting the fish constantly for about a minute. You can use a basting brush or a turkey baster, or tip the skillet toward you and spoon up the liquid. The first two are better options if you're not using cast-iron, because the skillet won't retain as much heat if you keep lifting it up. Cast-iron, however, retains heat well enough to make this spoon-basting method acceptable.
Transfer the skillet to the 400˚F oven. Roast salmon for 2 minutes. Baste and roast for 1 minute more (if your salmon is thick like mine, you'll have to roast it another 2-3 minutes). It should still be slightly translucent in the middle but mostly opaque closer to the skin.
Flip the salmon skin-side-up onto a serving dish (or individual plates if you did small fillets) and top with the hazelnut pesto and chopped hazelnuts. Surround with the lettuce.
My skin was so crispy and the fish so fatty that the skin slid right off when I lifted the fish out of the skillet. But just look at how golden and thick and delicious that skin looks below. You'll have oodles of pesto. It keeps well and can be used on pasta or eaten with crackers, bread or fresh, raw cucumbers, carrots, zucchini or radishes.