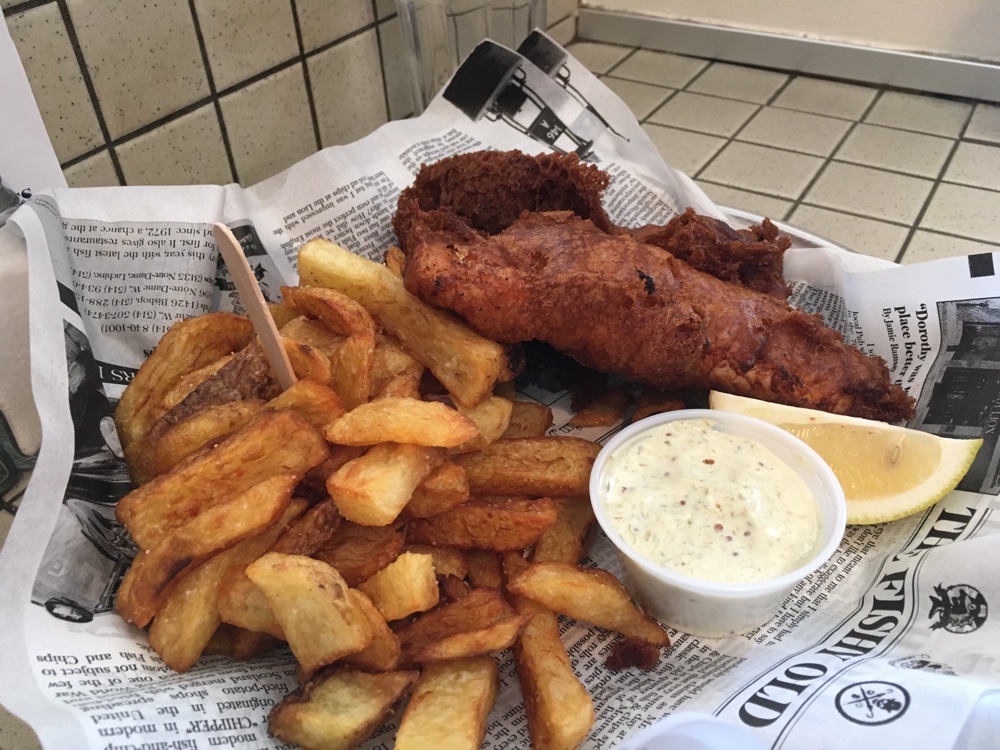 I grew up in a place where fish 'n' chips was basically the provincial dish. In Newfoundland, Ches's was a rite of passage for tourists and other 'come from aways' alike. A feed of 'fee and chee' on a Friday? Standard.
But not in my family. I wasn't gluten intolerant or lactose intolerant then and neither was my mother. Or at least we didn't know. Either way, I was more likely to eat frozen fish sticks. I hated the fishy smell and the mayo-heavy, onion-y tartar sauce.
But then I discovered really fresh fish. And realized that fish and chips, when handled with care, could be a delicacy. No way was I going to start deep-drying pounds of sustainable haddock and French fries (we'll get into the type of fish below) in my own kitchen, though. After a few knock-out efforts at deep-fried Chinese standards including General Tau and lemon chicken, I decided it was something I could do, but would rather not invest in the oil or the running shoes necessary for a love of fried things.
Thus, fish and chips wasn't usually on my radar when I was hungry. Even with places in Montreal known for their exemplary versions (Comptoir 21, Brit & Chips), I was so against unsustainable fish, having lived through the 1992 cod moratorium in Newfoundland caused by overfishing that I wouldn't even consider going; most serve cod, or hake or sole, which are generally not sustainable.
Then gluten intolerance hit. All that batter? No way was I going out for a feed of fee and chee anytime soon.
But then I heard that Brit & Chips was offering a gluten free fish and chips made with orange crush batter. It's not Celiac-friendly; there's a whole lot of contamination in that open kitchen. But for those who aren't that sensitive, it's an enticing option. The carbonation from the Orange Crush is supposed to keep the batter lighter and fluffier (gluten free flours aren't known for those qualities, though Japanese tempura is often made with rice flour and is plenty fluffy when done well). And the extra sweetness from the orange soda doesn't hurt. The trick to a good batter, though, is the balance of salt and other seasonings, so theoretically if the restaurant had a great recipe for a with-gluten batter, it shouldn't be too hard to make a gluten free version.
And Brit & Chips serves MSC-certified sustainable fish – all except the gluten free orange crush-battered version, which comes with non-MSC certified hake. The menu is concise: six types of fish and chips, a couple pasties, pies and sausage rolls, some salads and some nibbles (e.g. popcorn shrimp and fish cakes). The sustainable versions of the fish 'n' chips are the cod in a Burgundy beer batter, haddock in maple syrup, sole in sour cream 'n' onion, a fish of the month and a salmon in stout (though I question this salmon, because I'm sure they're not using wild Pacific salmon, so I'm thinking this is the Irish farmed salmon, which I don't trust because I'm not sure of what those fish are eating and how their pens are kept clean).
That's only five, Amie! you're shouting. I know, I know. But there's a smoked tofu fish 'n' chips in a chipotle batter, too. Which is not a sustainable fish but is on the fish 'n' chips menu. See my dilemma? Rather, my grammatical problem? And actually, I'd question the sustainability of the tofu, because I doubt it's organic and non-GMO.
Anyway, back to fishes.
Questions of sustainability aside, my dad loves fish and chips and isn't gluten intolerant, the restaurant on McGill was convenient to my work and we needed a lunch we could all eat and enjoy.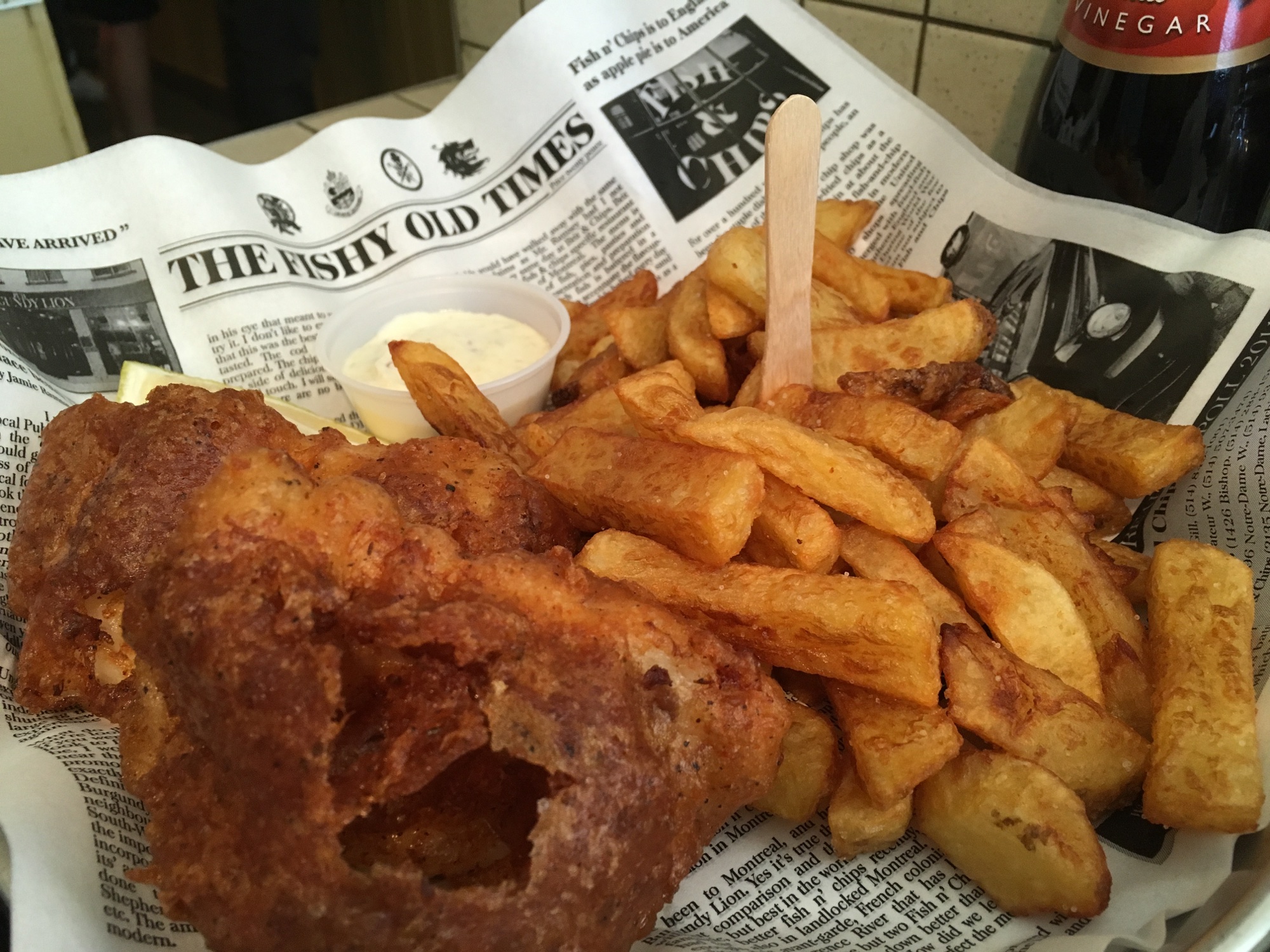 VERDICT
The gluten free fish 'n' chips at Brit & Chips was the best fish 'n' chips I've ever had.
The batter was fresh, sweet and crunchy. The gluten free version is slightly darker in colour because of the flour used, I think, but it was still incredibly crispy and cooked to perfection – not overcooked. The fish was tender and mild-flavoured (hake doesn't ever taste like much on its own, so the batter has to help) and there was just enough salt and moisture all locked in by the orange crush crispy coating.
The fries were thick-cut British-style chips – none of these silly bistro frîtes. They were a little bland, especially compared to the fish, but they looked good. A dose of ketchup and malt vinegar would help, but that's up to you. The malt vinegar on the table wasn't necessary for the fish – even for my dad who could eat the with-gluten version – but was a nice touch. The restaurant is quick and efficient. Service was great. We sat at a counter, with a great view of the open kitchen/bar where the four or five employees were having a great time. There's some really good training going on a really good service and food prep system. It's upscale fast-food at its best. The other seating option is the terrasse, which is generally packed on a warm day and has a great view of busy rue McGill.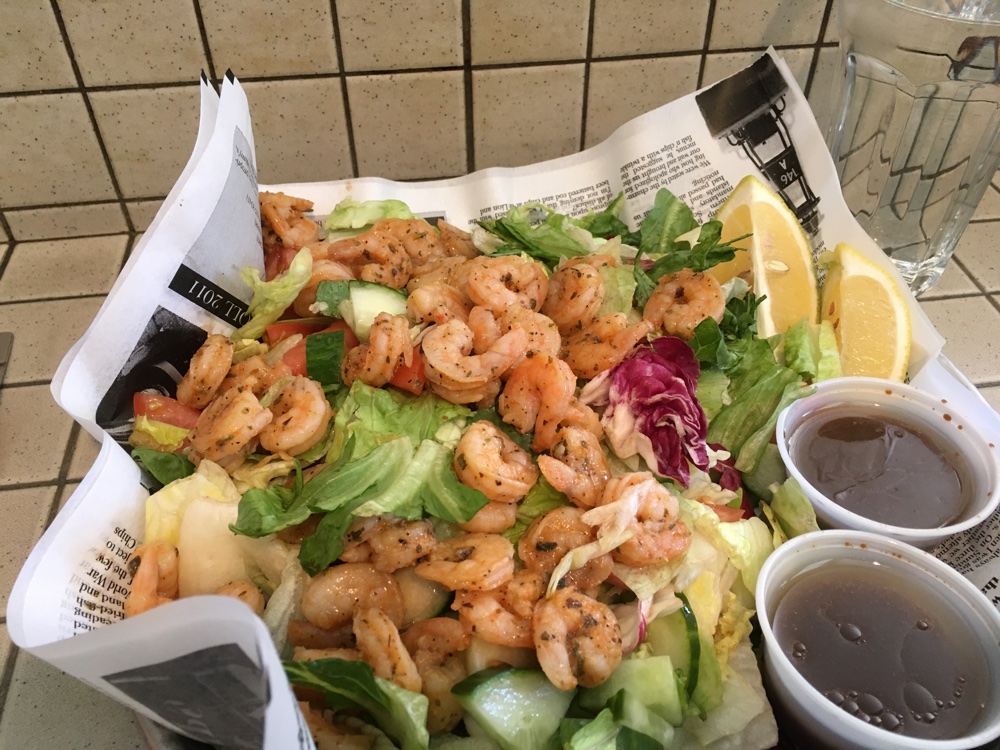 I also ordered the Nordic shrimp salad, because there are only so many fries and so much deep-fried batter you can (should?) eat. It was fine, a mix of lettuce, radicchio, tomatoes, cucumbers,  and a generous portion of sustainable local mini shrimp in mixed Italian herbs. Best to get the dressing on the side because that's a ton of the stuff that they'd otherwise pour overtop. And at that point, you might as well go with the fish if you're worried about your waistline. Besides, the fish is just so much better.
You come here for the fish. You have the salad if you're into self-deprivation or have no tastebuds.
Would I come back here? Sure. My dad, mom and I all loved the crispy fish 'n' chips with its respective glutenous and gluten free versions. It was quick, affordable and has ambiance. There's soft serve for dessert. You can have a pint. Plus, there are some sustainable options. And gosh, the fact that it's served in newspaper, the traditional way, is just quaintly British. It's no Ches's, mind you, but it might be better.
Brit & Chips
433 rue McGill, 1490 de Maisonneuve West, 5536 Côte-des-Neiges
How much: $16-$17 for fish 'n' chips including tax and tip
When: Sun-Wed 11am-10pm, Thurs-Sat 11am-11pm