I meant to make an Indian mustard pickle, but when I went to prepare the third dish for my small Indian dinner party – green beans – I couldn't remember which recipe I had decided to use. This one for South Indian style green beans is pretty boring, it's true, but it won't upset anyone's spice palates like a pickle is liable to do, and it also doesn't take three days to prepare. All of these things are good when inviting home-made Indian food novitiates to your house for dinner.
If you don't like green beans because you think they're boring and often bland, this is a simple way to make them just a tiny bit more interesting. Not like the "cirque du soleil of green beans"-kind of interesting, more like the "slow-paced documentary"-kind of interesting…so maybe not everyone's cup of tea.
(I found out after writing this post that this book, "At Home With Madhur Jaffrey" is intentionally boring! Well, that's maybe the mean way to put it, but according to the New York Times Jaffrey published this book to make Indian cooking more accessible, by simplifying the recipes, but maintaining the authenticity of the flavours…of course…I'm doubtful, but also a little glad that that there's no of these "add such-and-such 5 seconds later. 8 seconds later add the…" instructions.)
Ingredients
Sprinkle of salt (or two)
1 lb green beans, edges trimmed, and cut into 1-inch lengths
1 tbsp oil (any kind, even olive oil. In this latest Madhur Jaffrey book she uses olive oil almost all the time, which is interesting because the recipes often call for high-heat cooking. She does not seem to be concerned about the oil smoking or losing its flavour from over-heating)
1/2 tsp cumin seeds
1/2 tsp whole brown or yellow mustard seeds (I used brown but it really doesn't make much of a difference. I think brown might be more traditional)
1/2 tsp sesame seeds (I haven't seen a lot of sesame seeds in Indian cooking, but it must be a southern thing. Middle Eastern and East Asian countries use them a lot more, but with all the spices in Indian cooking I think sesame is relatively rare)
1/8 tsp cayenne (I'd say lean more toward 1/4 tsp, but maybe my cayenne is wimpy)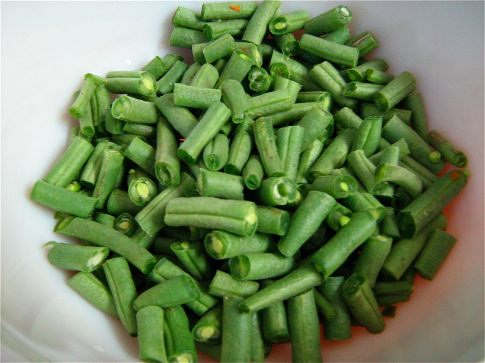 Cut Green Beans
You basically want to blanch the beans and then re-warm them in the spices which have been briefly cooked in the oil. Italy does it with garlic with rapini, kale, and other leafy greens all the time. Same method, different spices.
So bring a bit pot of water (about 8 cups) to a boil. Add a sprinkle of salt (or don't. It's not essential, but it's kind of like adding salt to rice. Some people do, some people don't) and then add the cut beans. Boil them for 4 minutes, and then drain them immediately. Jaffrey doesn't say to rinse with cold water in a colander, but I did because that's what you do with Italian greens to retain the colour and to stop them from continuing to cook and get mushy while they wait for the next step. At this point they should still be chewy, but softened since they don't get cooked a whole lot more. If you think they're undercooked you could just not rinse them in cold water and intentionally let them cook a little more in a colander while they drain.
Then set a large frying pan (or for the sake of pot efficiency, the same pot you used to blanch the beans) over medium-high heat. Dry it out first if it's wet inside. After a minute add the oil, and 30 seconds later (when the oil jumps up at you when you flick a little water on it) add the cumin, mustard and sesame seeds.
The mustard seeds should start popping right away but if they don't it's probably just because they're covered by other seeds or aren't coated in enough oil, so move them around in the oil to let them breathe. When they do start popping add the beans. Turn the heat to medium-low and stir for a minute to coat. Add a sprinkle of salt and the cayenne. Taste and adjust with more salt or cayenne as necessary.
Easy. As my mother would say, any idiot can do it.