Cho'Cola
5601 Monkland Avenue
Montreal, QC
●●●●●●●●●☺○
9 1/2 out of 10
Cupcakes
I'm a cupcake snob. Ever since I discovered 4-D cupcakes at Toronto bakery "For the Love of Cake" I've know that a cupcake can be an amazing thing. I'll admit that until that moment a year ago I'd always considered a cupcake to be a dessert cop-out – not enough icing, or not enough cake, or not enough flavour, and a sorry excuse for an individually-sized piece of cake. Why not just have a freaking piece of cake and save yourself the wrapper? Then you can have a smaller or bigger piece as you like, and maybe even adjust the icing to cake ratio.
But after the moment a year ago when I had a salted caramel cupcake made of a chocolate cupcake filled with homemade caramel, topped with chocolate butter cream, and garnished with sea salt and a chewy piece of caramel at "For the Love of Cake" (ironically a cupcake store, not a cake store, though they do custom cakes that are incredible), I knew that a cupcake could be a beautiful thing. Ample amounts of icing and the richest, lightest but densest (I know that doesn't make any sense but that's what my taste buds were telling me) and saltiest/sweetest cupcake ever. I wouldn't even want a whole cake of it. It was perfect, just as it was.
Some of the cupcakes in the shop were disappointingly small, though. Which is where Cho'Cola shines (pronounced "cho'co'LAH'" – like the French, not "cho'COH'la'", as I originally tried to call it…). I searched Montreal far and wide for a cupcake that could compete with my Toronto shop. And finally, I found it. I'd biked past this place a bunch of times and never had enough of a craving for sweet to justify getting off my bike, parking, and dealing with the stomach pain that comes from ingesting cream and butter thanks to lactose-intolerance. But one day I convinced myself to go in and am I ever glad (and sorry for my poor stomach) that I did.
First I asked about dairy-free options because that's what I do, and they had a few vegan cookies and a brownie, but that's hardly fair when there's an entire counter of enormous cupcakes, cakes, and pastries, and a fridge of frozen and chilled delicacies (tiramisu, custards, rice pudding I think, or tapioca, individual pieces of cake from the previous day or in a quick-grab format or those not willing to wait for their piece to be packaged up).
The cakes and a cupcakes are where it's at, though. They're divided by row in the shop. One row of the counter is for those that are filled with things – jams, caramels, truffles, etc. – and one is for those that aren't, but are just as exquisitely decorated and iced. The flavours…my goodness the flavours.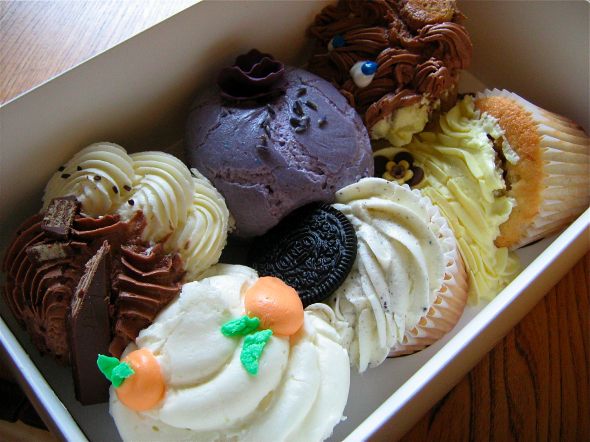 Lavender (with real lavender), cookies and cream (with a real oreo, not one of those mini oreo tricks), the most amazing banana cream ever, meringue-topped heaven (that's not a name), a mix of basic white and chocolate (the true test of a cupcake shop's merit), a carrot cake cupcake that justified not buying an actual piece of carrot cake – your mouth makes its own layers, since the cupcake is just cake topped with a pound of cream cheese frosting), cookie d'oh, limoncello, coffee rolo, strawberry shortcake (with jam inside, of course), lemon meringue, dulce de leche, and the list goes on. THE LIST GOES ON! Their website tells you what they have every day of the week, so you can plan to get your favourite Tuesday cupcake or your favourite Friday cupcake. That is a beautiful thing.
So I mentioned the carrot cake, but I didn't tell you that there were about a million layers. Maybe 5 – 7…If there hadn't been a carrot cake cupcake I would have wanted a piece of that incredible-looking cake, but now you don't need to splurge on that cake since you can just get the more than satisfying cupcake. So instead I got a piece of the 7-layer lemon raspberry cake. Practical, I know. Lemon buttercream with real butter, lemon zest, and no food colouring, layers of white sponge, whipped cream, and raspberry preserves (not a junk jam for once! I don't even like raspberry in cakes and I completely enjoyed this – a little tart, mostly sweet, and all natural raspberries. I had to buy this cake because it was so beautiful. And I loved it, all except the bland, airy whipped cream layers. If there hadn't already been a pound of butter in a single piece I would have wanted more buttercream. As it was, there was more than enough icing for each bite of cake, and this is cake you'd actually want to eat on its own anyway, not necessarily mask with icing).
When I got the cupcakes home (I wanted to try a bunch of flavours, but you can't really buy six cupcakes and eat them all – even a nibble of each – in the store, so I took them home and probably ate the equivalent of two cupcakes which is way too much of these cupcakes!! Two cupcakes, you say? Too much? Normally, no, that's fine, but these are massive. Even after biking home with them and having the icing kind of shift around, I could barely get them out of the box since they were so bloated with cake and icing.
The first I tried was the lavender. Wow. Amazing. Lavender. Delicate white cake and such a strong herbal note. You really can't eat a whole cupcake of this in one sitting. It's way too much icing and the lavender gets a bit medicinal, but spread over a few days (or shared, I guess…people do that, I hear), it's perfect.
Cookie D'Oh came with real pieces of cookie dough in it (the 4th dimension! Like at "For the Love of Cake"!). The dough pieces were the best part. Coffee Crisp was the one with pieces of the chocolate bar on top and the mix of chocolate and vanilla icing. I never liked coffee crisps as much as I did then. For plain vanilla and chocolate lovers it's heaven. Iced heaven. Completely peanut and nut-free, too! In fact the entire store is! Not other allergen-free, but for moms of kids with peanut allergies, this is here you need to live. Either in this shop or in this area of NDG. Cars are bad for the environment. Cupcakes are good for the soul.
The carrot cake was intense. A little too cream cheese-y for me, but that's my lactose-intolerant stomach kicking in saying, "Mayday! Mayday! Dairy!" It prefers carrot cake that is cream cheese based but that doesn't taste too strongly of it. Kind of tricks it into believing it'll be okay. It'll never be okay.
Oreo was delicious. I've always been a sucker for Oreo blizzards, and this one was just a little richer because of the icing – almost too thick since it's not exactly refreshing like ice cream, but eaten over the course of a few sittings it's amazing. That's the pure butter, real dairy, and no preservatives for you. Take that, vegan brownie…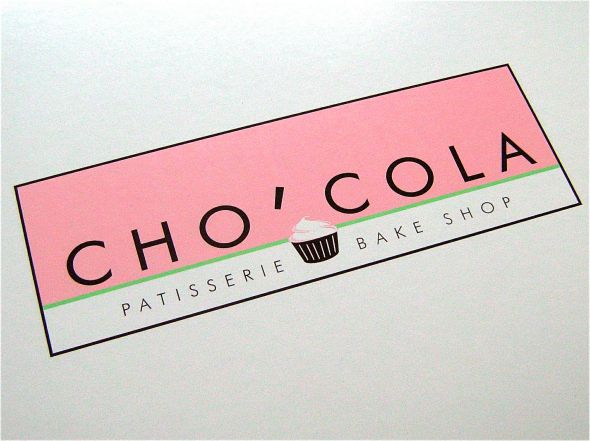 But the best was the banana custard. You wouldn't think, I know, but the real, slightly salty, banana custard inside the cupcake that oozed out when you bit into it was just the most amazing texture and flavour. It wasn't sickening like banana medicine. And the icing was the perfect balance, plus the fluffy cupcake itself for soft chew. It doesn't taste as heavy as the other cupcakes, either, so you can actually make it through this one, though you're going to want to save it. My advice? Buy 2.
And buy the tiramisu in the fridge. And heck, try the vegan and low-fat stuff while you're at it, just to see the comparison, and to inevitably feel bad for people like me who shouldn't be eating the real butter versions. Gluten-free? No. Sorry. Don't think they do that here.
But sugary bliss? Yup.
Where: 5601 Monkland, Montreal (2nd location in Laval)

Hours: Sun-Wed 9am-9pm, Thurs-Sat 9am-10pm!
How much: Kind of expensive for cupcakes, but SO worth it. One is probably enough for two people, unless you're me.

514-485-2652