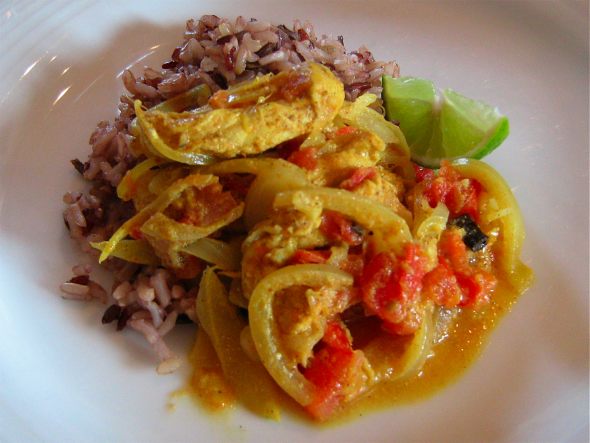 I was told about this recipe for a good year before I made it. When you get an offer to come to someone's home and make a dairy-free, creamy dish with vanilla, you take it. I don't know how it took me a year and a plane ride home to Newfoundland to do it.
Unfortunately I had to change the recipe…I used reduced almond milk instead of coconut and I used a real vanilla bean instead of vanilla extract. One of these things should definitely make this dish better and the other should…well, not make it bad. That's all that mattered.
Vanilla Almond Chicken
Ingredients:
4 chicken breasts
2 tomatoes
1-2 limes (1 if it's juicy, 2 if it's Newfoundland. Plus an extra for garnish)
1 onion, cut in long, thin strips
1 clove of garlic, minced
2 1/2 cups almond milk (or 300mL coconut milk – slightly more than a cup)
1 tsp grated ginger
2 tsp grated coconut (optional)
1/2 a vanilla bean
2 tbsp good quality butter (or more…salted or unsalted is fine, just taste before you add more salt at the end)
2 tsp curry powder
salt and pepper to taste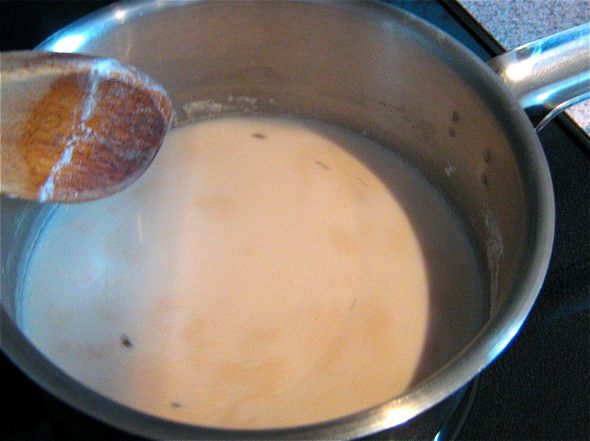 Instructions:
You're going to need just over a cup of almond or coconut milk, so if you're using almond milk you need to reduce it. Start with at least 2 1/2 cups and boil it down to 300mL over medium heat in a saucepan, stirring often so it doesn't form a skin or stick to the bottom of the pot. It should be thick like coconut milk or you'll end up with soupy vanilla chicken. Doesn't sound as good that way, does it?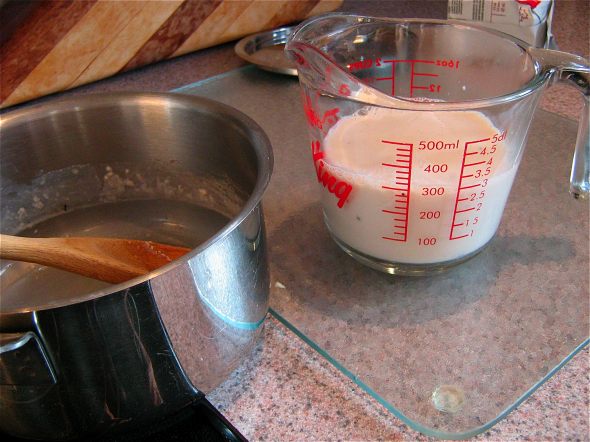 Peel, seed, and dice the tomatoes. The easiest way to do this is to throw them into a pot of boiling water for about 45 seconds, until the skins start to crack, then remove them with a slotted spoon and rinse them under cold running water. Now the skins should peel off easily. If they don't, put them back into the pot of boiling water (that's why you don't drain the pot directly into a colander to run the tomatoes under cold water. You only make that mistake once and while you spend the next 5 minutes bringing water to a boil again, you make your way through a colourful vocabulary).
Once the skins are off, quarter the tomatoes and use your fingers to massage out the seeds and juicy parts that contain the seeds. The seeds are bitter, so all you want is the sweet flesh. Then chop the tomatoes roughly. You, in theory could just use whole canned tomatoes that are already peeled, wash them well, and then quarter and seed them before hacking them up, but the flavour isn't the same as when you can find rich, sweet fresh ones. Still, in winter, this is a viable option. Buying crushed tomatoes is not. The excess tomato juice will spoil the delicate flavour of the sauce (it's not a tomato sauce, after all) and if you rinse them you lose the flavour of the tomatoes themselves. So wash your hands, suck it up, and get seeding.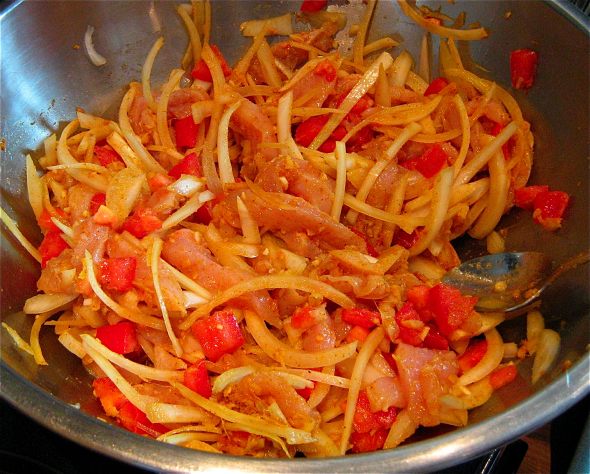 In a large bowl combine the tomatoes with the diced garlic, strips of onion, grated ginger, lemon juice, and curry powder. Never do I advocate using dried curry powder, so check out this other local, Montreal blog, The Dog's Breakfast, for a beautiful curry powder recipe.
After you're done drooling over their soup, cut the chicken breasts into strips, then add it to the bowl of curried onions. Let marinate for 30 minutes.


Easiest cooking instructions ever: Melt the butter over medium heat in a large skillet or wok and toss in the chicken-onion mixture. Cook for 8 minutes.
While you're waiting the 8 minutes, slit open the half vanilla bean and scrape out the seeds. These probably aren't going to look like what you think seeds should look like, so just scrape out some of the juicier looking inside of the bean with a knife and then slice the outer part of the bean into a few large pieces. You're not going to eat the bean (the seeds are fine), so don't chop it too finely.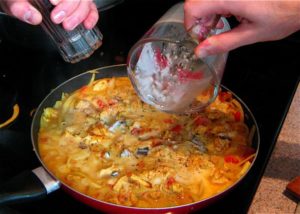 Then add the reduced almond milk (or coconut milk) and stir. Now add the vanilla bean (seeds and pieces). Now add a sprinkle of salt and a grind of fresh pepper.
Turn down the heat and let the whole thing cook, uncovered, for about 20 minutes. Then grate some coconut over top (optional. Or some ground or toasted almond slivers, also optional) and serve (preferably with some lime pieces and fresh coriander for garnish).
That's what you're supposed to do, except since I was reducing the almond milk anyway, I figured I'd throw the vanilla bean in with it near the end of its reduction to infuse the milk from the start. I also used a whole vanilla bean. See, I didn't trust the bean. It had been sitting in a sealed plastic bag in my Montreal apartment for a few months and then it jumped on a plane and then it sat in my Newfoundland house for almost a month before being infused. the smell had died down considerably, so I figured the taste would too. Unfortunately, I was correct, and the infusing the milk earlier in the recipe didn't help much. the trick? Buy fresh vanilla beans and keep them in glass jars, tightly sealed. I don't think you can find vanilla beans in Newfoundland, though, so I didn't have much of a choice at the time.You could, in theory, enhance this with vanilla extract but that feels like adding food colouring, or like a bad cook's trick of using too much salt to flavour a bland dish. I am often a bad cook, but I never use food colouring or excess salt…well, unless it comes in the form of an Indian pickle.
The almond milk was also lacklustre, even though it was reduced. It just doesn't have the creamy, fatty sweetness of coconut milk, and it doesn't combine with the vanilla in the same way. So a year of anticipation lead to…not disappointment. It was a beautiful meal with friends in a sunny kitchen. We had hot rice (ran out of basmati, but it was nuttier this way anyway, which worked well) and comforting sauce-heavy (if not flavour-heavy) chicken. We served with lime slices on the side, so with each bite you could have a nibble and pretend like the dish had more flavour. Better would have been to add more lime juice while the almond milk and vanilla bean were cooking with the chicken in the last 20 minutes.
I have a point, I swear: You can do better! I can do better, too, and the next time I buy fresh vanilla beans from Epices de Cru, I know what I'll be making.