Five years ago during my undergraduate music degree I sat at a dining room table with my teacher wrapping dumplings. He explained how to wet half of the edges of the dumpling wrapper just enough so that the opposite side could be lifted up over the filling and pressed against the dampness to seal the pocket. For hours we placed small scoops of filling onto pieces of dough, being careful not to tear, soak, or over-stretch the wrappers of our small, neat parcels. While we repeated the process over and over the only change in the room was the music playing on random from the speaker system. As every song ended all we could do was wonder what would come next – mallets on brake drums, piano concerti, or classic rock – as our hands kept moving over and around the small pieces of dough and its fillings.
I'd never made dumplings before. The care, delicacy, and patience that I knew it would take to make enough dumplings for ten people seemed like something to be mechanized, not done by hand, but I remember feeling honoured that of our class I had been invited early to help with the dumplings for the party – half out of bravado because I had confidently said I would bring sushi and so was certainly capable of helping with dumplings, and half out of obvious excitement over making something I'd never tried to make before, and learning to do so from someone for whom the act seemed to be based in his Korean family's traditions. To me, it seemed that my teacher was a dumpling guru and I was humbled to learn from him, good student that I was.
That day I also learned about granola (mostly about sneaking into friends houses when your own oven breaks and you need a double batch of butter and maple-drenched oat clusters) and Korean BBQ ribs (and the secret of marinating in Coca-Cola), but it was the dumpling memory that stays with me most of all. Until that day I didn't understand the meditative calm of our repetitive task done when all we had in the world was time.
What I don't remember is how we cooked the dumplings or what they were filled with; those things weren't really part of the therapeutic act. What I do remember, and what was most important was sharing a room, a conversation, and a repetitive cooking task – Not a mindless task, but one requiring just a enough focus and precision to ensure good results.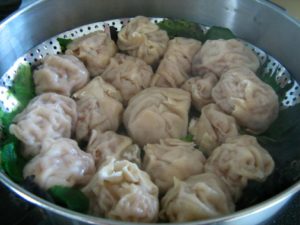 There's a feeling sometimes when you dance that nothing else is happening in the world. When the song ends you don't quite realize where you are, and it takes a moment for social etiquette to kick in and for you to realize that it's time to either sit down or continue dancing. Dumpling making – in the right company, in the right atmosphere, at the right time – feels like an extended dance of the hands, one where you have a long time to perfect the steps, and no self-consciousness or pressure caused by the end of the song and the breaking of the spell.
I've made dumplings many times since then. I've made the dough from scratch, rolled it out (from the middle to the edges only, never all the way from the bottom to the top), and stuffed it with myriad fillings from pork and cabbage to cashews and egg. I've sworn when the dough stuck together and the eighty wrappers had to be re-rolled for arriving dinner guests; I've twisted tops and pinched edges, seeing how many ways I could wrap my parcels; and I've boiled, fried, and steamed batches of dumplings for what felt like hours on beds of lettuce and make-shift steamer baskets balanced precariously on wooden chopsticks.
But it wasn't until I made dumplings again at another friend's house that I realized why my dumplings were never as satisfying as that first time. I was standing in a beautiful kitchen speaking with the woman my friend loves about cream sauces for pasta and Montreal winters – something that couldn't touch us inside such an welcoming home. As we spoke and wrapped dumpling after dumpling as part of a large meal with friends who would arrive in a few hours, I knew that I'd never again make dumplings alone, I'd never make them in a hurry, and I'd never make them with an unkind person. I remembered the calm I'd felt five years before, along with the quiet joy of sharing the task. As each song playing in the background ended and the next began, the spell never broke, and the dance continued.