A few weeks ago I discovered a new restaurant on avenue du Parc. That in itself is exciting since recently it's more likely to see a restaurant closing than opening in the construction0heavy area. But with construction stopped for the holiday season (to encourage business in the area I assume) it's high time to get out and support the local shops and restaurants.
It's hard to miss this place. Near Chilean restaurant Araucaria – known for its empanadas and corn pie, but also its vegetarian poutine with a gluten-free,  dairy-free gravy and arts patronage – is Mexican sandwich shop Tachido. Hurray! Lunch! I thought.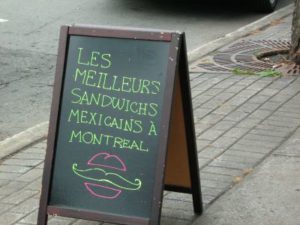 Turns out Mexican sandwiches and I generally don't get along, despite the unusual added option of gluten-free bread! All the toppings are pork, cow, and/or dairy. Which basically guarantees the deliciousness of the meal, but also the fact that I can't and/or won't eat it. And the tortillas for the quesadillas are either corn or flour, both of which I can't digest right now. So I really can't tell you if these sandwiches and things are absolutely amazing, but Joanne Fox from the Montreal Mirror swears by them, and she's up there on my most respected anglo reviewers list in the city.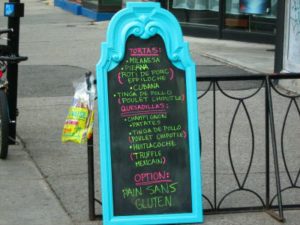 They bake the ham in-house for the Hawaiian ($7.50. Okay, so not the most traditional Mexican sandwich ever), they serve up hearty black bean soups ($3.50), they pull meat (pork, chicken) and throw in sour creams, mayos and slightly less-than-flavourless other toppings to heft up the portion size and flavour for the better. Ex: A single bite of sandwich generally includes your chosen meat along with mayo, cheese, black beans, tomatoes, avocados and fried onions.
Add some homemade hot sauces (jalapeno and chipotle), and homemade jam cake for dessert and your tongue will be singing.
The Milanesa torta ("sandwich") is a fried chicken cutlet, popular in South and Central America as a stolen Northern Italian veal cutlet (which is maybe actually Austrian. Think German schnitzel – breaded and fried), the Cubana is the traditional pork (traditional in Cuba, that is…what's so Mexican about this anyway?? Where's the "Mexicana"? Is that the pulled pork? Or is the truffled quesadilla?)
But since I can't eat much of anything here what should I do? Come for margaritas! Hurray! Well, ONE margarita. That's probably all I can handle since I can't even snack on tortilla chips. Which is exactly what I did at Hecho en Mexico in Verdun last week. And picked some very tender, but watery-sauced mole chicken out from the flour tortilla. Ridiculous food intolerances, these…
So go and eat delicious sandwiches here on my behalf. Then tell me how good they were. Vegans are probably SOL, and I don't usually promote eating a ton of meat products, but go split a huge sandwich with a friend for a special treat if you're the carnivorous type.
I'll be at home destroying amazing fish with my lack of culinary skill. But that's a story for another day.
Tachido
Where: 5611 Parc
(514) 439-0935
When: Tues-Fri 11am–8pm, Sat noon–9pm, Sun noon–6pm
How Much: $10-$15 for a ton of sandwich and a drink