Sometimes I feel like my digestive system is over-worked, it's unionized, and is picketing…
So, like any good enlightened despot I give a false reprise. I make soup in an effort to convince my stomach its won before diving wholeheartedly back into grains, breads, beans, meat, yogurt, sugar, and the occasional item with butter that I know my lactose-intolerant stomach will hate me for later. They'll bring a poorly-tuned snare drum and big catchy signs next time, I know, but I do it anyway.
There is nothing difficult to digest about this soup. You could make it with rice instead of potatoes if you prefer, or if you're avoiding simple carbohydrates like potatoes altogether, leave those out too. Just make sure to reduce the stock by a cup or two or it'll be too…soupy? Is that possible?
Ah the magic of soup. Of course, if you want to make it heartier you can add some beans, some cream or almond milk, some squash, some tomatoes, some cheese, a poached egg, or pretty much anything else your heart desires. I prefer to keep turnips and beets out of it because they can overpower the rest of the flavours, but that's personal preference. Just make sure to dice all the vegetables to about the same size. Put those chopping skills to work. You can also just toss everything in a food processor and let it do the chopping work for you. Ah the magic of food processors.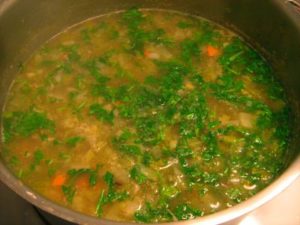 The trick to soup is always a good broth. That means homemade or something organic, low-sodium, or at least corn syrup-free, MSG-free, and for me, yeast-free. As healthy as nutritional yeast is supposed to me, I don't get nearly as much enjoyment out of it as butter, so I won't subject myself to bad drumming and catchy protest songs for no pay-off.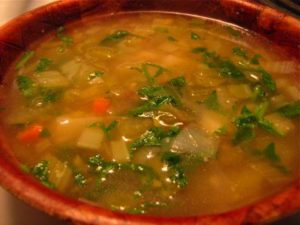 Simple Vegetable Soup
1 tsp olive oil (or other oil)
1 leek, diced (white part only – cut it in half and rinse it well first to remove dirt)
1 clove garlic, diced
2 stalks celery, diced
2-4 carrots, peeled and diced (4 if you like sweeter soup)
1 bay leaf
1 tsp dried thyme (or 1 tbsp fresh. Or substitute rosemary, parsley, or herbes de provence)
4 potatoes, peeled and diced
6 cups vegetable stock or water (I used two cups of organic vegetable stock plus 4 cups of water, and it was more than enough flavour thanks to the organic vegetables already in the soup)
3 large leaves of kale or swiss chard or spinach (or other mystery green from the Lufa Farms Fresh Basket), stems removed, wrapped up in a bundle and sliced diagonally into strips (a chiffonade, en francais, je croix. Anyone know the English translation?)
Directions:
1. Heat the oil in a large pot over medium heat. When hot add the leeks, garlic, celery, and carrots. Stir and cook for 5 minutes, until the onions are softened. Add the bay leaf, thyme, potatoes, and stock and bring to a boil. Reduce heat and simmer 15 minutes, or until potatoes and carrots are tender.
Add the kale and cook for 3 minutes until soft. Taste and add salt if necessary. Enjoy with a piece of crusty bread if your stomach allows.