Le Restaurant de L'Institut
3535 St-Denis
Montreal, Quebec

●●●●●○○○○○
5 out of 10

French/Mediterranean
I recommended this place for lunch for the Festival en Lumiere, but I wish I hadn't. Nobody goes to a restaurant hoping for a less-than good experience; I went to the Restaurant de l'Institut excited to see what these young restauranteurs-in-training (though they're not all restauranteurs) could do. Would service be perfect because they'd just been trained on that in school? Would they serve from the right, keep your water glasses magically full when you weren't looking, remove plates quietly and discreetly, replace a crumpled napkin that had been placed on a chair when the diner had gone to the washroom, and generally be the perfect servers because their marks depended on it? As students at the Institut de Tourisme et d'Hotellerie de Quebec, the students are the servers are the kitchen staff are the bus-people, are the dishwashers, and THAT is exciting.
But all these students don't necessarily dream of being professional servers. They also don't necessarily have the experience of servers at the city's best restaurants. A future hotel owner may not care if he reaches across you to pour water into your neighbour's glass. You'd think he'd care that someone who could dock him marks might see him plop an espresso down in front of you unceremoniously (more importantly, loudly) with the handle no where near 3 o'clock.
So what? you might say. Who cares if the handle is pointing to 11 as long as the espresso's decent? The meal price was incredible low ($18 for a "multi-course" meal designed by a famous French locavore Michelin-star chef – Reine Sammut – though not cooked by her) so I should suck it up and enjoy, right?
But, no, that's no excuse in this case. What I thought would be a 3-course meal for $18 was only a 2-course meal (dessert brought the price to $22 – still reasonable), but one glass of wine is an extra $10 – a steep price for any restaurant. Maybe the $10 wine price-tag was justified as La Planeta's Sicilian (Italian) wines were special guests of the festival, but compared with lunch at La Chronique (another Mediterranean-inspired menu), the meal was very disappointing.
Puréed Chickpea Soup with Pea Jelly, fried crouton,olive oil, tomatoes, dill, and cumin…and foam
Did I mention there was no choice on the menu? What, you didn't want a big hunk of bland beef (falling apart tender, but with basically no sauce or flavour to make the 4th mouthful worthwhile), a very inexpensive bowl of puréed chickpea soup and a big slice (not shavings) of black truffle? (Aha! That's what the price of the meal went toward!) You're basically paying for the truffle and the rest of the meal is inexpensive. Now that's fine as long as it's tasty, and the soup was okay – there was a nice acidity to the diced tomato, a flavourful olive oil drizzle, one tiny seed of toasted cumin, fresh dill, a foam of some indiscernible variety, a fried crouton for crunch, and little cubes of something green that tasted like nothing but fibre. Turns out they were "pea jelly cubes". No one in their right mind would guess that, and if I hadn't asked I wouldn't have been impressed. If no explanation is given freely (i.e. on the menu) then you shouldn't need one to be impressed by the dish. What was left in the bowl was just purée of chickpea – kind of like a very good watered-down hummus, but watered-down hummus none the less – inexpensive to balance the price of the truffle and keep the cost of the meal low.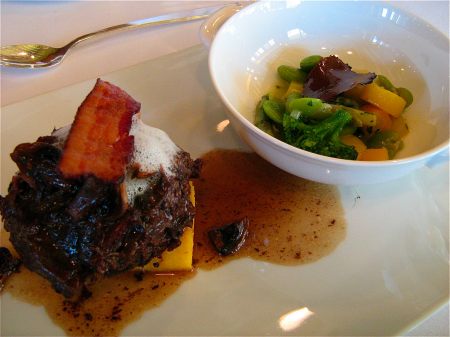 Along with the lima beans on the side of the beef, the soup was the most "Mediterranean" part of the menu. Well, that and the polenta square. Unfortunately, those lima beans were combined with broccoli and asparagus that, though perfectly cooked, were drowned in a butter sauce and topped with the black truffle slice – something that seemed more French than Mediterranean. And that's fine because the chef is known for a Mediterranean-French fusion style, but the thought of the butter sauce and truffle combo is still making me sick to my stomach. The black truffle is more of an aromatic than something delicious in and of itself, so perched on top of the vegetables it felt like an over-sized waste.
Grate the truffle for the gourmands in the audience instead of wasting it, and splurge on more mushrooms for the beef; three little pieces of mushroom soaked up the delicious braising liquid, but three bites weren't enough.
"Congratulations, you fell apart," is what I wanted to say to the beef. "Is that all you do?"
The polenta square did not soak up the braising liquid, unfortunately, and it was pretty bitter on its own, not stuffed with cheese and cream to make it tasty. Normally I'd love that, lactose-intolerant as I am, but a fried square of plain cornmeal combined with the truffle and cloying butteriness of the vegetables had too many bitter flavours going on and definitely not enough anything else. There was supposed to be some black olive in there, but I didn't find any. The crispy bacon on top also wasn't enough salt to flavour the beef.
So there was was foam on top of the beef. I feel as though I should be impressed. If only it tasted like something.
Of course we opted for dessert. $4 is a very reasonable dessert price for rosemary, olive oil and lemon sorbet that comes with two little shortbread cookies, a sweet, chewy wafer, and a citrus plate-decorating syrup with some tasteless strawberries or blueberries for garnish, but I didn't taste any rosemary and though I could see the olive oil in the sorbet I couldn't taste that either. Lemon is a pretty strong flavour, and nice as it was, a whole lot fewer people would opt for the extra $4 dessert if the menu had just read "lemon sorbet." The citrus syrup was the best thing on the plate.
The one thing I had a lot of respect for in the meal was actually the mini-baguettes. You know the culinary students are making tons and tons of baguettes in their program and it's something they need to learn to do very well. So they do. Unfortunately, you hope the cloth will be lifted off the bread basket to reveal still-warm baguette, but they weren't. And can someone explain to me the etiquette on replacing a half-empty bread basket with a fresh one? Does anyone else find it strange that the fresh ones were even colder than the first batch? You'd think if they were going to replace them they'd bring back fresher ones? Or do they just re-fill the basket and bring back the same ones plus a few extra?
Though I have questions about service the staff was actually very friendly and warm (there seemed to be many servers passing through our meal), and you could tell there were lots of people on the floor with the goal of making sure everything ran smoothly. Unlike La Chronique, the meal was aimed at budget-hunters and those looking for a 1-hour lunch. Plates came fast, and the banquet-style production was evident. It's too bad the meal wasn't great because you could tell the kitchen was doing a good job and running smoothly. Maybe another day a lunch of very traditional French that is normally served at the Restaurant de l'Institut would be worthwhile, but the fact is that you can do better than this for lunch in this city for price, creativity, and quality any day of the week.
.
Le Restaurant de l'Institut
Where: 3535 St-Denis
When: Mon to Fri 7am-9:30am, noon-1:30pm, Tues to Sat 6pm-9pm, Sat-Sun 7:30am-10:30am
How much: $18 for the two-course Festival en Lumiere lunch menu, $28 with a glass of La Planeta wine, BUT $22/$32 with dessert.

514-282-5162